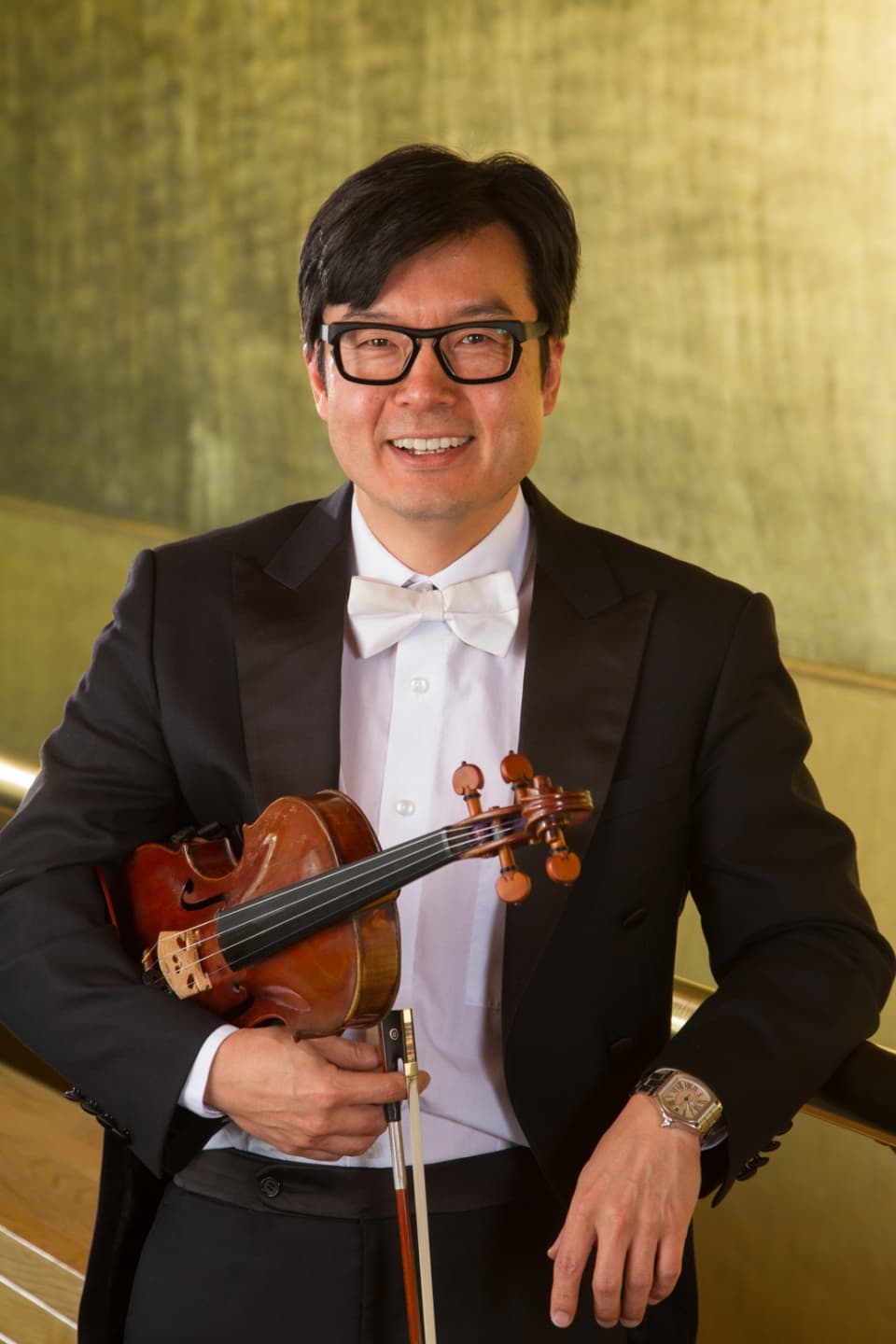 David Park
DAVID H. PARK, 'a soloist with extraordinary artistic gifts', (Salt Lake Tribune) started playing the violin at the age of five in Seoul, Korea. Park has studied with two of the most distinguished pedagogues, Josef Gingold and Dorothy Delay. He received his Bachelor of Music at the University of Indiana and Master of Music at the Juilliard School. At the age of 14, he was one of the last students of the legendary Jascha Heifetz.
Park maintains a balance between his engagements as soloist with orchestras throughout the world and his recital and chamber music activities. Park appeared as a soloist with the Utah Symphony, the Seoul Philharmonic Orchestra, the New York Festival Orchestra, the Korean Chamber Orchestra, Music Academy of the West Festival Orchestra, the Daegu Symphony, the Inchon Symphony and the Santa Ana Symphony. Park has given recitals in many of the world's great concert halls including Carnegie Weill Hall and Alice Tully Hall in New York, Salle Pleyel in Paris, and Sejong Music Center in Seoul. Park has also performed on national television and radio broadcasts in the United States, France and Korea. Recently, he has been featured on CBS 2 News and FOX 13 News. Furthermore, Park has participated as both soloist and chamber musician in music festivals of Aspen, Santa Barbara, Vienna, and Aix-en-Provence.
Some of Park's highlights include his first return to Seoul, Korea, performing the Lalo Symphonie Espagnole with the Seoul Philharmonic. Park made his New York debut performing Vivaldi's Four Seasons in Carnegie Weill Hall. Park performed both solo and chamber music in collaboration with Augustin Dumay in France which was broadcasted nationally by France Musique, the premier classical radio station in France. In 2004, Park soloed with the Pyongyang State Orchestra of North Korea in a highly anticipated Cultural Exchange Gala Concert. Recently, he performed with Roanoke Symphony, Crown City Symphony, Pan-Asia Symphony Orchestra in Hong Kong, and Seoul Philharmonic Orchestra as a Guest Concertmaster. Furthermore, Park was invited to give a recital for Musique Au Coeur du Médoc concert series in Bordeaux, France, as well as International Music Festivals of Sulzbach-Rosenberg, Germany, Vianden, Luxembourg, and Sochi, Russia. He has presented rare series of concerts pairing Stradivari and Guarneri del Gesu violins with critical acclaim.
Park is the Assistant Concertmaster of the Utah Symphony and an Adjunct Professor of Music at the University of Utah. In 2005, Park held a position of Distinguished Artist at the University of California Santa Barbara. He has served on the jury of the Irving M. Klein International Competition in San Francisco. Prior to joining the Utah Symphony, Park was the Concertmaster of the Festival International d'Art Lyrique de Musique d'Aix-en-Provence, Wintergreen Music Festival Orchestra, the Juilliard Symphony Orchestra working with such musicians as Myung whun Chung, Leonard Slatkin, Joseph Silverstein, John Williams, Keith Lockhart, Robert Mann, and Reinhart Goeble of Antiqua Cologne.
In 2011, Park's passion for Bordeaux wines culminated in his induction as Commandeur d'Honneur for an exclusive wine society in Bordeaux, France, Commanderie du Bontemps de Medoc et des Graves Sauternes et Barsac. Some of its distinguished members are Prince Philip, Queen Paola of Belgium, Placido Domingo, Ben Kingsley, and Hugh Grant.