Artist in Association
As part of its overarching artistic vision, the Utah Symphony appoints an Artist-in-Association each season. The selected artist performs with the Utah Symphony on at least two separate Masterworks programs, and participates in educational outreach activities such as masterclasses and Q&As with students. Artist residency programs like this one can be beneficial for both the orchestra and the visiting artist: the artist gets to enjoy extra creativity and involvement in the programming that may not otherwise be possible in a singular visit to an orchestra, and in turn, the entire Utah Symphony community enjoys the many benefits of a deeper artistic familiarity with a particular artist. This program attracts top-level guest artists to perform with the Utah Symphony and fosters outreach relationships across the Salt Lake Valley."
---
2021-22 ARTIST-IN-ASSOCIATION: HILARY HAHN
Hilary Hahn's Artist-in-Association Residencies with the Utah Symphony (September 13-18, 2021 and April 5-9, 2022), were dynamic and inspiring. Through her performances and educational activities, she engaged many Utahns, including students and musicians in typically underserved communities. Her educational outreach totaled 8 hours; she interacted with a total of 242 students and 22 teachers.
With the Utah Symphony, Hilary Hahn performed the following works during the 2021-2022 season:
Brahms: Violin Concerto – September 17-18, 2021
J.S. Bach: Partita for Violin No. 3 in E Major, Mvt. II, Loure – September 17-18, 2021*
Ginastera: Violin Concerto – April 8-9, 2022
Sarasate: Fantasy on Bizet's Carmen – April 8-9, 2022
Assiginaak: Animikiidokam (Sphinx Moth) – April 8-9, 2022*
*solo encore performance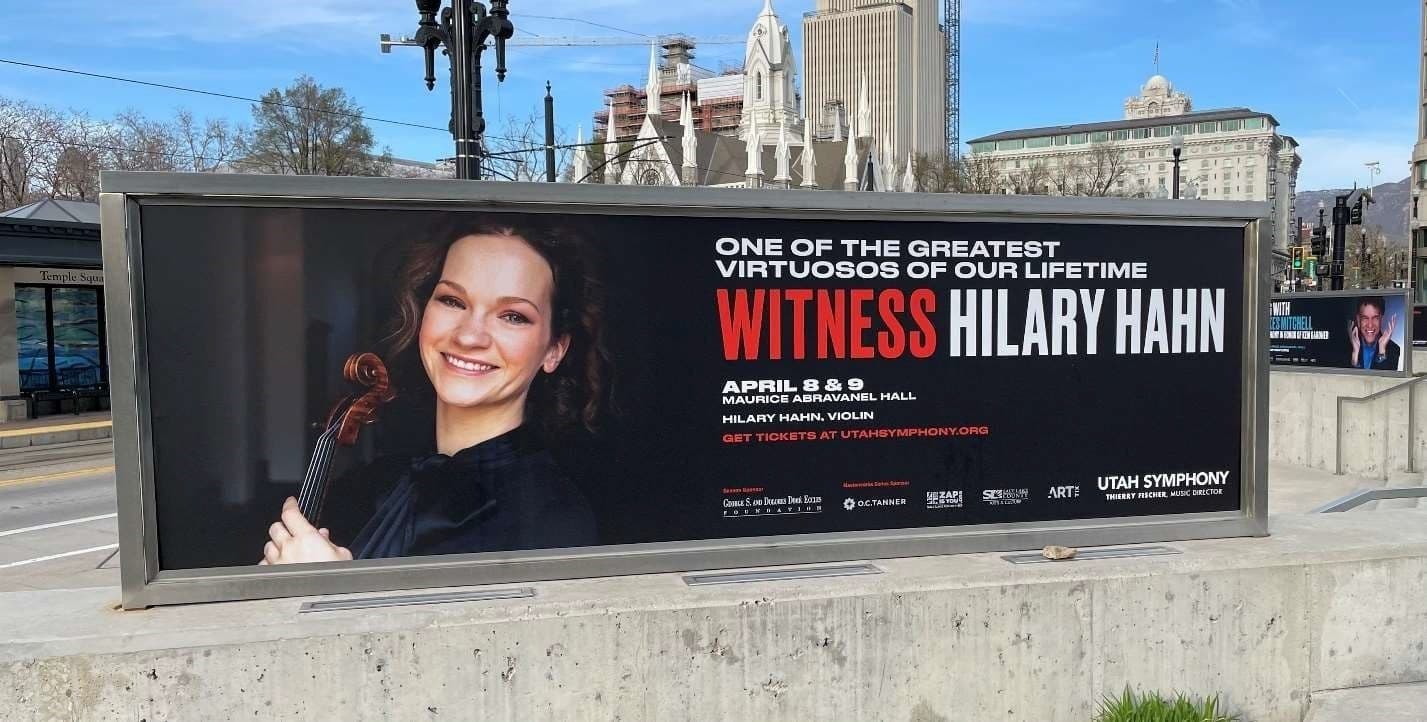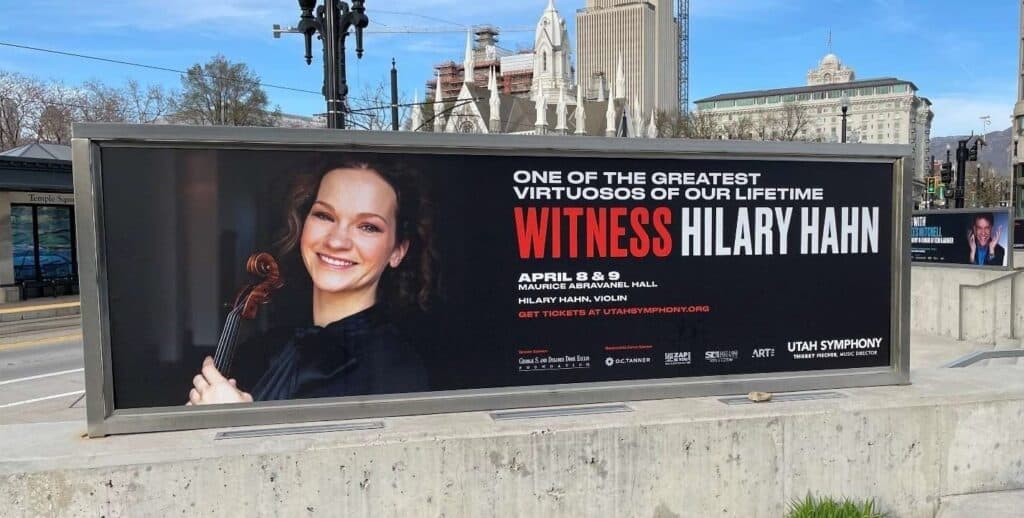 Get to the River Festival (with El Sistema Mariachi Group) — September 13, 2021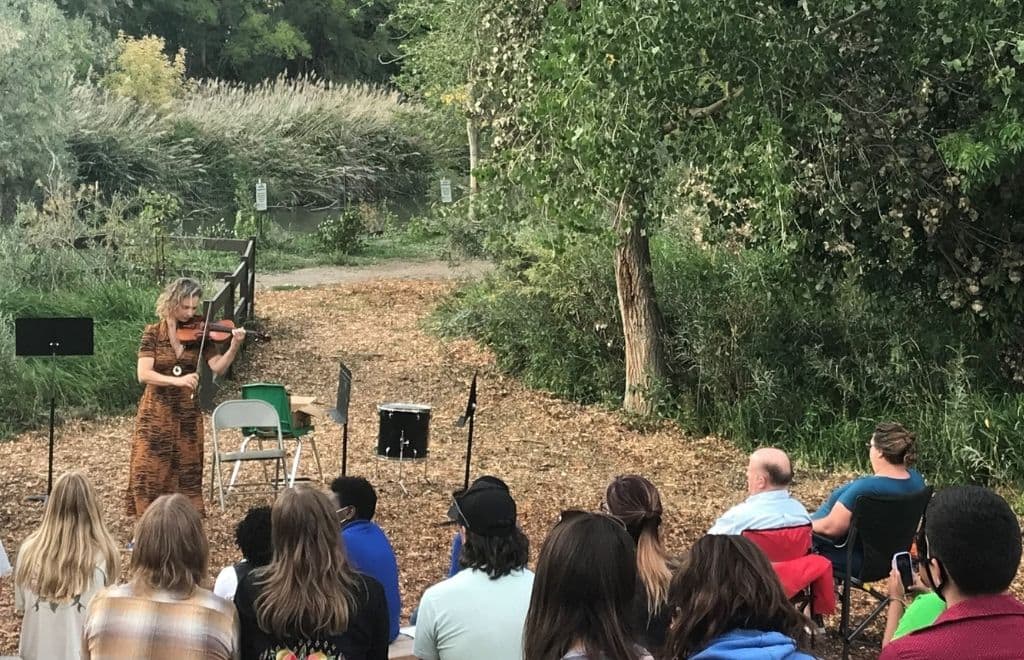 On the banks of the Jordan River, in the Kennecott Nature Center Amphitheatre, Hilary Hahn shared a concert with young local musicians; this was a special event in the month-long Get to the River Festival. After her breathtaking performance of several solo Bach pieces – accompanied by a flyover from a Great Blue Heron, geese, and other birds –El Sistema@SaltyCricket's youth mariachi group performed, marking their first performance in person since 2019. This concert was a first-time collaboration for USUO with the Jordan River Commission, the Kennecott Nature Center, and Murray City. The concert added an additional way for USUO to support the excellent work of its long-time El Sistema Education Partner.
Watch Hilary Hahn play Bach in other beautiful Utah Landscapes:
El Sistema @SaltyCricket Masterclass — September 15, 2021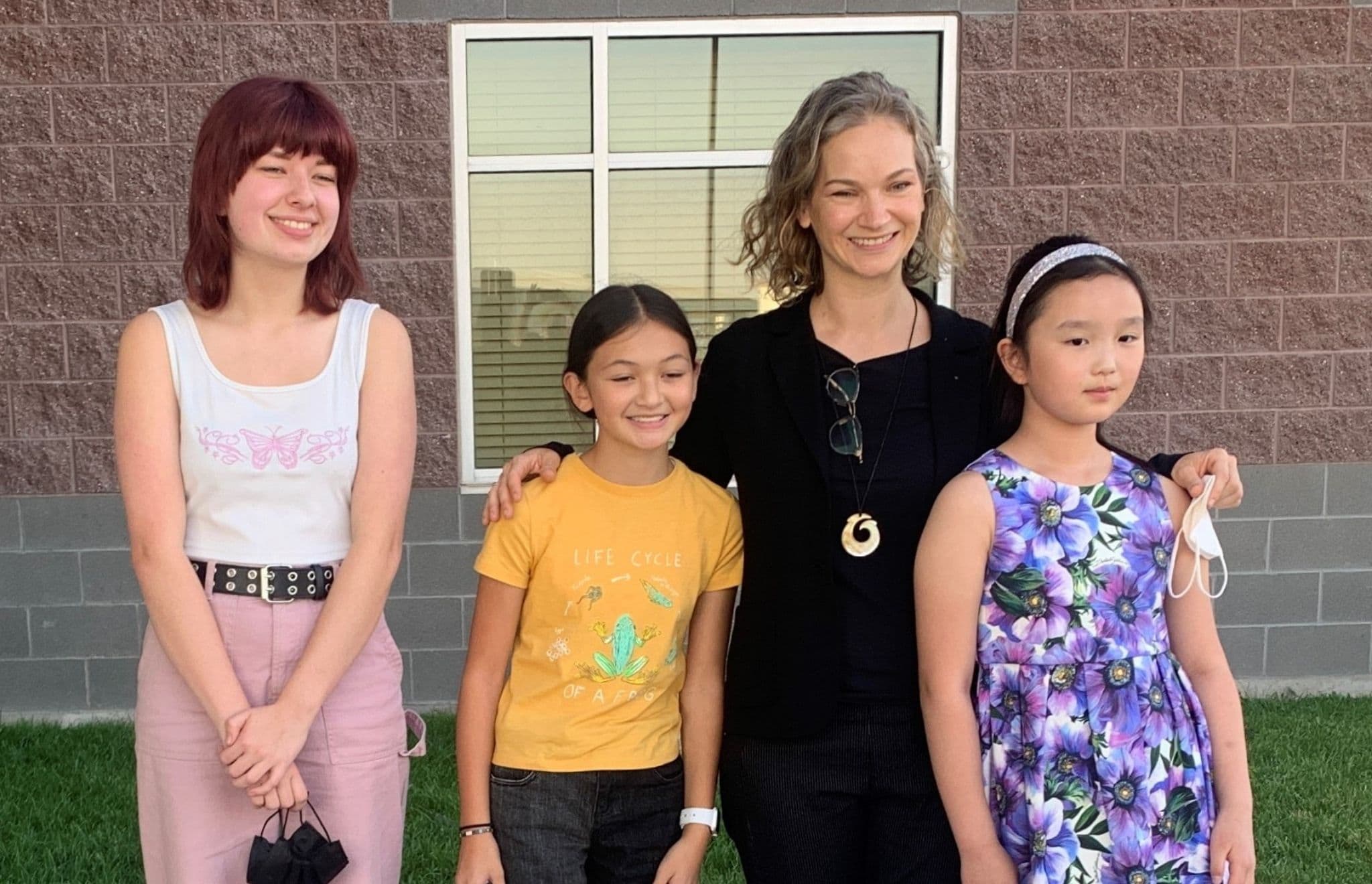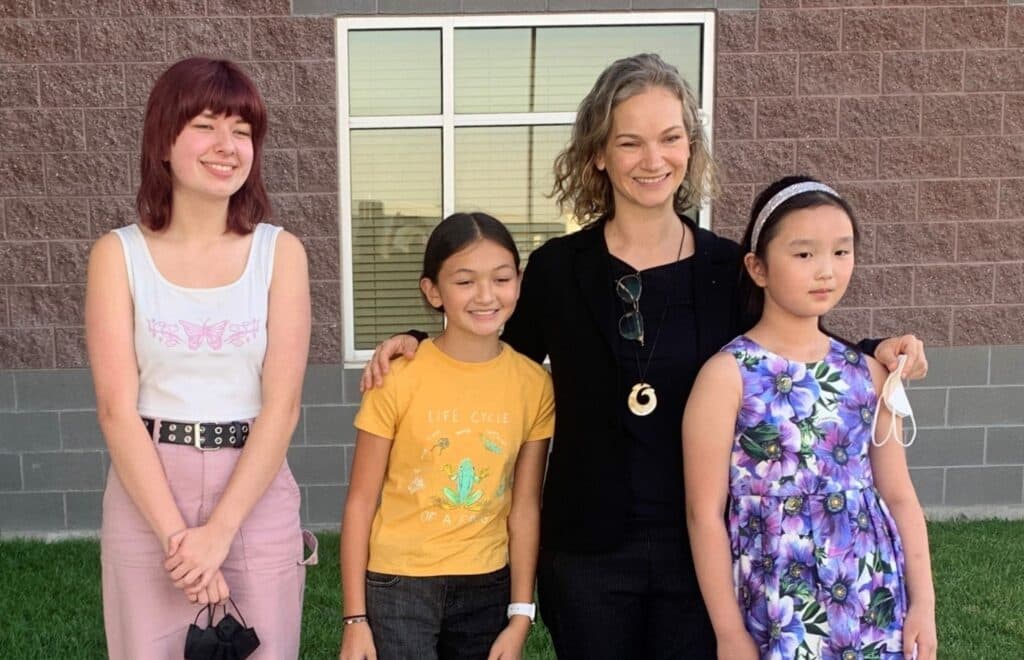 In an after-school masterclass for the El Sistema program located at the Wallace Stegner Academy, Hilary gave a masterclass in which she worked with 2 El Sistema students and 1 Utah Symphony Youth Guild student. Other students from the El Sistema school and the Utah Symphony Youth Guild were invited to audit the masterclass.
Zooming with High Schools — April 5 & 7, 2022
Hilary zoomed with 2 different public high school groups: music students at San Juan School District's Whitehorse High School (once in September, once in April) and Kane County School District's Valley High School in Orderville. For both schools, she performed J.S. Bach's Partita for Violin No. 3 in E major, Mvt. VII, Gigue and answered questions. With Whitehorse High School, she also talked about her new encore piece commissioned from a First Nations Canadian female composer; and she composed with them. Each student offered a musical note and a word that describes them, individually, and then she wove those elements together in a piece that represented all of them in one musical work, which the students titled "Splits."
Listen to Hilary play "Splits":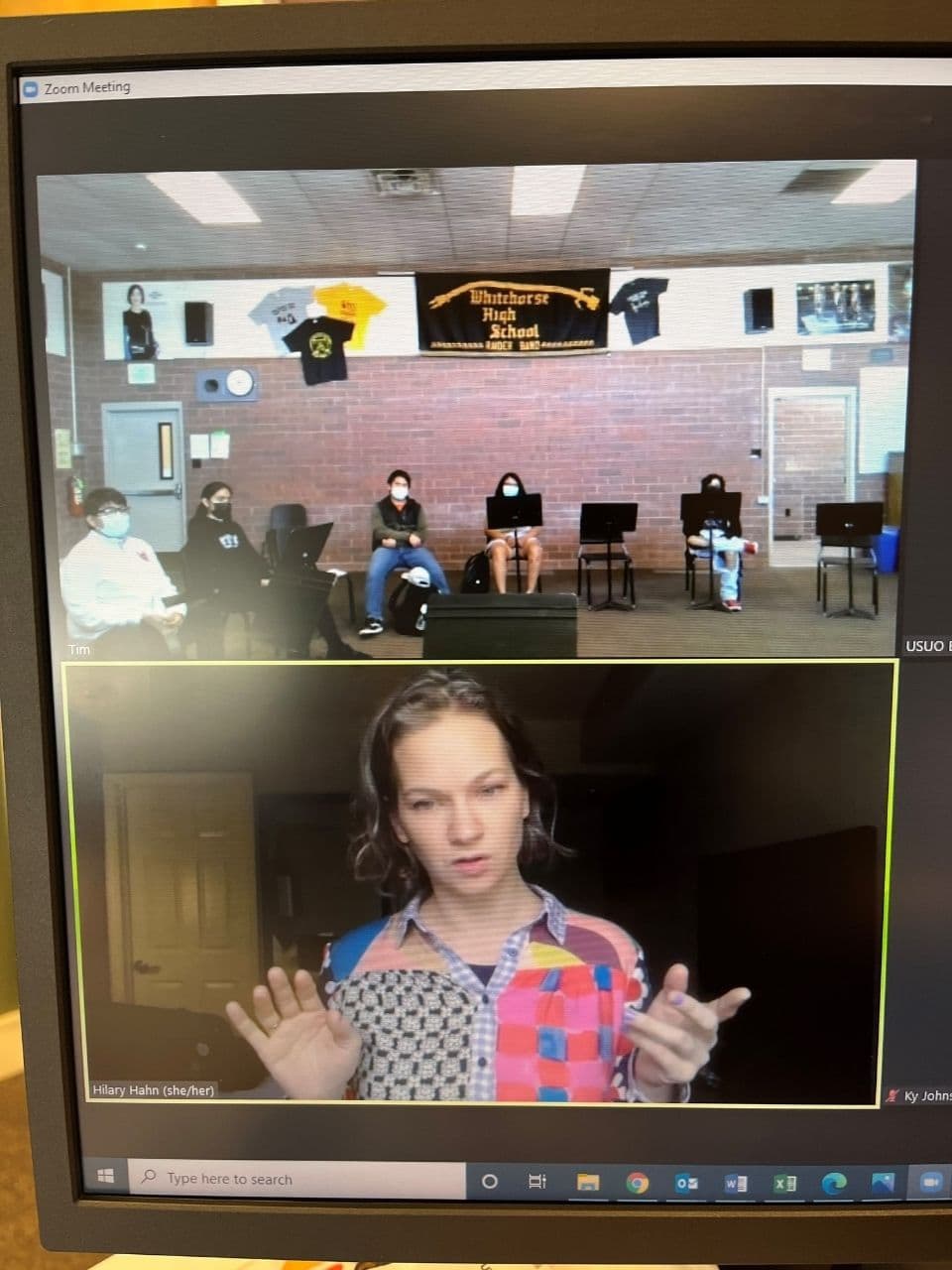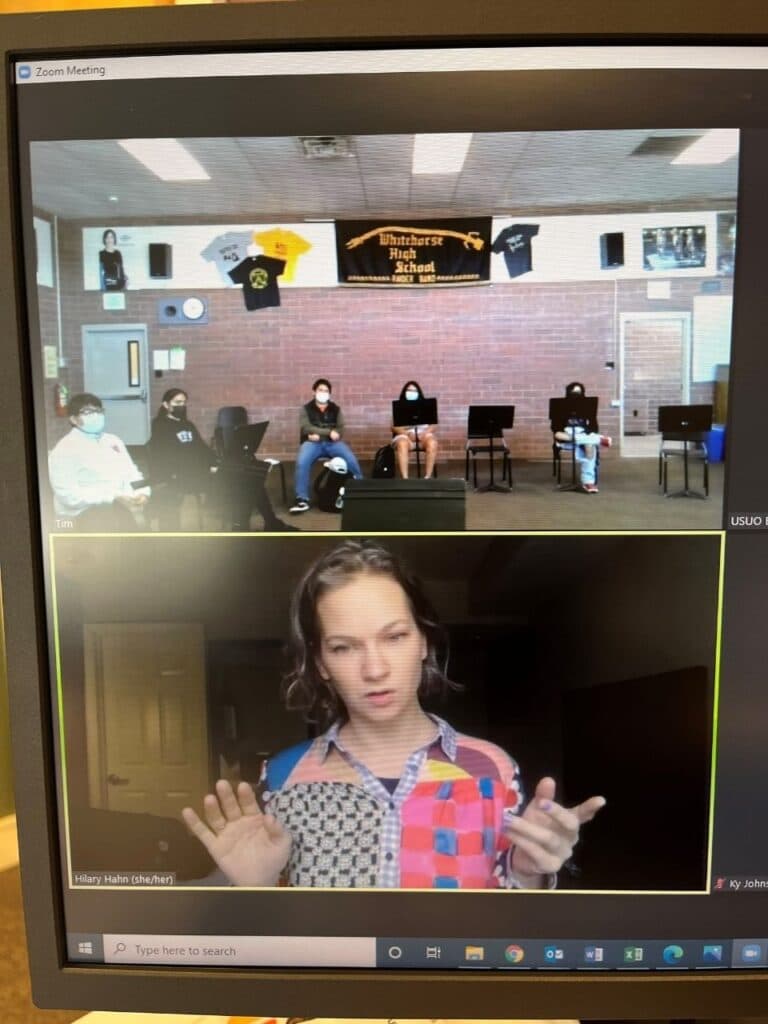 Utah International Charter School — April 6, 2022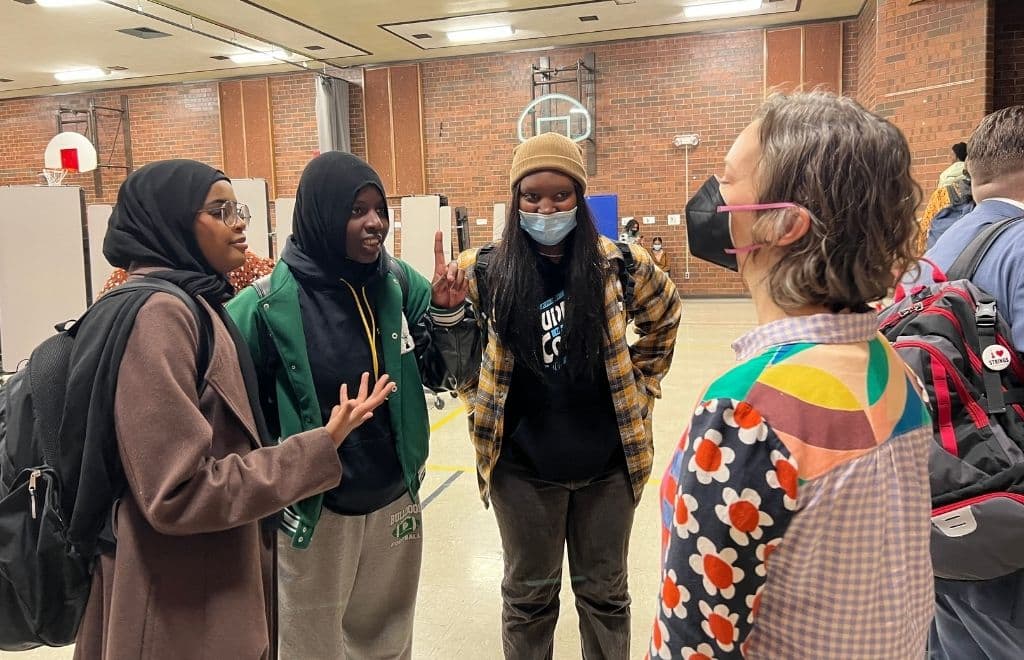 Hilary, along with Utah Symphony's Composer-in-Association, Arlene Sierra, spoke to students at the Utah International Charter School, where many of the students are refugees. The two shared experiences from their lives in music, as well as a few ideas about the upcoming April 8-9 concerts. Hilary highlighted the communication that happens during a performance between the soloist and orchestra, and between the musicians and the audience. One of the students asked about recording Hilary's playing of Bach for them, and she said that would be ok, but asked them not to watch through their phone, to keep their eyes attached to her, so she could respond to their attention and emotion. She then listened to the concentrating group, and composed some slow notes and chords and effects on her violin, with everyone participating in the focused non-vocal communication. The Utah Symphony provided complimentary tickets for these students, their families, and their teachers – as well as staff and case workers at refugee service organizations – to attend either of the weekend's concerts.
Masterclass for Trans Musicians at Under the Umbrella bookstore — April 7, 2022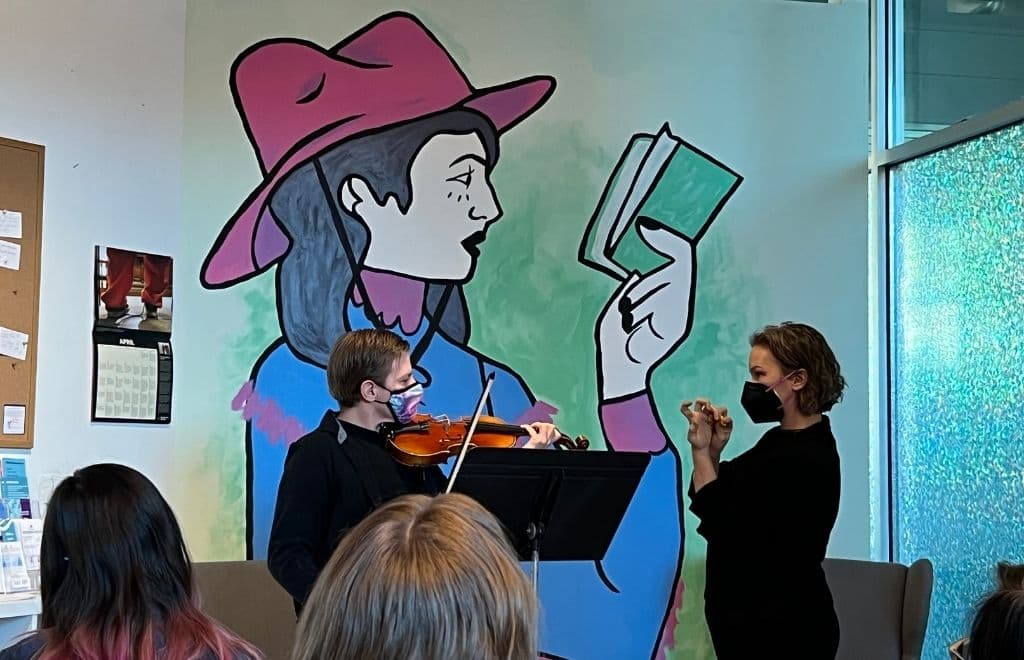 In a full back room of Under the Umbrella bookstore, 30 community members gathered to hear 4 musicians of various backgrounds play for Hilary and get some pro tips. Before playing, Hilary asked the performers what they really liked about their playing at the moment, and what elements were challenging. One participant had started studying violin just in the last few years, and shared his first effort at a piece outside his beginner's book. Another was reworking a piece played on a senior recital, and a third was working on a piece for an upcoming recital. The last musician had driven 8 hours from Colorado for the opportunity to work with Hilary, and they focused just on the cadenza of their piece. Hilary gave them great tools and best wishes as they continue in their musical pursuits.
Open Rehearsal Student Meet-Up — April 8, 2022
During the break in the final rehearsal of the week, Hilary talked with students in the Abravanel Hall lobby. These students, who were attending the morning's rehearsal, were members of the Utah Symphony Youth Guild.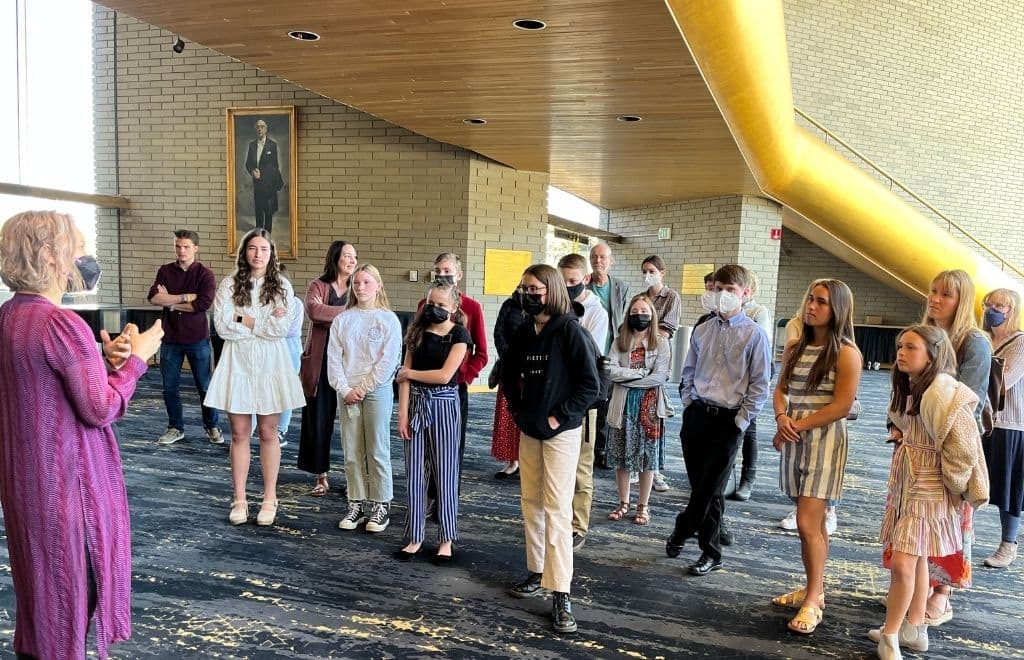 Masterclass with the Utah Young Composers Group — April 9, 2022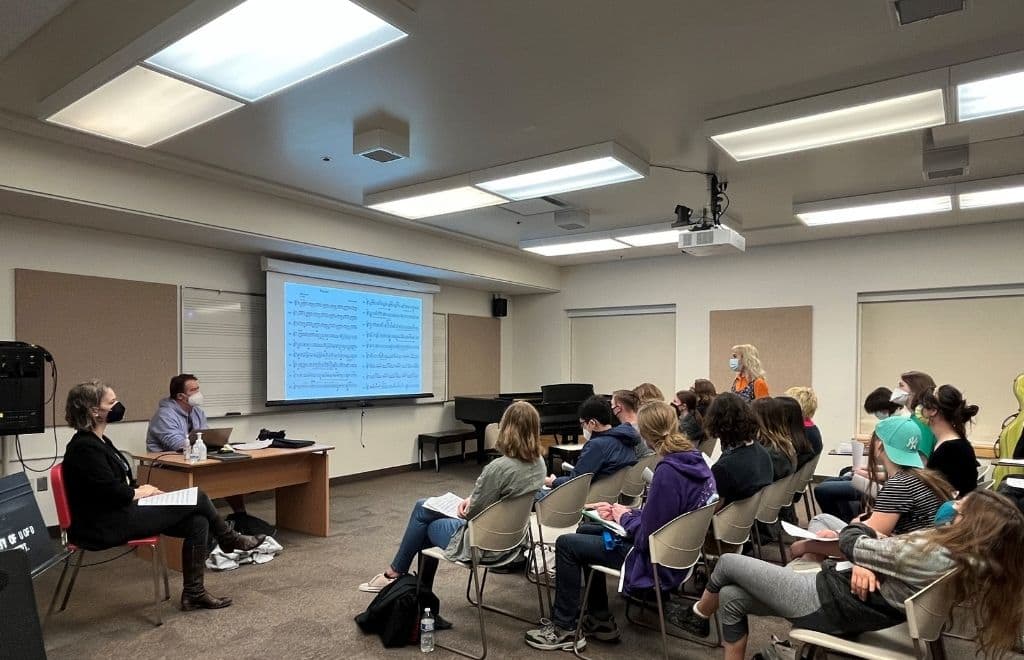 Four students from the Utah Young Composers Group – a special program of the Utah Youth Orchestras – studied composing for solo violin and then were given the opportunity to present their works to Hilary. She responded with constructive criticism, giving students ideas about what could work better as well as complimenting them on the aspects of their compositions that she was drawn to as a performer.