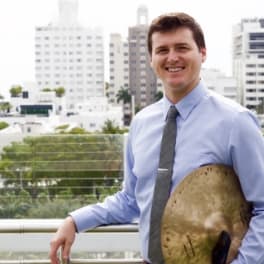 Stephen Kehner
Stephen Kehner is Acting Section Percussion with the Utah Symphony. From 2015-2018, he was a Percussion Fellow with the New World Symphony, where he performed under the leadership of Artistic Director Michael Tilson Thomas. His career has taken him across the United States, Europe, Asia, South America, and the Caribbean, playing concerts with ensembles such as the Atlanta Symphony, Malaysian Philharmonic, Boston Philharmonic, and the Classical/Pops Festival All-Star Orchestra in Barbados. He recently performed with the St. Louis Symphony on its tour of California and with Gustavo Dudamel and the Los Angeles Philharmonic on its tour of the East Coast and Europe.
Stephen grew up in Marietta, Georgia and began playing percussion at age ten. His studies intensified during high school, when he began studying with Charles Settle, who was then Section Percussionist with the Atlanta Symphony. He went on to earn a Bachelor of Music degree from Florida State University, where he studied with Dr. John Parks, and a Master of Music degree and Graduate Diploma in Percussion Performance from the New England Conservatory, where he studied with Boston Symphony percussionists Dan Bauch and Will Hudgins. During his summers as a student, he attended the Tanglewood Music Center, Schleswig-Holstein Musik Festival, Music Academy of the West, National Orchestral Institute, Texas Music Festival, and Colorado College Summer Music Festival. While at Tanglewood, he performed with Yo-Yo Ma and the Silk Road Ensemble after completing their Global Musician Workshop at the festival.
A committed educator, Stephen has taught symphonic percussion for the Tallahassee Youth Orchestras, North Georgia Percussion Camp, and the Atlanta Percussion Symposium. In March 2018, he visited Medellin, Colombia, to participate in a cultural exchange program between the New World Symphony and the Iberacademy, during which he taught percussion masterclasses and performed with their orchestra on a program of all-Latin American music. In his roles as a performer and teacher, Stephen proudly endorses Freer Percussion products.
When he's away from the concert stage and practice studio, Stephen enjoys playing golf and rooting for his hometown baseball team, the Atlanta Braves. He also frequently travels with his wife, Kristen. Together, they have explored destinations throughout Europe, Southeast Asia, Mexico and the Caribbean, New England, and the Pacific Northwest, and they look forward to discovering the natural beauty and outdoor adventures in Utah as well.