23 Feb 2015
Becoming a Professional

Travis Peterson
The road to becoming a professional musician can take many unexpected turns. The journey is filled with both triumphs and failures, and each musician has a success story of their own. In this series, members of the Utah Symphony share the ups and the downs of their personal journey to becoming a professional musician and what it takes to win an orchestral audition.
"I wasn't interested in orchestra," said Travis Peterson, who grew up on a dairy farm in Milaca, Minnesota where he and his cousins would buzz on the rubber hoses like a trumpet mouthpiece above the milking parlor. "I really wanted to be a band conductor. I didn't want to perform." Travis picked up the trumpet at the age of 10 and dove into the world of music. He was the top chair trumpet in the highest band in school, played tenor sax in another band and sang in the show choir. Along with his school marching band and pep band, Travis participated in Drum Corps, a semi-professional marching band of sorts in Madison, WI for 6 years. "I was obsessed with band. I was in the band room before school, ate my lunch in there, and then I would go there after school to practice and hang out. That was like my domain."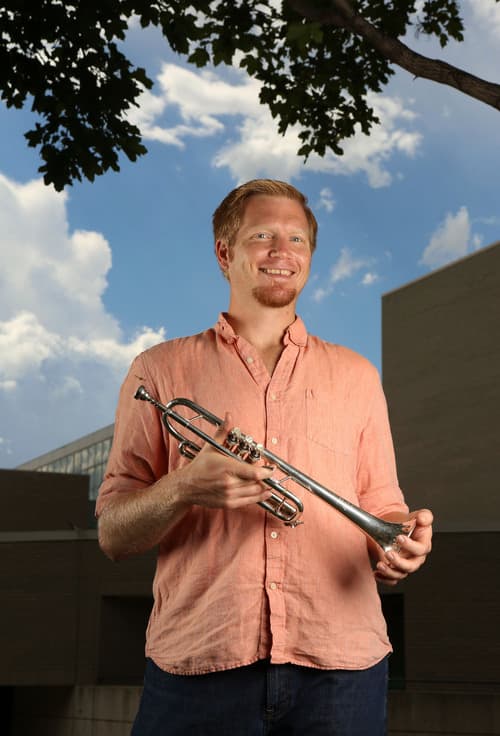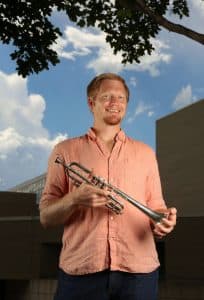 His "musical but not musician" parents were supportive and encouraging of Travis' trumpet playing. And would drive him to lessons with Robert Dorer, Second Trumpet of the Minnesota Orchestra, but he was still not interested in an orchestral career. His band conductors and directors challenged and pushed Travis to get a performance degree in college. At the time he recalls, "not really understanding that you could have a career as a performing musician" and wanted to be a band director. "My middle school band director and high school band director were really inspirational and I just really looked up to them. For it being a small town I had really great…mentors and teachers… they encouraged me and challenged me and pushed me in ways that I probably wouldn't have pushed myself." Senior year came along and Travis was accepted into all four schools he applied to. His top choice was St. Olaf College, a private liberal arts school, but after discussing with his parents he landed at Indiana University in the Jacobs School of Music, which ended up being a great fit.
Travis "was in his element" participating in marching band and pep band and attending every football and basketball game all four years. "I still miss doing that stuff. It was just fun. You get to be a part of this really fun energy at games…I wish that there were adult pep bands!" He studied with Edmund Cord, coincidentally former principal trumpet of the Utah Symphony, the same position that Travis would win years later. He pushed Travis but, "I just didn't have an interest in orchestra… I liked all that unconventional, not classical type playing." The biggest turn off of orchestral playing for him was transposing. "If I'm playing Bb trumpet and a C is on the page I'm reading it as a Bb. So everything is a step lower. I was so frustrated [with transposing] and didn't want to do it. I wasn't interested in it. I wasn't engaged in that."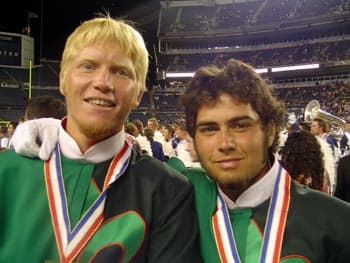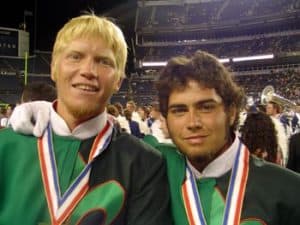 After four years, Travis graduated with a degree in Music Education but in his last semester during student teaching, he realized he did not want to be a teacher. "It didn't have the appeal to me that I thought it was going to." So Travis moved to Lubbock, Texas to be with his now-wife, Andrea, and started looking into the performance route. He waited on tables in a Mexican restaurant while he applied and auditioned for graduate schools that spring.
Travis was accepted into two of the five music schools and conservatories he applied to: New England Conservatory and Boston Conservatory. "I really wanted to go to the University of Maryland. But I didn't get in there… I was heartbroken about the University of Maryland, but I got into NEC and Boston Conservatory." Andrea and Travis moved to Boston that fall where He earned his Masters in Music from the New England Conservatory of Music studying with Ben Wright and Tom Rolfs, both members of the Boston Symphony Orchestra, who "whipped me into shape." Tom Rolfs was fresh off the audition circuit having recently won Boston Symphony Orchestra's principal trumpet position. "If it weren't for the time and attention that Tom gave me, I don't think that I would have been as successful as I have been." Travis was launched into the world of orchestral music through listening to recordings. Ben Wright gave Andrea, Travis' wife, "a big list of great recordings of pieces that I should know – all the great brass pieces." Andrea gave all of them to Travis for Christmas and he started listening nonstop. "Being exposed to that helped turn me on to orchestral playing. I still listen…all the time. On the bus today I was listening to Mahler 3. I listen to all kinds of stuff. I use it as inspiration to keep rooted in why I love what we do."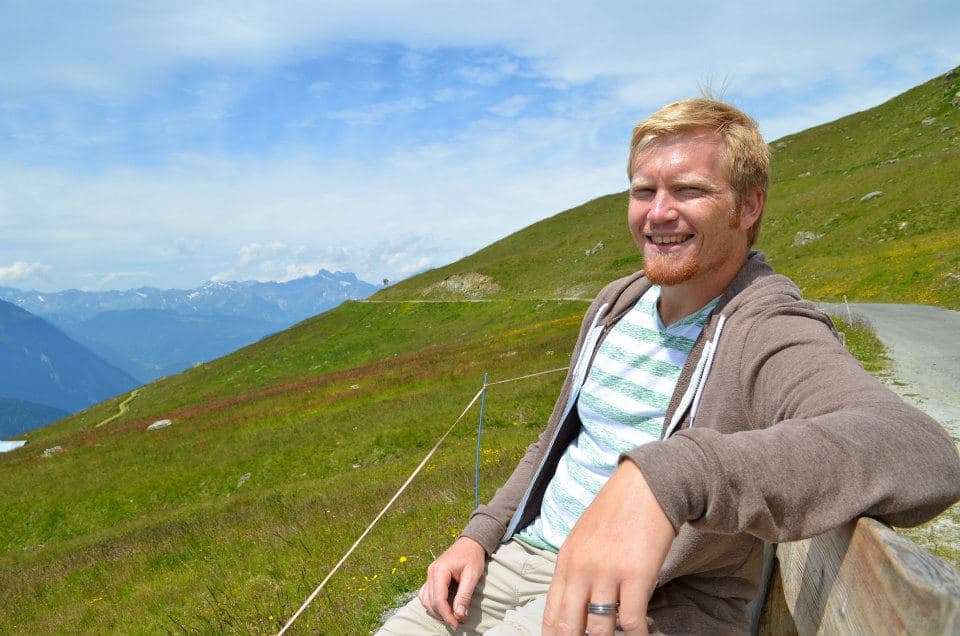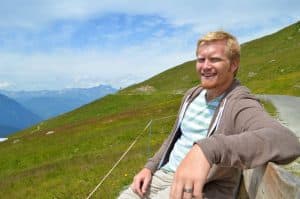 Post-grad school, Travis, and Andrea stayed in Boston. He attended summer music festivals including Tanglewood Music Center and National Repertory Orchestra, and free-lanced with many local orchestras around Massachusetts, New Hampshire and Rhode Island.  All these were stepping stones leading to his career as a principal trumpet player.  Travis worked various jobs at restaurants and grocery stores while musically he jumped into orchestral playing whole-heartedly. "A person's best bet is just getting in there and playing. Not being told what to do. Just get in there and get your feet wet and just play. Those have been the most beneficial experiences I've had in my growth from a student into professional."  Travis entered into a "whole new ball game" as he started taking auditions for professional orchestras. "It's like a solo recital but you are playing orchestral excerpts…everything is on display just like a solo recital would be. But there's a lot more at stake."
Travis advanced to the semi-final round in the fall of 2009 at the audition for associate principal trumpet in the Boston Symphony Orchestra. "I was just floored about that. Just to have that as a vote of confidence means a ton. Something like that helps everything." The winner of the audition at that time was a current member in the New World Symphony and left a vacancy that Travis was invited to fill.
Andrea and Travis drove down the coast to Miami in January 2010 looking forward to their next adventure. New World symphony helped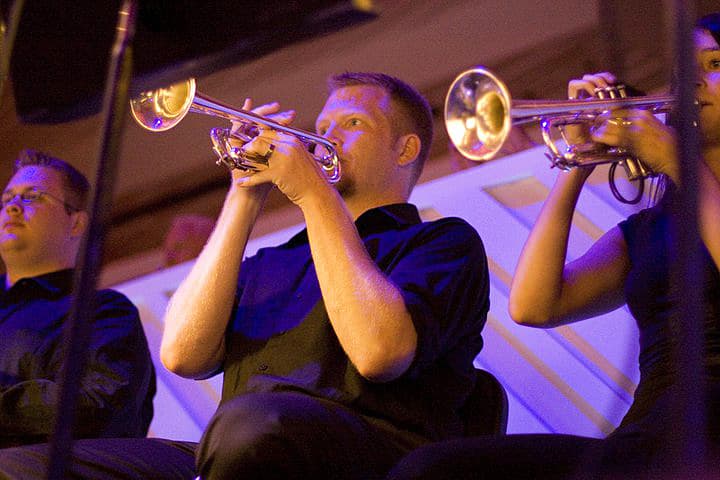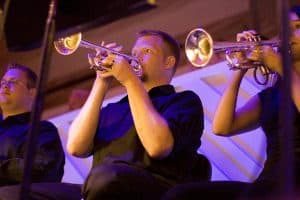 Travis get his "feet wet with a lot of repertoire" and helped him make connections in an environment that fostered a higher level of growth than his alma maters. This proved to be a turning point in Travis' quest to win an orchestra job. Through NWS Travis worked with Don Greene and Dr. Noa Kageyama regarding performance anxiety and sports psychology. "I skyped with Noa once or twice a week. He helped me learn how to handle my nerves at auditions. I worked with him all summer. He had me keep a journal and write down a practice log with what I was feeling about stuff. I kept diligent notes…I was just reading it the other day. They are still valuable to review." That following fall Travis had his first opportunity to implement these knew performance psychology practices in an actual audition.
He advanced to the finals for the San Francisco Section Trumpet chair. "That was the beginning for me for throwing down at auditions." Travis was only two years away from winning Principal Trumpet in Utah.
Similar to throwing himself into marching band, playing, and listening, Travis threw himself into auditioning. He decided to take every full-time orchestra audition that came up. "For me… the only way to get more comfortable with the audition process is to take as many as I can. You are not going to get the same feeling in a mock audition because nothing is riding on a mock. You're not going to feel the same tugs and pulls you would feel sitting on the stage in Davies Symphony Hall in San Francisco sitting in this room playing for some of your friends. It's just not the same." He auditioned all over America – Charlotte, Charleston, Atlanta, Baltimore, Boston, Cleveland, Detroit, St. Louis, San Francisco, San Diego, Seattle, among others. He became frustrated with doing so well, advancing to finals and being named runner-up, but never succeeding.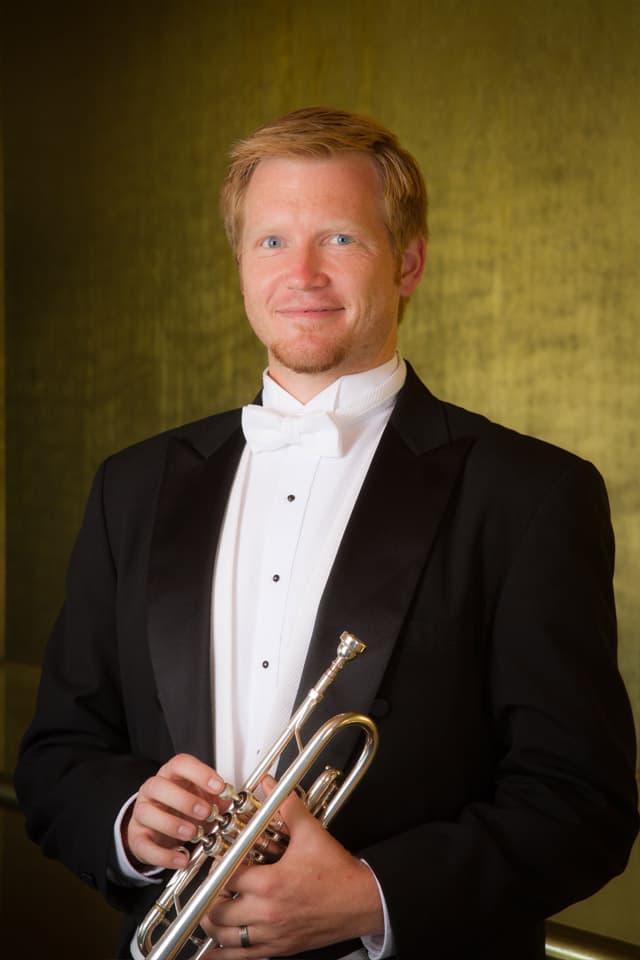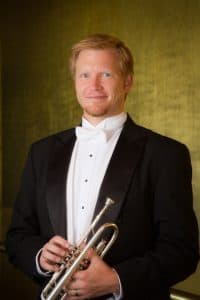 "The most frustrating moment was June 2012" when Travis auditioned for Seattle Symphony Associate Principal in an invitation-only audition. It came down to Travis and one other candidate. The committee was equally split on votes so the decision lay in the hands of the Music Director who picked the other auditionee. "At that point, I just thought the odds were never going to work out…I remember talking to Andrea on the phone just after that happened. I wasn't ready to quit or throw in the towel…but something had to give. When was it going to stop? I was so sick of getting so close and being on the cusp of winning a job but it just wasn't happening." Andrea happened to be in SLC with her parents on a trip and encouraged Travis to focus on Utah and thought he would really enjoy living in this beautiful city. "I didn't want to hear that and I didn't know anything about Utah." That summer Andrea and Travis celebrated their 5th wedding anniversary and traveled to Minnesota and Europe for a few weeks and took some time off. Travis began preparing for Utah and the leading up to the audition he had several lessons with Tom. Travis recalls one lesson late at night where he wasn't feeling his best and Tom said, "You know Travis, I don't want to be here either. But sometimes you just have to put a little bit of effort into it and get through something regardless of if you want to do it or not…you just have to bear down and do it. You can't let these outside things get in the way of you trying to accomplish something."
September 17, 2012, Travis took his 33rd audition. He recalled his "chops didn't feel great" but he followed Tom's words of wisdom and bore down and did it. After three rounds Travis won his current position as Principal Trumpet of the Utah Symphony. "The odds finally worked out in my favor." After the decision was announced Travis met the audition committee and Thierry Fischer and was finally able to share his fantastic news with Andrea. He called Tom who had already heard, and his mother with the best birthday present from her son.
Tags