06 Mar 2018
A Ghost Light Podcast Extra!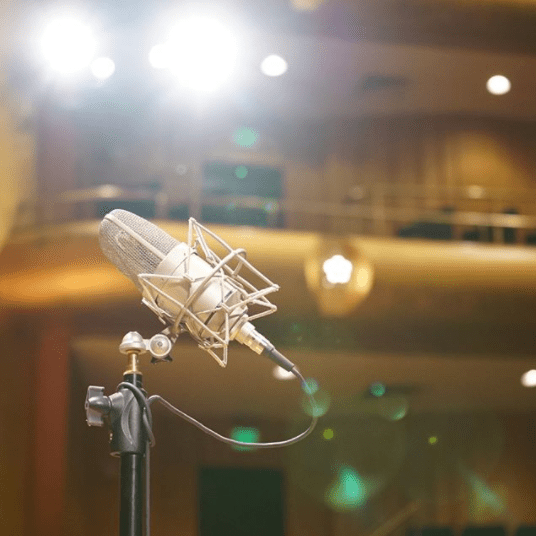 Music, musicians, and a healthy dose of ghost stories: This is what our podcast The Ghost Light is all about! After the stage is dark and everyone has gone home, general manager Jeff Counts digs deep into classical music gets juicy stories from acclaimed musicians. As a special treat for our loyal Ghost Light fans, you can read this transcript of his interview with Concertmaster Madeline Adkins:
Jeff: So, Madeline, tell us about this incredible instrument you're playing now.
Madeline: It's really very exciting. As you know, for the past 5 years I was playing on Marin Alsop's Guadagnini, which she graciously allowed me to bring to Utah for my first season.  I took it into the shop of my friend, violin maker John Young, here in SLC to be cleaned up in preparation for its return and while discussing what I might possibly do next, he said "A friend of mine owns a beautiful Guad and may be looking to lend it to the right person."
Jeff: You're kidding. That almost seems like fate.
Madeline: I know! Turns out, John was a longtime friend of Jacques Israelievitch, the concertmaster of Toronto Symphony for 20 years and St. Louis before that. Sadly, Jacques died in 2015 from cancer at the quite young age of 67. His wife Gabrielle had been reluctant to loan the instrument at first, as she felt like this was the embodiment of Jacques and couldn't bear to part with it. But she was thinking it'd be best for the instrument to be played.
Jeff: What can you tell us about Jacques?
Madeline: He came to the US as a teenager when his family's business in France was destroyed during a wave of anti-semitism. On the plane over he met Oistrakh, if you can believe it! Anyhow, he bought this Guadaganini (the "ex-Chardon") when he got his first concertmaster job in St. Louis and, as since he was the recipient of incredible generosity throughout his career and always maintained a commitment to teaching and mentoring the next generation of musicians, Gabrielle felt compelled to pay it forward.
Jeff: Incredible. So, you went to meet Gabrielle. What is she like?
Madeline: Gabrielle Israelievitch is an acclaimed children's book author, psychologist, and artist. A real Renaissance woman. She is truly an incredible spirit. We spent several hours speaking about Jacques and then it came time to play the instrument for the first time. It was right there in the living room, where Jacques had taught so many students over the years, and in fact only feet from where he had played the violin for the last time. The first notes I played were the slow movement of Bruch. Almost instantly, Gabrielle was in tears. "It sounds  just like Jacques" John (who was with me) said. Gabrielle face-timed with one of her sons so he could hear. The experience was incredibly emotional for all.
Jeff: I can imagine that this moment will always be one of the highlights of your career.
Madeline: Of my life! When I brought it back to Utah, that weekend was my first Scheherezade with the Utah Symphony. Although I only had played the violin for two days, that opening E of the piece was such a gorgeous note that I forged ahead and decided to make the switch immediately. So that weekend, only four days after playing the instrument for the first time, and on what would have been Jacques' 69th birthday, I played Scheherezade. In my dressing room was a huge bouquet of flowers. The note read "Thank you from Jacques."
Jeff: What an honor for you and for the Utah Symphony.
Madeline: It's humbling. And also thrilling. I can't wait to perform a concerto on this instrument!
We know you're dying for more! Subscribe and listen to The Ghost Light here. 
Jeff Counts is Vice President of Operations and General Manager of Utah Symphony. He was program annotator for Utah Symphony from 2010 to 2014 and has been writing articles for Utah Opera for 6 years.
Tags