15 Apr 2019
SCHUMANN – Symphony No. 2 in C Major, Op. 61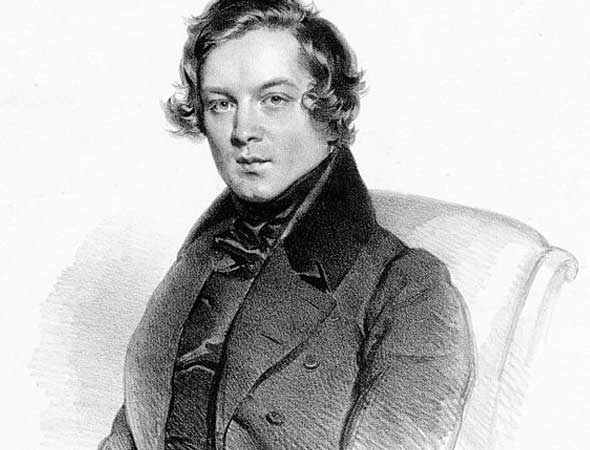 Sostenuto assai – Allegro ma non troppo
Scherzo: Allegro vivace
Adagio expressivo
Allegro molto vivace
PERFORMANCE TIME: 34 MINUTES
Listening to the sunlit music of Robert Schumann's second symphony, one could easily imagine naming it for the spring season. But "Spring" is actually the nickname for his Symphony No. 1, and the predominant sense of life and affirmation in both these symphonies tells us much about their composer. Throughout his adult life, Schumann experienced bouts of crippling depression, yet he managed to breathe the most positive elements of Romanticism into his music. His illness was so severe that he periodically needed hospitalization, yet he was a devoted husband, a productive composer, and a champion of up-and- coming composers. Schumann's life was a dark struggle, yet in his music we sense light.
Born in the Saxon town of Zwickau (now Germany), Schumann began his musical studies at age six. After customary studies at the Zwickau Gymnasium and facing intense family pressure, he matriculated at the University of Leipzig to study law. But music continued to preoccupy him; the year before his enrollment at Leipzig he encountered another fantastically gifted young composer named Franz Schubert, who was thirteen years his senior. Inspired by Schubert's example as well as the poems of Jean Paul Richter, Schumann began exploring song composition—to the detriment of his law studies. He turned to one of the most celebrated German piano teachers of the day, Friedrich Wieck, for intensive piano studies.
Friedrich Wieck's daughter Clara was a nine-year-old piano prodigy when Schumann first met her; by the time he prevailed over her father's personal and legal objections to marry her, she was 21. (One wonders whether his truncated legal studies helped him win her hand.) In the intervening years, Schumann had begun to lay the foundation for his own career as a virtuoso pianist. When a hand injury foreclosed that option, he turned to piano composition: more songs and jewel-like piano pieces. It was Clara who persuaded him to look beyond the keyboard to full orchestra, and to the symphony as a form.
With Clara's encouragement and sound musical judgment, Schumann published his first symphony in 1841, the year after they married. He completed another that same year but withheld it from publication, making his Symphony No. 2 his third complete work in symphonic form. (He eventually completed a fourth symphony, No. 3 in the catalogue; his second effort, published posthumously, became No. 4.)
Schumann began sketching his Symphony No. 2 in early December of 1845 in a burst of inspiration. In little more than two weeks he had completed a draft score for piano. But the slower work of refining and orchestrating, which began the following February, was interrupted by bouts of depression, dementia, and tinnitus—a ringing in the ears that plunged his musical imagination into shadow, like an eclipse. His joints ached, his head throbbed, but he persevered. Finally, he finished the score for full orchestra on October 19, 1846, and published it the following year.
In presenting the Symphony No. 2 to his publisher, Schumann worried that his illness might be evident in the music. But in listening to it, what we hear most is not suffering, but striving; not illness, but strength and even heroism. Composed mainly in the optimistic key of C Major, its positive sound seems to affirm individual action in the face of life's challenges, beginning with a simple fanfare that slowly and surely builds energy. Eventually a dark, melancholy mood shrouds the third movement, an adagio. But while that section may reference Schumann's personal struggles, it also pays tribute to Schumann's musical ancestors, all the way back to J.S. Bach, whose revered surname is encoded in the cipher that forms the initial fanfare and its variation in the second movement.
Actually, professional musicians and musicologists find this symphony to be chock-full of ciphers, coded messages, and micro-quotations from earlier works by Bach, Schubert, Mozart, and Schumann himself. The most poignant of these comes as the darkly contemplative fugal section of the adagio leads us to the symphony's final movement, where the once-slow theme returns with stormy energy. In the course of a complex, three-part development, Schumann seems to lead us in a campaign that goes forward from darkness to light…from the adversity of his illness to triumph over it. And in one of those encoded "secret messages," he ends the movement with a tribute to Clara, quoting the love song he dedicated to her on their wedding day.
Music history is full of what-if questions. One of the most tantalizing is suggested by Schumann's illness, which afflicted him in both body and mind. It would be treatable today. What if it had been treatable during his lifetime?
Tags