09 Apr 2019
SHOSTAKOVICH – Symphony No. 12 in D minor, Op. 112 "The Year 1917"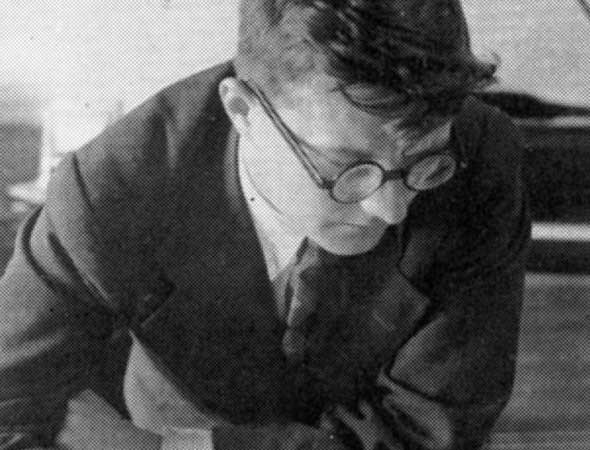 Revolutionary Petrograd
The Rising
Aurora
Dawn of Humanity
PERFORMANCE TIME: 39 MINUTES
We know many symphonies by their popular subtitles—think of Haydn's Hen, Beethoven's Eroica, Mozart's Jupiter, Mahler's Titan. The composers themselves rarely had anything to do with these nicknames, and they usually don't mean very much. But in the case of Dmitri Shostakovich, a symphony's nickname was a calculated political decision in a life-or-death strategy for artistic survival. When he named his Symphony No. 12 "The Year 1917," it was an emphatic political gesture referencing the year of the Russian Revolution. The symphony itself is a heroic biographical narrative honoring a principal figure of that revolution, Vladimir Lenin. Shostakovich wrote the symphony in 1961, a year after joining the Communist Party, and eight years after the death of Joseph Stalin.
It's no exaggeration to say that the events of the year 1917 dominated Shostakovich's life. He was literally a child of the revolution, 11 years old when it took place. From early in his career as a composer, he used the symphony as a form to express his deepest ideas and to cope with the pressures exerted by the Communist regime on artists generally, and on him in particular. Those pressures began 25 years before he composed his Symphony No. 12, when the 26-year-old Shostakovich was already a rising figure in the music world and his opera Lady Macbeth of the Mtsensk District made a sensational premiere. It spurred international interest and vaulted him to a new level of celebrity—a success that made Stalin's condemnation in a 1936 Pravda editorial all the more shocking. Stalin's denunciation of the opera's style as decadent and against the interest of the people could mean exile or death not just for the young composer, but for his family. Even his friends would be endangered.
What did Soviet officials want from their composers? Music that was highly accessible to the proletariat and utile to the state, promoting the advantages of approved collective ideals and the values of the revolution. By the government's reckoning, even non-programmatic music could conflict with these goals if it explored new ideas in composition, as Shostakovich wanted to do. After withdrawing his progressive Fourth Symphony from rehearsal with the Leningrad Philharmonic in December 1936, Shostakovich began work on his Fifth, which he presented as a musical apology to the state. On its surface, at least, he employed more traditional techniques of composition, and in the ensuing years his symphonies became not only his primary avenue of musical exploration, but also his primary means of signaling his artistic intentions to the Kremlin's cultural watchdogs.
In the years of the cold war, music critics in the West were hard on Shostakovich, viewing him as an artist who had compromised with tyrants. More recently—and especially in light of his disputed memoir, Testimony—his symphonies from No. 5 onward are analyzed as ironically stated, veiled condemnations of the state. Certainly, few composers have ever equaled Shostakovich's ability to combine lyrical beauty and acid sarcasm. The composer himself described how this effect works in the outwardly exultant fourth movement of his fifth symphony: "I think it is clear to everyone what happens…The rejoicing is forced, created under threat… it is as if someone were beating you with a stick and saying 'Your business is rejoicing, your business is rejoicing,' and you rise, shaky, and go marching off, muttering, 'Our business is rejoicing, our business is rejoicing.' What kind of apotheosis is that? You have to be a complete oaf not to hear that." According to Shostakovich, everyone in the Kremlin was a complete oaf, while we, his listeners, are not.
And yet his Symphony No. 12 is something else again. Shostakovich composed it eight years after the death of Stalin, which eased—but did not eliminate—the pressure he felt from the state's surveillance of his work. This symphony is a straightforward, unironic narrative honoring Vladimir Lenin—a heroically stated musical biography of a man whom Shostakovich seems to have genuinely admired as a giant of world history. (His Symphony No. 2, written while he was still in conservatory and long before his denunciation, also honors Lenin.)
Fortunately, we don't need to know the details of modern Russian history to enjoy this symphony. It combines a dramatic narrative with mastery of symphonic form in four movements that are played without pause. In its brisk, martial opening, the melodies we hear are based on the revolutionary songs that conveyed anti-tyrant messages in 1917. In the second, the tempo slows and the seriousness grows, as Shostakovich quotes his early Funeral March for the Victims of the Revolution. The symphony's dramatic climax comes in the third movement, a scherzo named for the Aurora, the ship that opened fire on the czar's Winter Palace—another revolutionary "shot heard 'round the world." Finally, the fourth movement presents triumphant resolution and Lenin's paternal benevolence in "The Dawn of Humanity."
It's all beautifully stated, but what are we to make of the story line that so ardently honors a man on the wrong side of history? Should we even consider that aspect as we listen? For symphony enthusiasts, it's interesting to compare this work to others that tell stories in symphonic form. In the course of its five movements, Beethoven's great "Pastoral" symphony depicts the specifics of a simple, agrarian life in the country, where the highest drama comes from the weather; Richard Strauss' Ein Heldenleben, like Shostakovich's 12th, is a symphonic biography, but one in which the hero's triumph comes in the form of quiet domesticity. All three are best enjoyed by just sitting back and listening without worrying about narrative content.
Tags