09 Sep 2019
Abravanel Hall: A Retrospective
by Michelle Tseung
The Salt Lake City skyline would not be complete without the luxurious Abravanel Hall! It opened its doors on September 14, 1979, welcoming audiences from all around the world. Originally named Symphony Hall, it was renamed in 1993 to honor Maurice Abravanel, who conducted the Utah Symphony Orchestra for more than 30 years.
Although he retired before having the chance to conduct there, he was pleased with the way it turned out. Forty years later, the hall continues to house world-class performances.
The creation of Abravanel Hall took seven years and over $10 million. On the east wall of the lobby is a four-story wall of glass and brass, known as the glass curtain. The glass curtain pays tribute to The Church of Jesus Christ of Latter-day Saints and Temple Square, where Utah Symphony performed for years in the Tabernacle before moving into Abravanel Hall.
History of Abravanel Hall
Although the carpet has changed since Abravanel Hall opened its doors, you might remember its signature forest green carpet in the lobby. Architect Franklin T. Ferguson of FFKR Architects, decided on its unique color. "One day, I was at the construction site and I was wearing a dark, forest green sweater. I put it up against the brick and wood and it just clicked.".
Concert halls traditionally have a color scheme of red or burgundy, but he was confident that the rich forest green was a perfect color for the design. His sweater was even used to develop color samples.
Dr. Cyril M. Harris was the acoustical consultant. Prior to Abravanel Hall, he consulted for some of the world's most famous concert halls, including the Avery Fisher Hall in New York City and the Kennedy Center in Washington D.C.
Together, they designed a concert hall with the acoustic needs of a symphony orchestra in mind. There is no proscenium or orchestra pit to accommodate opera, ballet, or musical theatre. None of the surfaces are strictly parallel to each other and there are no 90-degree angles, in order to create the optimal environment for symphony acoustics. Abravanel Hall was created so that audiences could truly make the most out of their night out! Acoustically speaking, there is no bad seat in the house.
The Chihuly Sculpture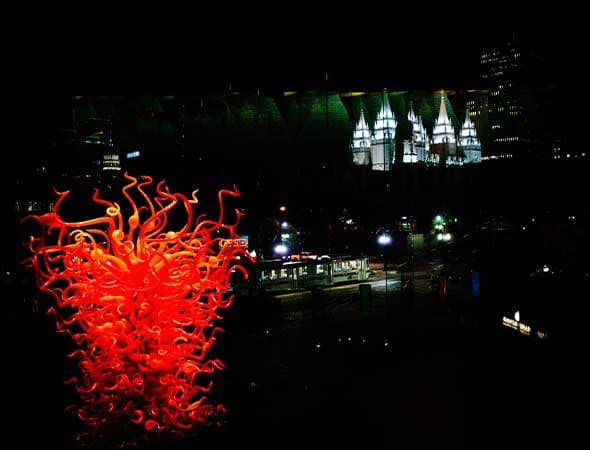 The 30-foot Olympic Tower in the lobby of Abravanel Hall was created by  Seattle-based artist Dale Chihuly, who is known for his large-scale blown glass sculptures. It was brought to Salt Lake City for the Cultural Olympics during the 2002 Winter Olympics. This impressive, firey piece filled one and a half semi-trucks during delivery, and it took five days to assemble the tower of hand-blown glass.
Though the Olympic Tower was valued at $900,000, Chihuly sold it for $625,000 in agreement that it would stay at Abravanel Hall and that the public would be able to view it without seeing a show. With the help of generous donors and the Salt Lake Organizing Committee, this piece remains a valuable part of Abravanel Hall today.
Our Chandeliers
If you look up during intermission, you'll see the glittery sight of six shimmering chandeliers. Each one is created with 3,000 hand-cut crystals imported from Austria and Czechoslovakia. The crystals were hung, one at a time, by our dedicated Utah Symphony Guild volunteers. Each year in August, the chandeliers are lowered from the ceiling for maintenance. Our dedicated crew change out the lightbulbs and painstakingly polish the crystals.
On your next visit, pause for a moment and enjoy the beauty that Abravanel Hall has to offer. Everything in the hall, from the gold leafed balconies to the rich oak panels, was designed for you! Whether you're here for a lovely evening of Beethoven's timeless works or you're preparing for an action-packed adventure in a galaxy far, far away, you'll be in for a magical night in gorgeous surroundings.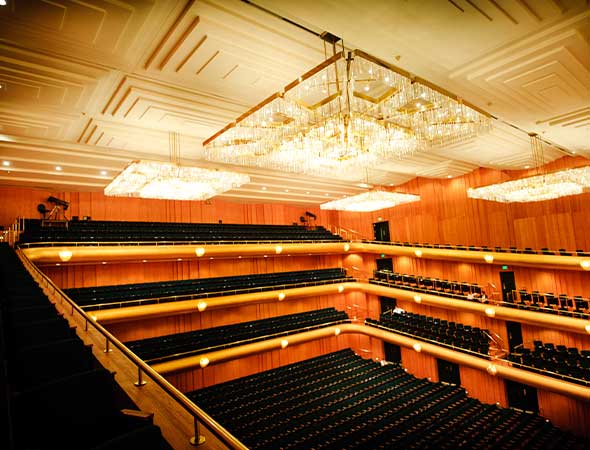 Tags