11 Apr 2020
Easter Offerings of the Virtual and Musical Sort
by Collette Cook
Easter is often a time that people gather for Sunday church services, eat brunch together and go on Easter egg hunts. And many turn to music for spiritual renewal and the awakening of spring. Although Easter celebrations across the world will look different this year due to the coronavirus pandemic, musicians are finding ways to celebrate this beautiful time of year by bringing music to your homes wherever they may be. We hope that you enjoy one (or all) of these beautiful, free, and virtual performances.
Andrea Bocelli is sending a message of love and hope this Easter through a free, virtual concert from the Duomo di Milano in Italy. "Thanks to music, streamed live, bringing together millions of clasped hands everywhere in the world, we will hug this wounded Earth's pulsing heart, this wonderful international forge that is reason for Italian pride," said Bocelli in a statement. Although he will perform in the sacred cathedral for an audience of none, it will be streaming for anyone to watch on YouTube at 11 am MST on Easter Sunday.
The Berlin Philharmonic
The Berlin Philharmonic is streaming their Easter @ Philharmonie Festival on Saturday, April 11 at 11:00 am MST, which will include music by Prokofiev, Ravel, Bruckner, Mozart, and Mussorgsky's Pictures of an Exhibition.  If that isn't enough, the Philharmonic has graciously opened their orchestral archives to the public, which includes the most remarkable performance of Bach's St. Matthew Passion.
Bach's St. John's Passion with the English Touring Opera
The English Touring Opera is making its broadcast debut on Easter Sunday with a performance of Bach's St. John's Passion, which was written for the Good Friday Vespers service of 1724 and is one of his most famous pieces of sacred music, telling the Biblical story of Jesus' crucifixion. It will be streamed at 9:00 am MST on YouTube.
Handel's Messiah with the Tabernacle Choir at Temple Square
Although Handel's Messiah is often heard at Christmastime, it was originally intended for Holy Week—the time in which Christians remember the crucifixion and resurrection of Jesus Christ. Utah's world-famous Tabernacle Choir at Temple Square will stream its 2018 Handel's Messiah concert today, April 10th, at 7 pm. The concert will also be available online afterward and you can even look at a free score of the Handel classic for a sing-a-long to join in on the fun.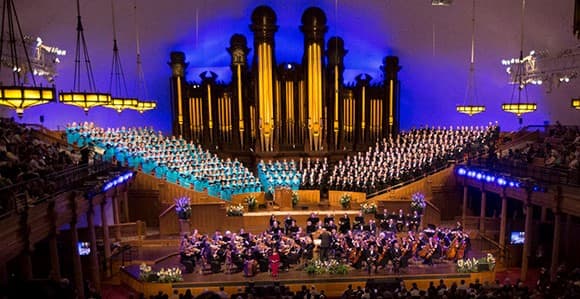 Parsifal with the Bavarian State Opera
The Bavarian State Opera is offering a recording of their 2018 production of Wagner's Parsifal, which is an opera often performed at Eastertime due to its Good Friday scene in the third act that comments on the theme of compassionate redemption. The recording will be available until Saturday, April 11 at 4:00 pm MST.
In a world that is currently filled with anxiety and fear for the future, we hope that you will find light and peace in these virtual Easter events this weekend and remember that, although the world may seem dark at times, the music carries on.
Tags