20 Sep 2021
DUKAS: The Sorcerer's Apprentice
by Jeff Counts
Instrumentation: piccolo, 2 flutes, 2 oboes, 2 clarinets, bass clarinet, 3 bassoons, contrabassoon, 4 horns, 4 trumpets, 3 trombones, timpani, glockenspiel, suspended cymbal, triangle, bass drum, harp, strings.
Duration: 12 minutes.
THE COMPOSER – PAUL DUKAS (1865-1935) – It would have been possible, even advisable based on available facts, to foresee a very undistinguished future for Dukas in 1897. After only moderate success as a composer with the overture Polyeucte and his Symphony in C, Dukas seemed destined for remembrance only as a critic of Wagner's operas and orchestrator of Guiraud's. The Symphony premiered without impact in January of 1897 but by summer, everything had changed.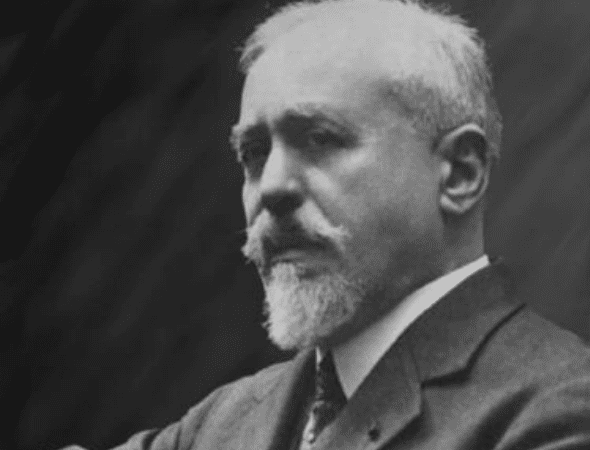 THE HISTORY – "Pity the poor one-piece composer" writes Orrin Howard in his essay on Dukas' great scherzo The Sorcerer's Apprentice. He is referring to a composer who writes one work of instant, unbreakable popularity but never manages to make the lightening strike again. He is referring to the "one-hit wonders" of music history like Pachelbel, Albinoni and maybe even Orff, Mascagni (Cavalleria rusticana), Leoncavallo (Pagliacci), Humperdinck (Hansel and Gretel)…the list goes on and, sadly, it includes Dukas. The Sorcerer's Apprentice premiered in May of 1897 and immediately launched the composer into stardom. Based on a ballad by Goethe that was itself built on much older material, Dukas' highly descriptive tone poem hardly requires a scenario description today. This is thanks to Mr. Disney and his mouse but the "story" as told by the music alone was already a nearly visual experience due to its dramatic exactness and perfectly balanced comic timing. Dukas didn't have the benefit of 1940s cinematic technology. His score was required to create the necessary tableaus from whole sonic cloth and he did so with no less skill than Strauss. Orrin Howard states that The Sorcerer's Apprentice deserves "the esteem in which it is held." He's perfectly correct, of course, even if Dukas scarcely deserved the fate that esteem carried with it.
THE WORLD – Puerto Rico was granted autonomy from Spain in 1897. Also that year, the Greco-Turkish War of 1897 was fought, the Klondike Stampede (Gold Rush) began in San Francisco and English author Bram Stoker published Dracula.
THE CONNECTION – The Sorcerer's Apprentice has been frequently performed by the Utah Symphony over the years. The last Masterworks Series iteration was in 2013 under Yan Pascal Tortelier.
Tags