21 Sep 2021
RACHMANINOFF: Rhapsody on a Theme of Paganini
by Jeff Counts
Duration: 22 minutes.
THE COMPOSER– SERGEI RACHMANINOFF (1873–1943) – In 1934, Rachmaninoff was ensconced in his secluded estate near Lake Lucerne in Switzerland, where enjoyed leisurely tours on his motorboat and spending time with his grandchildren. He had named the villa "Senar," derived from the first two letters of Sergei and Natalya and the first letter of Rachmaninoff. The atmosphere was reminiscent of his beloved Russian retreat of Ivanovka (lost forever to him thanks to the revolution) and it was in this new sanctuary he created his last great work for piano and orchestra.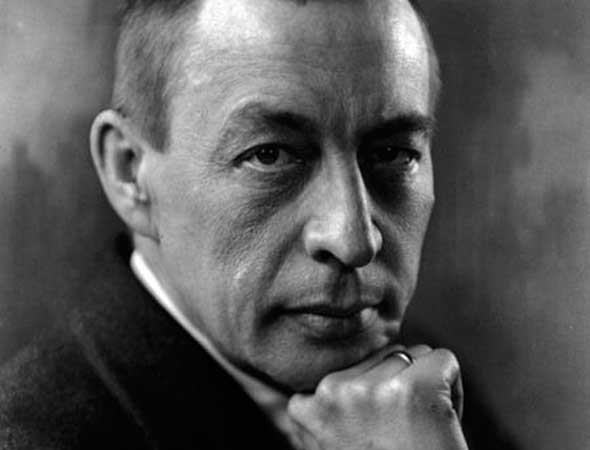 THE HISTORY– In the latter years of his compositional life, Rachmaninoff favored a leaner and more focused orchestral language. The luxuriant textures that defined his voice and career before World War I were gone and in their place was a more concise, less emotional presentation of ideas. This was, after all, the man Stravinsky once referred to as a "six-and-a-half-foot tall scowl." Rachmaninoff's somber seriousness as a person was often at odds with his early Romantic opulence as a composer, so the turn towards directness in his December years is perhaps an understandable eventuality. Among the finest of his late creations was the Paganini Rhapsody. Rachmaninoff based his variations on an oft-used theme from the last of Niccolò Paganini's 24 Caprices for Solo Violin. The choice put him in the good company of Schumann, Liszt and Brahms, who had already paid homage to that particular melody. The Rachmaninoff iteration includes 24 episodic variations, grouped loosely into three implied sections in the manner of a proper concerto. As a whole, the work is a highly original collection of moods, each crafted with incredible precision and intent. Hidden in plain sight amidst the relative newness of the score is a nod to old habits in the inventive but sentimentally gorgeous 18th Variation, as well as three statements of the composer's ubiquitous fascination, the mediaeval Dies Irae. Interestingly, Rachmaninoff spoke to choreographer Michael Fokine about setting the Rhapsody as a ballet a few years after it premiered successfully in Baltimore. We'll never know if Rachmaninoff was thinking about the possibility of dance when he wrote the piece, but it is fascinating to consider, and to imagine.
THE WORLD– Elsewhere in 1934, The Canadian Dionne quintuplets, the first known to survive infancy, were born, Leopold III became King of Belgium, the U.S.S.R. was admitted to the League of Nations, Hitler was named Führer and Alcatraz was opened.
THE CONNECTION– The Paganini Variations have been programmed many times on the Masterworks Series, most recently in October 2019 with Aziz Shokhakimov conducting and Lukáš Vondráček as soloist.
Tags