01 Nov 2021
BRAHMS: Piano Concerto No. 1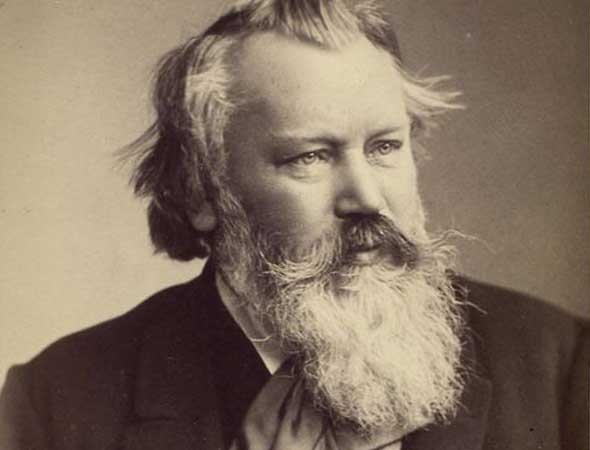 Duration: 44 minutes in three movements.
THE COMPOSER – JOHANNES BRAHMS (1833–1897) – Brahms spent the greater part of the 1850s building his first orchestral masterpiece: Not a symphony, of course, but rather the D Minor Piano Concerto, made largely out of material meant for other works. The time between the first sketches in 1854 and the premiere performance of 1859 encompassed a lifetime of intense personal experiences for Brahms, most of which revolved around his special (and complicated) relationship with Robert and Clara Schumann. Robert's death in 1856 did not result in a relationship between Johannes and Clara, at least not the romantic kind, and the Concerto stands as a thinly veiled testament to these turbulent, emotional years.
THE HISTORY – Before any of that, the 20-year-old Brahms had made quite an impression on Robert Schumann in 1853. Schumann, in his oft-quoted article from that year entitled "New Paths", spoke of the younger man in almost messianic terms. Brahms was, for Schumann, the fulfillment of a prophecy (his own, admittedly) in which a new artistic voice would appear suddenly and fully formed as if from the mind of a god to "express the ideal form and spirit of his time." As the friendship between Brahms and the Schumanns developed in their complex ways, Brahms was sorting and re-mixing the pre-existing ingredients of his D Minor Concerto. Unlike himself, the man of Robert Schumann's oracular vision, Brahms' Concerto would not spring "fully formed" from the mind, his or a god's. This concerto was a result of patient deliberation and reassignment. Brahms, to this point, was famously reluctant to tackle the symphony form and was frightened enough of Beethoven's ghost that he was shy about orchestral music in any form. As well-studied as his reticence has become, some specific context from this moment in his compositional life is helpful. Brahms had heard Beethoven's Ninth for the first time in 1854, an experience that might have stunned even the most confident upstart to silence. It put to rest any symphonic ambitions for a humble acolyte like Brahms, for a few more decades at least. Instead, he poured his ideas into a sonata for two pianos but felt increasingly drawn to the larger forces of a proper concerto. There was a nagging question of grandeur that only an orchestra could answer and after a year of helpful support from his friend Joseph Joachim, the brilliant "symphony with solo piano" was born.
THE WORLD – Elsewhere in 1859, excavation of the Suez Canal began, Charles Darwin published his shocking scientific work On the Origin of Species, and Alfred Lord Tennyson released the first portion of his Arthurian epic The Idylls of the King.
THE CONNECTION – Brahms' First Piano Concerto is a popular work on Utah Symphony Masterworks seasons. The most recent performance was in 2012 under the baton of Thierry Fischer with Nelson Goerner as soloist.
Tags