15 Nov 2021
Vadim Gluzman and the Liberating Power of Music
by Kathleen Sykes
We're lucky to live in a country where we have such liberal access to the arts. In fact, how many people can boast living in a state where you can go skiing in the morning and enjoy listening to a full-time symphony orchestra in the evening?
Vadim Gluzman knows, through his personal experience leaving the Soviet Union in the '90s, just how important it is to have the freedom to express yourself through music. Keep reading to learn more about how he's giving back to the next generation of musicians, his experience immigrating to Israel as a teenager, and how he feels about coming back to Salt Lake City.
What was an experience that changed your life forever?
Perhaps not a challenge per se, but rather a dramatic life change—moving with my family from Soviet Union to Israel in 1990—personally, musically, artistically, you name it: there was a different attitude to everything. What excited me most was that I was my own man, able to make my own decisions.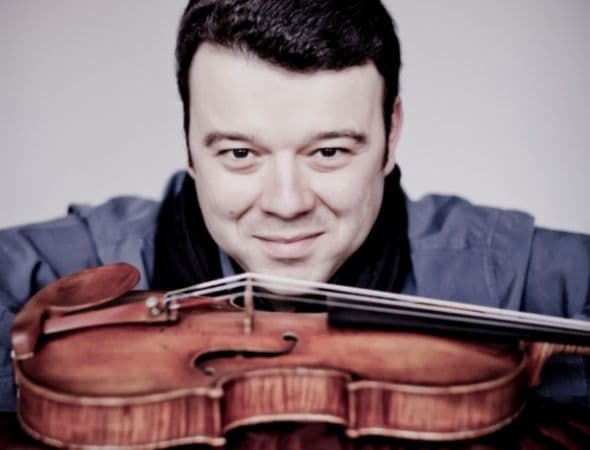 Freedom is a God-given gift that was taken away from us in the Soviet Union, so arriving to a democratic society was like realizing that I had never breathed before. Until I was 16, I wasn't allowed to breathe, and I wasn't even aware that I wasn't breathing. Then suddenly I was given access to this oxygen, this freedom, and it changed my whole perspective.
This freedom is something I hold very dear to me and I know it has shaped in many ways who I am as human being and as an artist.
What are you most passionate about?
Needless to say, I am passionate about violin, music, and music-making. I have lived my whole life with violin, music is the language which helps me communicate most intimate thoughts and emotions, breaking any barriers. It allows me to connect to people in the furthest places on the planet, just in the past couple of months I crossed from Gothenburg, Sweden to Seoul, from London to Budapest, and finally from Chicago to Salt Lake City (I am so much looking forward to being back to SLC!).
I am passionate about connecting and nurturing the next generation of talented young artists. At my festival in Chicago, the North Shore Chamber Music Festival, we are running the Arkady Fomin Scholarship Fund, which supports and encourages outstanding young musicians.
As Distinguished Artist in Residence at Peabody Conservatory in Baltimore, I have had the privilege to teach a selected group of brilliant young violinists — helping them form their vision and assist in shaping their future.
What are some things people should listen for in the work you're performing?
Prokofiev wrote his Violin Concerto No.2 in 1936, at the same time as he was writing his extraordinary ballet, Romeo and Juliet. I feel that the beauty of that score is reflected in the concerto as well—the endless lyrical lines in the concerto, clearly remind us of the wonderful pas de deux in Romeo and Juliet. The concerto is at the same time gorgeous and angular, dark and shining with light—music of contrasts, full of great beauty and excitement!
Don't miss his performance of Prokofiev's Violin Concerto No. 2 this weekend at Shiyeon Sung Conducts Tchaikovsky 4, Arlene Sierra & Prokofiev.
Tags