06 Jan 2022
GRIEG: Piano Concerto
Concerto in A minor for Piano and Orchestra, Op. 16
Duration: 30 minutes in three movements.
THE COMPOSER – EDVARD GRIEG (1843-1907) – Grieg was newly married (to his cousin) and only a few months into fatherhood in the summer of 1868 when he sought out some rural seclusion in Denmark. As a 25-year-old who was expected to give musical voice to the Norwegian culture, Grieg needed a little quiet. Norway's other great hope for a champion, the composer Rikard Nordraak, had died young in 1866 so Grieg must have felt the full weight of the national expectations the two once shared. Nordraak's influence would live on in Grieg. It was through their fleeting friendship that Grieg "first learned to know the northern folk tunes and my own nature."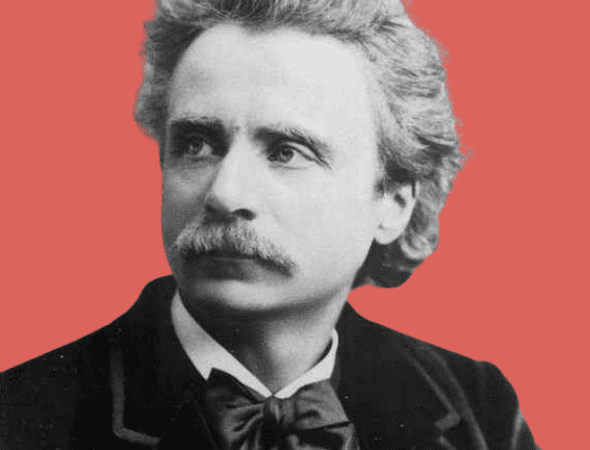 THE HISTORY – Grieg began work on his one and only piano concerto during that Danish summer in 1868 but made revisions to it in each of the next four decades, the last coming just weeks before his death in 1907. The premiere performance of 1869 did not occur in Grieg's native Norway but rather in Denmark, and it wasn't just because he wrote the piece there. Copenhagen at the time was a much more fertile environment for serious concert music than Oslo (then called Christiana) and it makes sense that Grieg was hoping to make a more international statement if he could. No one at home had much time to be upset though, as the concerto's resounding success (with even the "critics applauding with all their might") would necessitate an Oslo performance just a few months later. It was an important moment in Grieg's continuation of Nordraak's march towards a nationalistic Norwegian musical identity. But however loyal and earnest, Grieg was not inclined to simply carry another man's torch. His brief association with Nordraak left him with a renewed affinity for Norwegian folk songs, but he never became a regular "quoter" of them in his compositions. His instinct was to be suggestive of his history through textural reference and rhythmic allusion, an ideal most perfectly realized in the finale of his concerto. So simultaneously simple and sophisticated, this is possibly Grieg's most popular work today and was, for a time, among the most treasured and performed piano concerti of any composer. Indeed, even Grieg's peers (though Grieg may not have yet seen titans like Liszt and Tchaikovsky as peers per se) acknowledged the greatness of his creation. Thankfully, the music suffers little from its well-earned ubiquity and still proves fresh and vital in any setting. The piece itself nods respectfully to Robert Schumann in both structure and key, but also invokes the bravado of Franz Liszt with its brilliant and challenging flourishes.
THE WORLD – Elsewhere in 1869, War and Peace was published in book form, the Cutty Sark (the world's last surviving clipper ship) was launched in Scotland, the "Golden Spike" was driven in Utah.
THE CONNECTION – Grieg's Piano Concerto last appeared on the Masterworks Series back in 2018. Kazuki Yamada conducted and Alexandra Dariescu was soloist.
Tags