25 Jan 2022
NATHAN LINCOLN de CUSATIS: The Maze for Violin and Orchestra
by Jeff Counts
Duration: 18 minutes in four movements.
THE COMPOSER – NATHAN LINCOLN DE CUSATIS (b. 1982) – One biography of Fordham University Associate Professor Nathan Lincoln de Cusatis describes him as a composer with an "inclusive musical voice." This observation, like the artistic generosity it praises, comes from his wide-ranging influences and interests. The music of Lincoln de Cusatis reflects a life spent exploring both jazz and classical idioms, with other more oblique inspirations filling in the spaces in between. The biography continues: "His work is often guided by psychological narratives that unfold through references to past musical traditions, communal improvisation, cult films, iconic works of art and the ambient sounds of the urban landscape."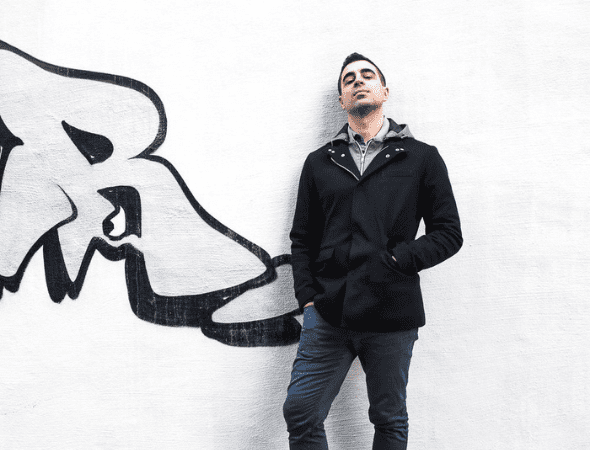 THE HISTORY – Non-urban landscapes provide the source material for The Maze for Violin and Orchestra (2019). Commissioned by Utah Symphony Concertmaster Madeline Adkins, this piece is described on her website as "inspired by the Maze District of Canyonlands National Park, one of the most isolated and pristine desert wilderness areas in the country." Adkins further explains that Lincoln de Cusatis "travelled the Maze in March 2019, spending six days covering the entirety of the district…This piece is his attempt to capture that journey in sound, and to use the temporal dimension of music to translate the vastness of geologic time and change to the human scale." Cast in four continuous movements, The Maze begins with "Echoes." According to Lincoln de Cusatis, this movement serves as an introduction to two of the main ideas that run through the experience – an eerie sonic representation of the desert he calls the "chord of mystery" and a melodic trailhead known as "the echo" that marks the topographical and emotional starting point of the hike. "The Overlook" depicts the geologic forces behind canyon formation while pitting the soloist against the physical barriers to entry in such a place. As she descends from the rocky rim to the floor of the Maze itself, she figuratively "chases" the erosion that created everything around her. "Pictographs" pauses the soloist/traveler near the entrance of the Maze to take in the famous Harvest Scene of cave paintings. Here, ancient gods, creation myths, and other elemental mysteries are given voice after centuries of silence. The finale of The Maze is, of course, at "The Confluence" of the Green and Colorado rivers. Lincoln de Cusatis gives each water course its own contrasting rhythmic identity as we hear the soloist "ride the rapids" to the place where they meet. She is reminded once more by "the echo" of how her journey began before finally climbing up and out of this place of suspended time and immeasurable space.
THE WORLD – Elsewhere in 2019, protests heated up in Hong Kong, Notre Dame Cathedral burned, Japanese Emperor Akihito abdicated, and Greta Thunberg addressed the UN Climate Action Summit.
THE CONNECTION – Though Concertmaster Madeline Adkins has appeared as soloist many times, these concerts represent the Utah Symphony premiere of Nathan Lincoln de Cusatis' The Maze.
Tags