02 Feb 2022
Joyce Yang: Music Moves People
February is a special month for the Utah Symphony. Every year, fifth-graders get bussed into Maurice Abravanel Hall from all over the Salt Lake valley for an opportunity to hear the symphony play just for them! It's always fun to look out at that audience and think about who this concert might inspire and how their lives might be impacted. Whether they go on to be the next tour de force in the classical music world, or if it just becomes a hobby and a way to blow off steam—music moves people and shapes their lives.
Joyce Yang knew from a young age that she wanted to keep music in her life forever. She was a gifted young pianist and was invited to play Saint-Saëns Piano Concerto No. 2 with the National Symphony Orchestra at only 14 years old, but her real life-changing moment came after she left the stage. As she watched the second half of the program—Tchaikovsky's Symphony No. 5—from the audience, she felt the power of live music like never before:
"I distinctly remember the very moment in the first movement when the music came over me and moved me in ways I couldn't explain. My eyes welled up with tears as I felt overwhelmed and mesmerized by the music that filled my ears and my heart.

"I couldn't believe the beauty and the poetry that was being spun out of the stage. I felt that each and every note was being played directly at me and I felt like I could link each note to my fondest memories. That is when I felt the power of music and realized what great performance can do to an audience. I felt like I received the greatest gift that day and I told myself that one day, I would like to give this kind of gift to others through my music."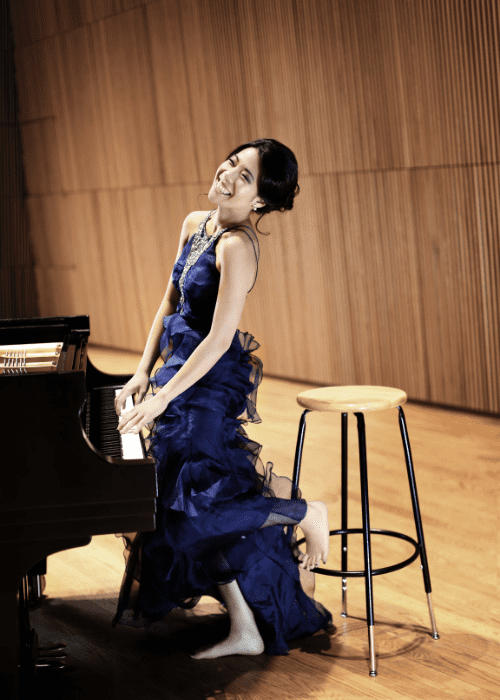 Since that fateful night, she has succeeded in her mission—and is constantly striving to do more, with an ever-growing repertoire. "For the past 20 years, I've been learning and performing two new concertos each year. With 40+ concertos in my repertoire, I still have a long list of pieces on my 'bucket list.'"
Knowing the amount of love and dedication that Yang puts into her work, one can only imagine how extraordinary the Liszt Piano Concerto No. 1 will sound. When asked what she loves about this piece, she said, "[It] is such a colorful and dramatic work. It is a thrilling rollercoaster with so many unexpected turns. The piece is in E-flat but Liszt challenges the listener's ears constantly by quickly modulating from key to key and making us guess his next move." 
If you're looking to deepen your experience when we perform this piano concerto, Yang gave two other suggestions—or rather, a Liszt—of what to listen for: 
"There are constant tempo changes and an interplay between recitative-like mini-cadenzas and rhythmically strict interludes. The concerto is written in one continuous journey without proper breaks in between movements."
"The most intimate moment comes in the middle of the piece when the pianist plays a poetic and lyrical melody without the orchestra, reminiscent of a Chopin Nocturne. The excitement returns with the sounds of the triangle, which marks the start of the thrilling finale." 
As 2022 begins and we're in the dawn of a new era of concert experiences, Yang reminisces, "I learned just how important live music-making was in my life. I think I took it for granted my whole life, and it took a pandemic to really make me realize just how wonderful it is to be able to converse musically in person and make music for an audience."
We hope you'll be there to listen as Joyce Yang, Thierry Fischer, and our orchestra craft great, live music at our next concert, Thierry Fischer Conducts Ravel, Liszt & John Adams, this weekend.  
Tags