08 Apr 2022
RACHMANINOFF: Piano Concerto No. 2
by Jeff Counts
Duration: 33 minutes in three movements.
THE COMPOSER – SERGEI RACHMANINOFF (1873-1943) – The 1897 premiere of Rachmaninoff's 1st Symphony was a disaster. By one account the conductor (Alexander Glazunov) was severely intoxicated but by all accounts, he was truly awful on the podium. Conductors aren't typically blamed for the failure of a premiere, however. Composers must own that alone. "Forgive me," Rimsky-Korsakov reportedly said about the piece, "but I do not find this music at all agreeable." It was, by far, the nicest of the many published comments on the Symphony. The failure threw Rachmaninoff into a deep depression that resulted in a three-year compositional drought. The turn of the century found him splitting time between piano performance and opera conducting.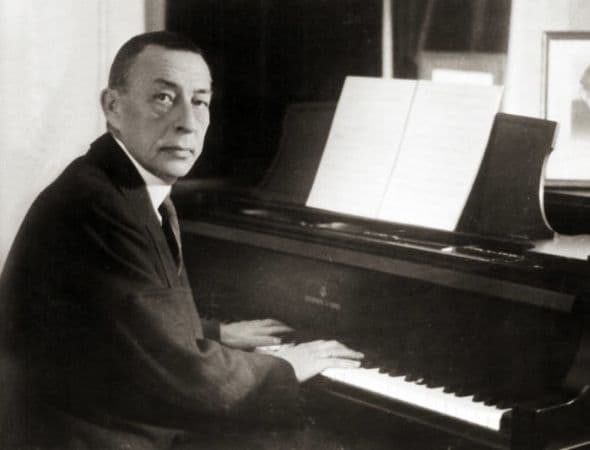 THE HISTORY – Today, Rachmaninoff's most enduring masterpiece is the 2nd Piano Concerto. It is a work that might never have been written if not for the interventions of Dr. Nikolai Dahl. Dahl was a Moscow physician and amateur chamber musician who had an interest in hypnosis therapy. The existence of that hypnosis fascination has led to some rather wild conjecture regarding the nature of Dahl's "treatment" of Rachmaninoff's malaise. The two men began meeting daily in early 1900 and though it is tempting to imagine the composer drawn out of his depression under the spell of a pendulating pocket watch, it is much more likely that the highly cultured doctor cured Rachmaninoff with a generous blend of conversation and positive suggestion. However he did it, Dahl's efforts worked. Rachmaninoff began to sleep better, eat more, drink less and, most importantly, compose again. The project that would benefit first from this restored confidence was the 2nd Piano Concerto, which would be appropriately dedicated to "Monsieur N. Dahl." The second and third movements of the new concerto were finished later that same year and performed to great success, even without the iconic opening movement, in Moscow. This was an important moment, as Rachmaninoff's newly bolstered self-image probably still had an element of fragility to it. He need not have worried. As the reception in Moscow proved, he was on to something special with the 2nd Concerto. Completed in 1901, the full work was a lush, agreeable and instantly popular declaration of Rachmaninoff's maturing voice. References in popular culture to this music are almost too numerous to count, but the films Brief Encounter (1945) and The Seven Year Itch (1955) as well as Frank Sinatra's Full Moon and Empty Arms certainly make the case for its legendary status as boundary-breaking art.
THE WORLD – Elsewhere in 1901, the first Nobel Prize ceremony occurred in Sweden, Queen Victoria died in Britain, the Commonwealth of Australia was created, and US President William McKinley was assassinated.
THE CONNECTION – The 2nd Concerto is Rachmaninoff's most frequently programmed work. Utah Symphony last performed it in 2019 with Thierry Fischer on the podium and Alexander Gavrylyuk as soloist.
Tags