05 May 2022
SMETANA: The Moldau
by Jeff Counts
THE COMPOSER – BEDRICH SMETANA (1824-1884) – If Dvorak is to be credited with bringing Czech classical music to the world, Bedrich Smetana must be acknowledged as the man who truly established it at home. These two musicians, the King and Crown Prince of a growing orchestral and operatic ethos, were not the first to write music that centered Czech language and folk tradition, but Smetana was the first to project a distinctly national voice for his people. It wasn't always so. Born into a German-speaking household, his early professional life reflected an obsession with a Hungarian giant (Liszt) and a job in Sweden, but Smetana returned "home" to Prague for good in 1862.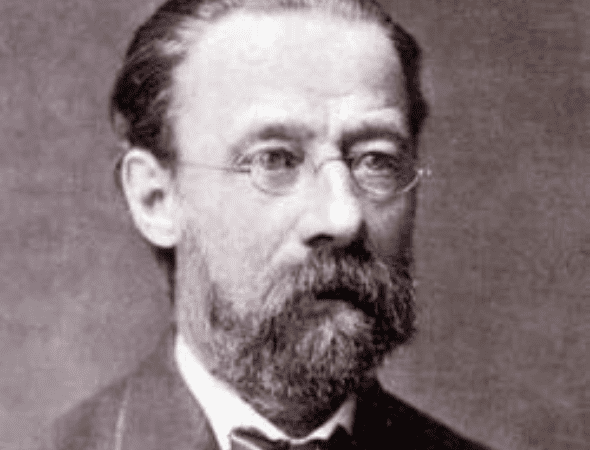 THE HISTORY – Smetana was forced to step down as Principal Conductor at the Prague Theatre in 1874, thanks to that most cruel (and famous) of composer ailments – deafness. It was only partial at first, his hearing loss, but it soon became complete, and permanent. Of course, this sad fate brings Beethoven to mind. Much like that older master, Smetana continued to write music he would never be able to hear. Má Vlast (My Country) was a cycle of tone paintings composed over a period of five years from 1874 to 1879. This pictorial and historical tribute to Bohemian pride fully fixed Smetana's legacy among his countrymen and provided the rest of us with one of the most popular orchestral works to come out of any culture. Vltava (The Moldau in German) was the second movement of the suite but is performed today most often as a free-standing concert work. The Vltava River is the longest in Czechia. It runs on a short southwesterly course out of the Bohemian Forest before turning definitively north an eventually emptying into the Labe River (Elbe in German) several miles north of Prague. Strauss' Blue Danube had been written during the previous decade so music about important waterways was certainly in the air when Smetana chose his subject in 1874. Unlike Strauss' loosely poetic homage, Smetana designed his river piece as a realistic sonic boat ride. His notes to the publisher included a sketch of his proposed journey through Bohemian landscape and life. From the "two springs" the birth the Vltava in the forest, a "mighty stream" passes through a hunter's wood, flows past a wedding feast, reflects "many a fortress and castle" and braves the "Rapids of St. John" before widening "in majestic calm" as it approaches Prague, the Vyšehrad fort and the quiet beyond. The gorgeously catchy main theme of Vltava has a slightly murky provenance, but it was quickly adopted and anthem-ized by Czech people and others throughout Europe.
THE WORLD – Elsewhere in 1874, Denmark granted Iceland a constitution and limited home rule, Far From the Madding Crowd was published by English novelist Thomas Hardy and cartoonist Thomas Nast first symbolized the American Republican Party with the image of an elephant.
Tags