28 Nov 2022
BEETHOVEN: Symphony No. 5
by Jeff Counts
THE COMPOSER – LUDWIG VAN BEETHOVEN (1770-1827) – Times of financial plenty were rare for Beethoven. He was never destitute for long, but the regular rises and falls of his fortune made him a rather nervous citizen. Which is why, in 1807, Beethoven sent a proposal to the Imperial Theatre Directors of Vienna for a yearly opera commission and a separate benefit concert also to be held annually in one of the performance halls. This request, if granted, would have provided him with some much-needed stability and would have provided posterity with the boon of a full operatic catalogue from the great master. Imagine a scenario where Beethoven wrote as many operas as Mozart, or Verdi, or…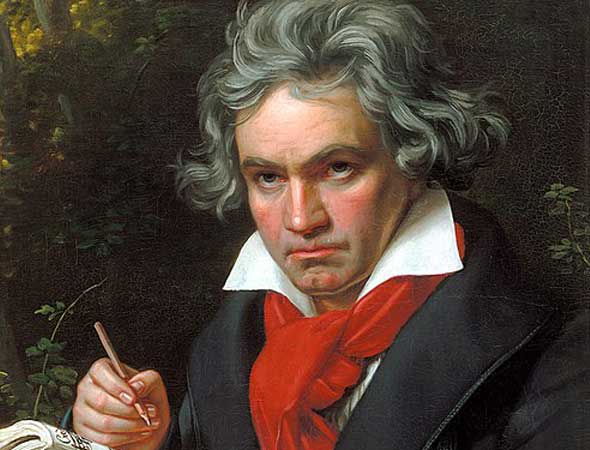 THE HISTORY – Sadly, it wasn't meant to be, and the single 1808 concert offered by the Directors was to be the sole fruit of Beethoven's ambitious suggestion. The unfulfilling circumstances of the event in general and the premiere of the Fifth Symphony specifically are now legendary. The concert was notable not only for its prodigious length (four hours!) and poor preparation (only one rehearsal!) but also its rather uncomfortable hospitality (the hall was unheated on that bitterly cold December night!). The massive program included the shaky premiere of Symphony No. 5, yes, but also the first performances of Symphony No. 6, the Choral Fantasy, the Fourth Piano Concerto, and assorted vocal pieces. If that weren't enough to manage, Beethoven served as soloist on the new concerto, his last public appearance in that setting. It's hard to imagine that those present could recall anything specific from such a sonic and intellectual onslaught, but the stubborn frankness of the Fifth Symphony must surely have lingered in their minds afterward. In any case, the circumstances were not conducive to success. History, however, makes its own magic with the ingredients provided by fate and that night is revered today for good reason.
The Fifth Symphony owes its fame to the four notes that mark the opening of the first movement, but its importance is grounded in the paradigm-shifting impact of the entire work. Compositional innovations abound in the score and brass players the world over laud the piece for making the first purely symphonic use of the trombone. The initial insistent motif of the symphony has been referred to as "Fate knocking at the door" and even if we are no longer certain that Beethoven himself used that phrase it is aptly put. The stark energy of that simple idea contains a microcosmic completeness that informs all four movements and serves as the first fearless steps on the journey from darkness to light—a frequent emotional ideal in Beethoven's music but one employed here more perfectly than ever before.
THE WORLD – Elsewhere in 1808, Scottish poet Walter Scott's Marmion was published including the memorable line "Oh, what a tangled web we weave/ When first we practice to deceive" and Thomas Jefferson's presidency came to an end.
THE CONNECTION – Utah Symphony, like all professional orchestras, programs Beethoven 5 frequently. The most recent performance was in 2017 under the direction of Music Director Thierry Fischer.
Tags