06 Dec 2022
PROKOFIEV: Piano Concerto No. 2
by Jeff Counts
THE COMPOSER – SERGE PROKOFIEV (1891-1953) – Just before graduating from the St. Petersburg Conservatory as one of its most beloved enfants terrible, Prokofiev made one of the closest friendships of his life. It was also one of the briefest. Maximilian Schmidthof was a kindred spirit if there ever was one, delighting in the same kind of philosophical sparring that Prokofiev loved and inspiring the young composer to expand his already intrepid reading habits. Tragically, Max was also a deeply troubled person, and he killed himself in April of 1913. "I am writing to tell you the latest news," wrote Max bluntly in a suicide letter to Prokofiev, "I have shot myself…The reasons are unimportant."
THE HISTORY – Prokofiev was understandably devastated, and he dedicated his new piano concerto (parts of which he had previewed for Max over the preceding months) in memory of his dear, lost friend. The intensely dramatic concerto that continued to grow out of this difficult time, his Second, premiered a few months later in the St. Petersburg suburb of Pavlovsk with Prokofiev at the keyboard. Accounts of that performance do vary, but only with regards the ferocity of the negative audience reaction. They were "frozen with fright, hair standing on end" in the words of one critic. "The audience is scandalized," claimed another, "most of them hiss…the cats at home can make better music than this!" Prokofiev's own diary entry for the event speaks to a more equivocal response from the patrons in their mix of "applause and boos" and the composer claimed, in the moment at least, to be "pleased that the Concerto provoked such strong feelings…" His claims that an encore was demanded by such a crowd are perhaps hard to accept, but he did apparently play one, likely with an impish grin on his face throughout.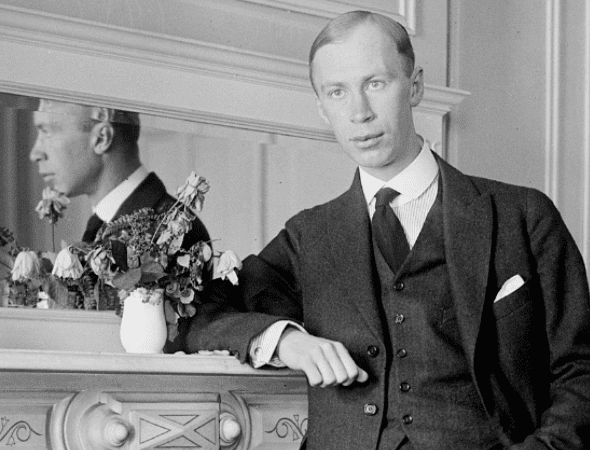 No matter whose memory we trust most, we today cannot ever know exactly what the audience heard that night since the score was destroyed in a revolutionary fire just a few years later. Prokofiev rebuilt it from notes and sketches in 1924 for a Paris re-premiere but later told a friend that the new version of the Second Concerto was different enough to be "considered the Fourth" (the Third was already in existence then). Few of those lucky enough to have heard both concerts agreed with him and, either way, it must be assumed that a great deal of the raw emotional power and uncompromising technical demands of the original remained. Even altered, it is a mighty work, an insistent and incendiary work, and there amidst all the virtuosic flourishes and daring formal brilliance, if you listen closely, you can still hear the pain of losing Max in it.
THE WORLD – Elsewhere in 1913, civil war raged in Mexico, King George I of Greece was assassinated, George Bernard Shaw's Pygmalion premiered in Vienna, and New York's Grand Central Terminal was opened in February.
THE CONNECTION – The most recent Masterworks performance of the Second Piano Concerto was in 2018. Karina Canellakis conducted and Conrad Tao was soloist.
Tags