21 Apr 2023
SIBELIUS: Finlandia
by Jeff Counts
THE COMPOSER – JEAN SIBELIUS (1865–1957) – Just before the turn of the 20th century, Sibelius was working hard to establish a stable life as a musician. He had failed in 1896 to secure a permanent teaching position at Helsinki University
and was regularly spending beyond his means. In 1899, Sibelius wrote and premiered his first symphony, an important event that announced the arrival of a potentially powerful new contributor to the genre, but it didn't pay the bills. The small lifetime pension he received from the Finnish government that same year helped steady the young Sibelius family a bit, but international fame was still a year away for the composer.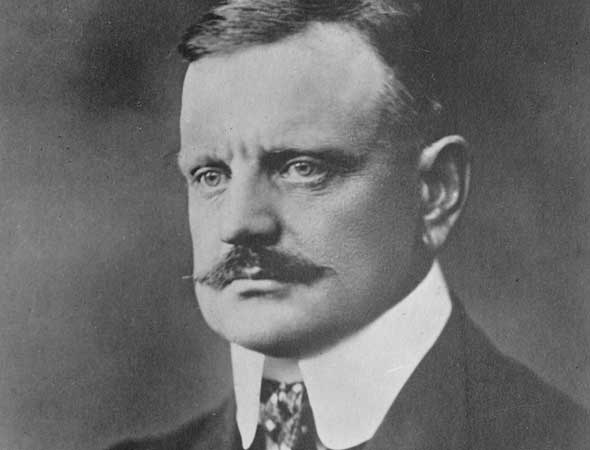 THE HISTORY – Running in the background behind Sibelius' personal and professional striving in the 1890s was a great deal of discontent for his country. On paper, Finland was an autonomous grand duchy of the Russian Empire. In reality, the Tsar was consistently nibbling away at Finnish self-government with decrees designed to bring the people more fully under Russian dominion. The Finns, Sibelius very much included, reacted with pride and occasional boldness. The composer did his part by celebrating his culture on the concert stage. Works like En Saga, The Swan of Tuonela, and the Karelia Suite put Finland front and center and, in their subtle way, confirmed Sibelius' commitment to the cause of self-determination. "I now grasp those purely Finnish tendencies in music… more truthfully than before" he wrote to his wife Aino. But he wanted to contribute more. The chance to do so came with a request to write a new work for a press pension fund event in 1899. Sibelius wrote a fetching anthem for the performance (which had a strong but carefully managed political subtext) called Finland Awakes that put his name on the lips of every Finn. He revised it a year later and changed the title to Finlandia. The piece featured prominently on the Helsinki Philharmonic's first big tour and Sibelius' reputation finally began to take hold beyond his homeland borders. The patriotism of Finlandia is pan-national too, and it still stirs the souls of every open-hearted listener, regardless of their country of origin. Reflecting back on the work after Finland achieved its independence from Russia, Sibelius said, "We fought 600 years for our freedom and I am part of the generation which achieved it. Freedom! My Finlandia is the story of this fight. It is the song of our battle, our hymn of victory."

THE WORLD – Elsewhere in 1899, the Philippine-American War began, the Spanish-American war ended, Aspirin was patented by the Bayer Company in Germany, and Phoebe, a moon of Saturn, was discovered.

THE CONNECTION – Finlandia has not been performed on a Utah Symphony Masterworks concert since 2010. Guest Conductor Mario Venzago was on the podium.
Tags