17 Nov 2023
SIBELIUS: En Saga
by Jeff Counts
THE COMPOSER – JEAN SIBELIUS (1865-1957) – With the success of the massive symphonic poem-cycle Kullervo in 1892, Sibelius finally had proof he could make it as a musician. And it wasn't only his mother who needed convincing. The parents of Aino Järnefelt had been skeptical too. Aino was Jean's sweetheart from his university days, but her family didn't believe he could support but on the unpredictable (when it existed at all) income of an unknown violinist and composer. Kullervo, and the position of Finnish cultural prominence it created for Sibelius, changed that. The young couple married right away and Sibelius, quite a bit full of himself now, reiterated to Aino that, as an artist, he expected to be "free to continue his imaginative life undisturbed" by childrearing and other mortal responsibilities.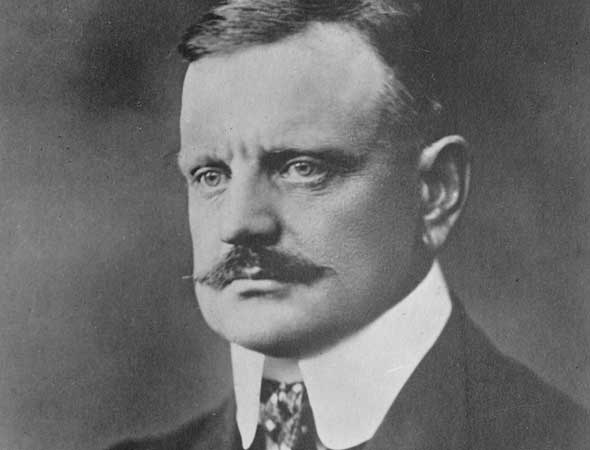 THE HISTORY – One subject on which Sibelius hoped to spend some of his undisturbed imaginative life was Finnish nationalism. He was expected to be the musical voice of it now and he knew instinctively that, to be equal to the honor, he would need to quickly move beyond the youthful excesses of Kullervo. His colleague Robert Kajanus knew this too and requested from Sibelius a single-movement orchestral work "in a more popular style". Kajanus felt that Kullervo asked too much of the audience and encouraged Sibelius to express his intent more directly, and more concisely. Though he disputed it at various times during his life, En Saga (A Fairy Tale) appears to have been Sibelius' answer to the call. He completed the first version of the score in 1892 but revised it significantly in 1902 after receiving a request from Italian composer and conductor Ferrucio Busoni to present it Berlin. Like so many other composers, Sibelius frequently revised his music after premiere performances and rarely allowed a piece to be published without a lot of edits. It was as if the first concert was simply another necessary step in his compositional process, like he needed to hear the score in context to know how to finish it perfectly. At any rate, the German concerts, after a few bumps, confirmed Sibelius as the international face of Finnish patriotism. Unlike Kullervo, En Saga had no programmatic roadmap. The alternately mysterious and heroic Nordic imagery in the music just begs for a story, but Sibelius always insisted there was none. It was an "adventure in an inner landscape", he wrote, adding, "En Saga is psychologically one of my most profound works…It is an expression of a state of mind…in no other work have I revealed myself as completely as in En Saga. For this reason alone all interpretations of En Saga are completely foreign to my way of thinking."
THE WORLD – Elsewhere in 1902, Edward VII was crowned King in the United Kingdom, Leopold II of Belgium survived an assassination attempt and Sir Arthur Conan Doyle published The Hound of the Baskervilles.
Tags