24 Sep 2018
Becoming Bob Dylan

A look into the life of percussionist Eric Hopkins
by Kathleen Sykes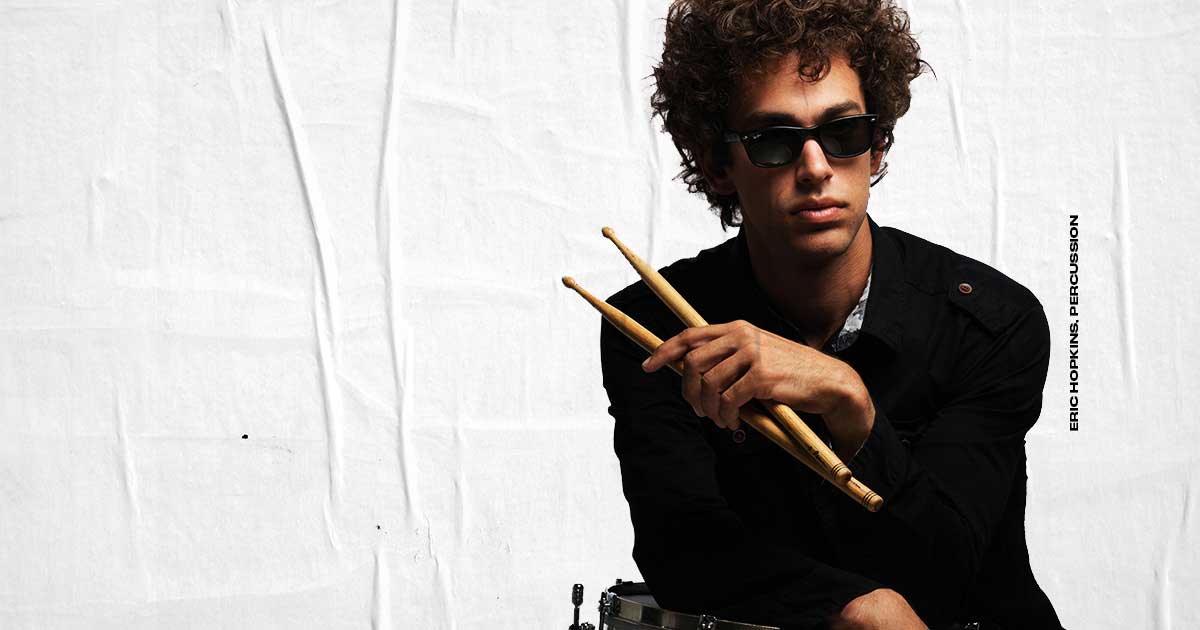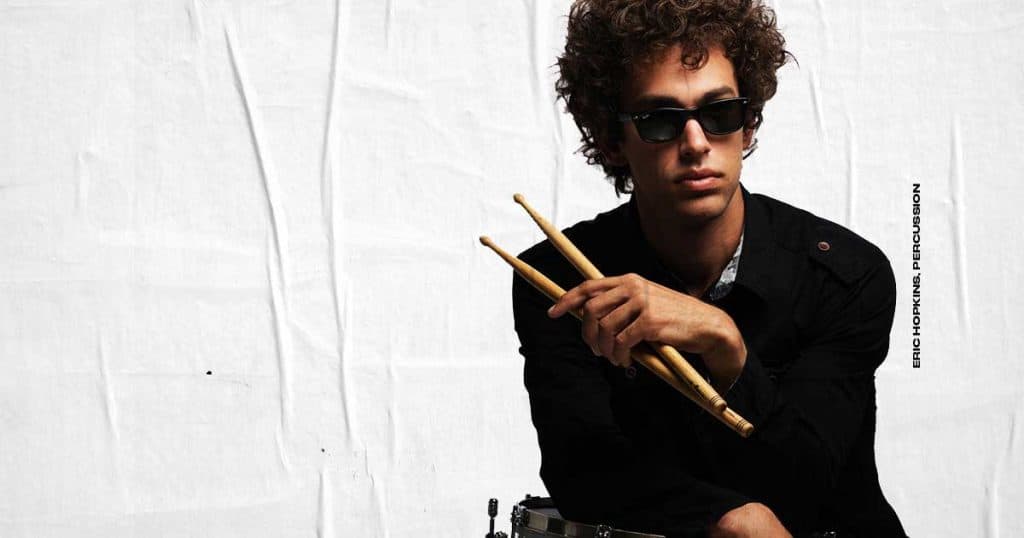 When percussionist Eric Hopkins landed in Utah for his audition, he got an ominous welcome. There was no mistaking that his luggage was that of a classical musician, so his Uber driver asked if he was in town for the Utah Symphony audition. When he answered, "Yes", his driver then said the words that shook his outlook on the audition:
"Did you know that they just had a cello audition? They decided not to hire anyone."
Hopkins confessed, "I was super nervous for the audition," Unlike the violin, where someone can audition on their own instrument, the percussionists were all required to play a particular set of baroque timpani, as well as a standard set of timpani—all instruments they were unfamiliar with. Nevertheless, he advanced through the audition, playing each note with poise and determination.
"By the time the finals came around, I wasn't nervous at all," said Hopkins. With renewed confidence he added, "My goal was to play in such a way that the orchestra committee would have no doubt they would want to hire me."
Not-so-musical beginnings
Hopkins did not come from a musical background—no one in his family was a musician, and he did not take traditional music lessons growing up. Instead, he joined accidentally. He and a friend found themselves in a middle-school class in Florida, and their first lesson was how to iron clothing.
Unsurprisingly, like any eighth-grader might do, he and his friend went to his guidance counselor searching for a more interesting class. His counselor said they couldn't just "switch classes"—he would have to be passionate about something else. Despite not playing an instrument, he decided to throw himself into a world of music and join band class.
"We didn't know how to play any instruments, so our band director put us in the back and gave us a method book and some drumsticks," he said. He sat in the back of the class for about a month learning how to read music.
"It happened that this band director was a percussionist, so we were able to take lessons with him," he said. "He was a really great influence… It was the reason I started." This band director later inspired Hopkins to pursue music seriously.
In college, he initially started as a music education major and switched to music performance in his first semester of his undergrad program.  "I actually quit music in college," Hopkins admitted. "I wanted to be a normal college student and explore other interests." But after taking a semester of poetry, art, and psychology, he returned to music. "I realized that I enjoyed everything I did, but that I thrive in music."
Hopkins only applied to one undergraduate program, but when it came time to pursue a graduate degree, he took the process seriously. He applied to several programs and was accepted into all of them.
"I was really proud to get accepted into Julliard and getting a full ride scholarship—and then getting to turn them down." Hopkins said. Instead he opted for Manhattan School of Music in New York City where he had teachers and experiences that shaped him profoundly.
Transition to a musical career
Musicians don't always have the luxury to decide which city they are going to work in. By the time Hopkins finished school, he was ready for a change of scenery saying, "New York was the opposite of what I wanted to be."
After finishing his program, he went on to audition for the Oregon Symphony as well as the Utah Symphony. "I was thirsty to graduate and get a job," he explained. Hopkins ended up in Salt Lake—and has not looked back since.
"I feel like my personality has evolved," he said emphasizing how much his identity has meshed with Utah since moving here. "It's easier to question your ego here… It's easier to find satisfying life things, and you get to enjoy more rest and relaxation."
Becoming Bob Dylan
"I skateboarded like it was my career," Hopkins recalled from his childhood before he got into music. His rebellious and countercultural outlook on life channels the crown prince of folk himself, Bob Dylan.
Dylan made his career in the 1960s with his defiant and individualistic music becoming "the voice of a generation." His music pulled themes from philosophy, religion, poetry and more, and his iconic laissez-faire style broke traditional boundaries. Hopkins was a perfect fit to imitate Dylan. "I love the rebelliousness of percussion… There's a reason why we're the farthest away from the conductor!"
What sets the percussion section apart from the rest of the orchestra is the amount of creativity required. Percussion scores aren't always written out idiomatically, so Hopkins and the other orchestra percussionists often have to make decisions on which instruments to use for a particular piece. "We always have to ask ourselves which gongs and cymbals to use in the orchestra. We always get a lot more creative license than other instruments."
Like his rock star counterpart, Hopkin's interests are varied. "I want my life outside of music to inform my music." He loves diving into poetry and non-fiction citing Billy Collins and Malcolm Gladwell as two of his favorite writers. When he's not performing with the symphony, he's enjoying what Utah has to offer: snowboarding, hiking, boulder hopping.
"I find there are parallels you can draw between adrenaline sports and music too. The efficiency of movement in rock climbing relates to the efficient stroke of a percussionist… The dynamic movement of boulder-hopping while relates to a drumming technique called the Moehler stroke or whip stroke. The awareness or your surroundings as you try a new trick on a snowboard is like playing a new piece or new instrument for the first time. After you get more comfortable, your eyes and ears open up and then you nail it."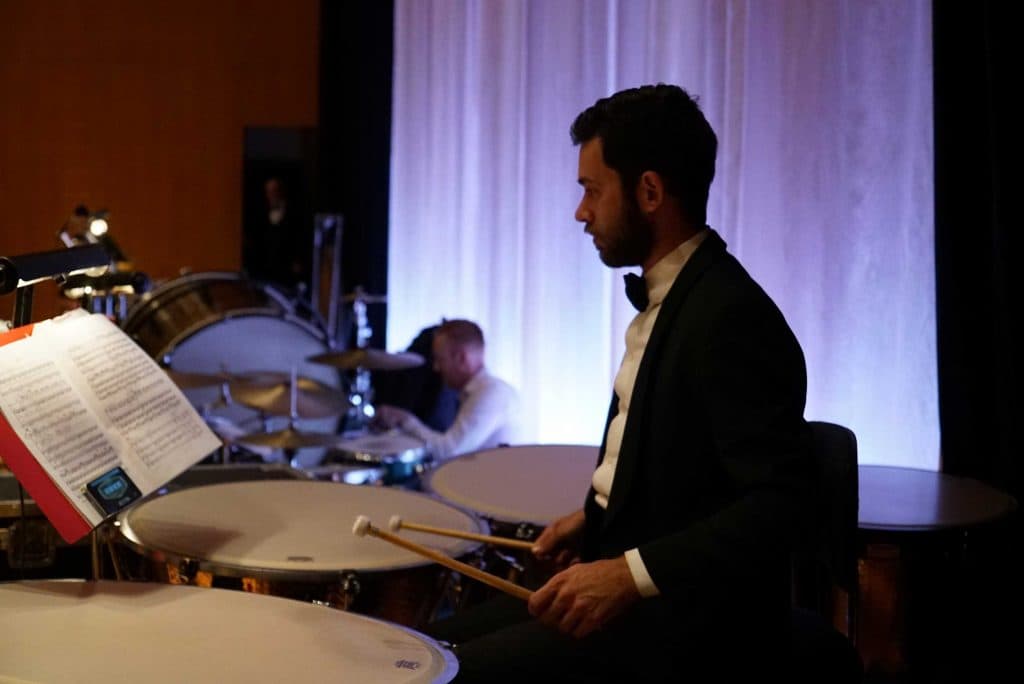 When asked about what keeps him inspired, he mentioned that he loves action movies—especially The Matrix. "I like this idea that you can do anything, that you might just be living in an alternate universe designed to keep you in control and following rules… Or maybe there aren't rules!" Whether he's in the concert hall or doing adrenaline sports, he marches to the beat of his own drum.
Follow Eric Hopkins on his adventures here.
Learn more about Utah Symphony's Rock Stars
Tags