25 Nov 2020
The Rules of Arrangement
by Jeff Luke
If you watch Utah Symphony Brass Quintet plays Bach to Stravinsky on demand featuring a few of our brass players, you might notice a curious detail: Some of these pieces weren't arranged for brass instruments at all! Trumpet player Jeff Luke, in addition to being a member of our orchestra is also a talented arranger—he was able to translate these classic works into a language that makes modern brass instruments shine.
How did he do this? Learn more about his process and inspirations below:
As we all prepare to endure this next pandemic break from live music performances, I wanted share some thoughts regarding the USUO Brass Quintet recital that is now available for streaming. As you are watching the stream, you might notice that these pieces were not originally written for brass quintet, but for other instrumentations including orchestra, organ, and piano. Why? Because these are not the original compositions, but arrangements for brass quintet.
You see, the brass quintet itself was not even invented until the 1950s. That means if the USUO Brass Quintet wants to play music by Bach, Beethoven, Mozart, or even early Stravinsky, we have to adapt the original music ourselves.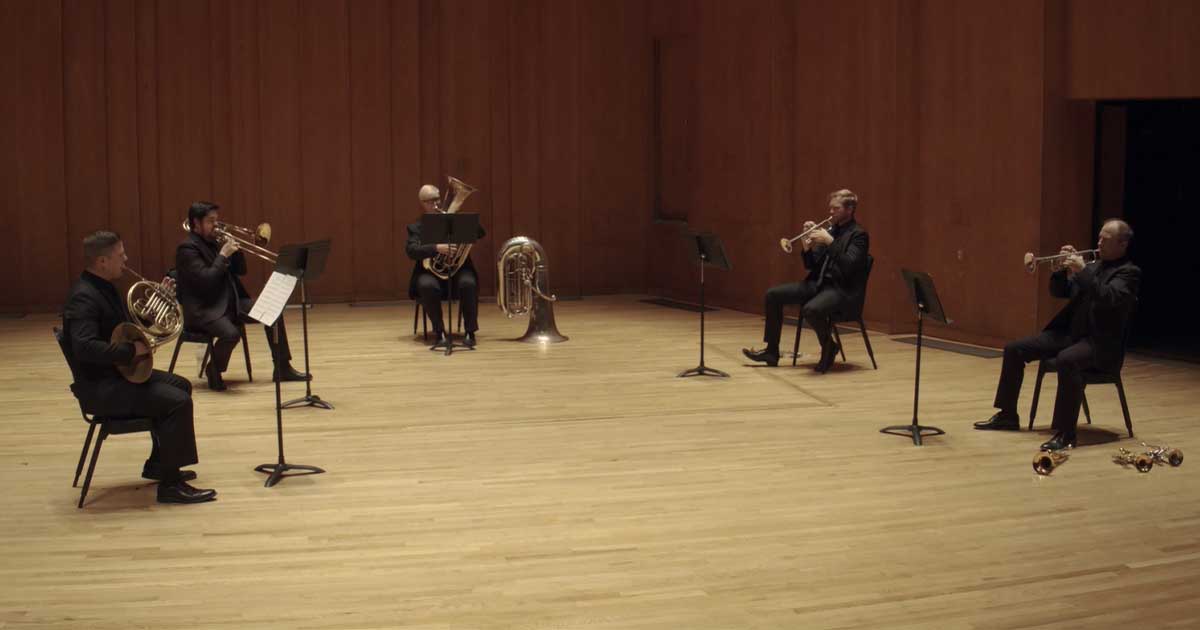 Music written for strings, woodwinds, keyboards, or voice is re-written to be played by two trumpets, French horn, trombone, and tuba. Is this even allowed?!
Yes it is!
As long as the original music was first published before 1925. In the United States, this is music that is considered to be in the Public Domain.
Did the brass quintet genre discover this practice? No. Arranging is a very old tradition. J.S. Bach, who also had a gig as a church organist, borrowed music from himself and others, often to fill out the service. For example, he arranged several Vivaldi pieces for organ. Have you ever heard trombones in Handel's Messiah? Mozart arranged that one. Do you like cartoons? Franz Liszt's Hungarian Rhapsody no. 2, a virtuosic piano solo piece featured in a Tom and Jerry chase scene, was arranged for full orchestra by Liszt's student Franz Doppler. Disney's Fantasia featured Leopold Stokowski's full orchestra arrangement of Bach's Toccata and Fugue in D Minor, originally written for organ.
So it has been done. A lot, actually. But are there unwritten rules for arranging? I, for one, say yes.
First, you should never arrange in a way that will lessen the value of the original piece. If you have an idea, for brass quintet for instance, that can be arranged and still artistically portray the original intent of the composer, then that is a good idea. If, however, your idea is to arrange the entire 1812 Overture by Tchaikovsky, originally intended for large orchestra plus cannons, this would be considered a bad idea.
My other main rule is to make the arrangement enjoyable for the performers to play. If you make it too hard, writing notes that are too high or too low for the instruments, or neglect to include adequate rest for the musicians, nobody will want to play it.
In conclusion, arrangements are a larger part of the music industry than we sometimes realize, and if they are written artistically, they are enjoyable for musician and audience alike. Hopefully this article will help give you some things to think about as you listen to the USUO Brass Quintet recital, which is streaming now!
Tags