06 Jan 2022
Clowning Around with Travis Peterson
by Kathleen Sykes
Stravinsky's Pétrouchka is legendary among trumpet players. The excerpt in the third movement is often on auditions, and the whole piece has whimsical elements narrating the story of this ill-fated puppet clown. For Principal Trumpet Player, Travis Peterson—who will be performing it in this weekend's performance—it holds a special place in his heart.
"The first time I encountered Pétrouchka was during my undergraduate studies. I was just studying the famous trumpet excerpt called the 'ballerina's dance.' I had no idea that the entire piece was so interesting and offered all sorts of juicy bits to dive into! I didn't fully dive in to studying the entire piece until Ben Wright, one of my teachers from New England Conservatory, told me to listen to the Boulez recording with The Cleveland Orchestra (Michael Sachs beautifully playing Principal Trumpet). It blew my mind, and I loved it ever since!

"From the opening sounds of the festive fair music; to the 'ballerina's dance' and highly exposed waltz that follows; to the entire fourth part—I couldn't believe my ears. There was so much more to this piece than the trumpet excerpt (ballerina's dance), including many trumpet highlights and many amazing orchestra moments."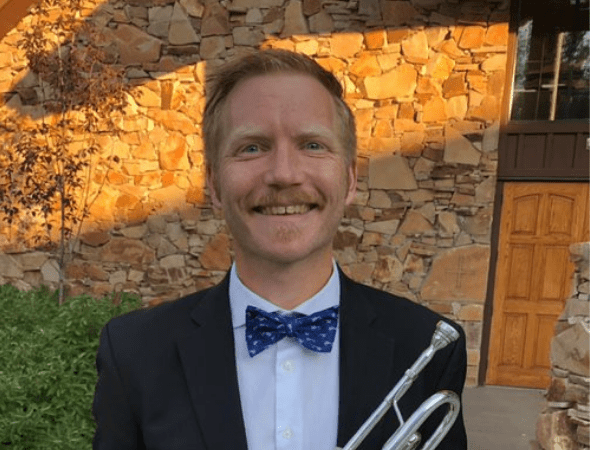 For Peterson, this piece appeals to his musical sensibilities. In many ways, Igor Stravinsky was ahead of his time, and his work—especially the works he composed for the Ballets Russes—helped shape our modern musical landscape.
"I think my complete favorite moment in the piece is when the fourth part—or fourth tableau ('The Shrovetide Fair')—arrives. Listen for a joyous festive sound with fanfares coming from the brass section that leads into the 'wet-nurses dance,' which to me sounds like early minimalism (much like John Adams). Stravinsky uses folk melodies in this section that develop over a short time. I am a minimalism junky, so I absolutely love this moment!"
Peterson loves the variety that being in the Utah Symphony gives him. Stravinsky is a challenge, but in the coming weeks and months, he'll not only have to play modernist and neo-Classical works, but also contemporary opera, Broadway hits, and film scores.
"The biggest challenge in my job is adapting my sound and character from week to week depending on what is on the concert. One week I may have to play 'Pétrouchka;' and the next week, I may have to play lead jazz charts on Broadway tunes; and the following week, I'll be playing Mozart. Each of these things requires a certain sound and character to really 'sell it' to the listener." 
Still, this weekend's concert is a season highlight for Peterson. "This is actually only the second time I will have ever performed Pétrouchka, the first being in 2016, so I am very much looking forward to it!" he says.
You have Travis' point of view—come this weekend and discover what's so mind-blowing about Pétrouchka from the audience's perspective.
Tags