13 Apr 2011
Composer of the Week – Alberto Ginastera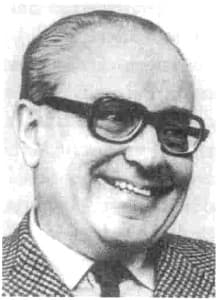 Happy late Birthday to Argentine composer Alberto Ginastera! (1916-1983)
Alberto Ginastera is one of the most important and well-known of the Latin American composers. He was very prolific, composing operas, ballets, orchestra works, concertos, and chamber pieces. Ginastera almost always tried to find a way to work traditional Argentine melodies, folk songs, and stories into his work, no matter how abstract they might come out in the end. He spent most of his life composing and teaching in Argentina, but he did spend two years studying with Aaron Copland at Tanglewood. He moved to Switzerland for the last decade of his life.
Here's the first movement of an early piece- Danzas Argentinas for piano. In it, the left hand plays only black keys, while the right hand plays only white keys.
And here's his Pampeana for Cello and Piano, performed by his wife, cellist Aurora Natola Ginastera.