14 Sep 2012
Prokofiev – Suite from The Love for Three Oranges, op. 33
by Jeff Counts
Instrumentation: piccolo, 2 flutes, 2 oboes, English horn, 2 clarinets, bass clarinet, 3 bassoons (3rd doubles contrabassoon), 4 horns, 3 trumpets, 3 trombones, tuba, timpani, bass drum, tambourine, xylophone, triangle, field drum, cymbals, glockenspiel, tam-tam, 2 harps, strings
Duration: 15 minutes in six movements.
THE COMPOSER – SERGEI PROKOFIEV (1891-1953) – Prokofiev arrived in New York City in the early fall of 1918 for what would be a four year stay in America. The journey (which included a Trans-Siberian Railroad leg to Vladivostok – brutal even in non-revolutionary times) was beset by delays and took nearly four months to complete. Along the way, he was convinced that the United States would be more welcoming than his originally intended destination of South America.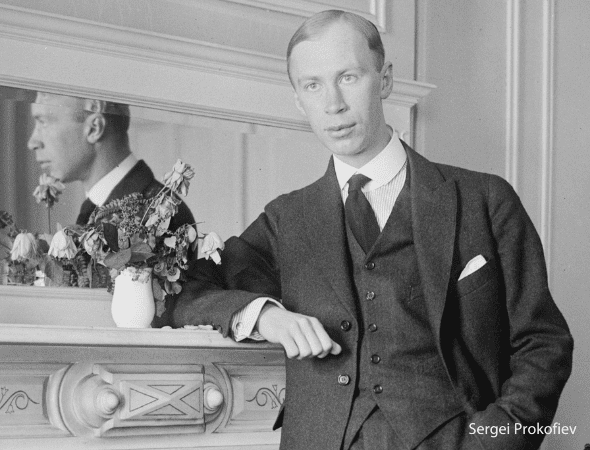 THE MUSIC – The welcome was cool at first. Prokofiev was held in San Francisco by immigration officials but thanks to the generosity of some ex-pat countrymen, he made his way east soon enough. It was in Chicago that Prokofiev was engaged by the city's Opera Company in a discussion about a production of The Gambler. Unfortunately, Prokofiev didn't have the score with him but he had arrived in America with an idea for a new project. During his interminable voyage he had been working on a libretto based on the Russian adaptation of a commedia dell'arte play by Carlo Gozzi called The Love for Three Oranges. The Opera's Italian-born conductor was thrilled by the suggestion and the new work was commissioned and completed in 1919. The story tells of a young prince who, after laughing at a witch when she trips, is cursed by her to seek and fall in love with three oranges. The prince finds the oranges and opens them in turn. Each reveals a hidden maiden and the first two quickly die of thirst. The third, rescued with a drink from the prince, survives to become his bride. The opera is comical but not in a vacantly silly way. There is a certain piquancy to the fantastical characters and their interactions and Prokofiev actually seems to be lampooning the mild farces to which The Love for Three Oranges is often compared. He extracted the six-movement concert suite in 1924.
THE WORLD – 1919 also saw the founding of the League of Nations in Paris following WWI, the Great Molasses Flood in Boston, the beginning of the Irish Revolution against England and the death of South African Prime Minister Louis Botha.
Tags