11 Apr 2014
Carl Nielsen's Fifth Symphony
Mogens Mogensen now resides in Utah but was originally from Denmark. He published a five-volume biography on the life of Carl Nielsen in the 1990s. Throughout the 2013-14 season as the Utah Symphony performs all six symphonies of Carl Nielsen, Mogens will be contributing insights into Nielsen's life for our blog. This story comes from a time when Mogens was travelling Europe in search of individuals who had been living witnesses of Carl Nielsen.
The Birth of the New 5th Symphony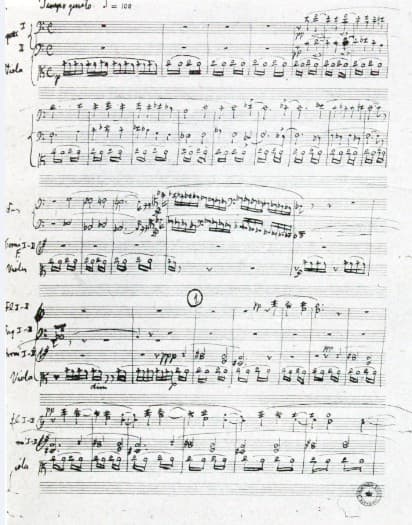 In the summer of 1918 Carl Nielsen purchased a summer house high in northern Denmark – in sunny Skagen – called "Finis Terræ." To him, the home  was not only meant to be a valuable refuge for him and his whole extended family and friends, but he also hoped that he would be able to get his wife to visit him little more during the summer months to mend their strained relationship.
A short time after his wife, Anne Marie, visited the home in Skagen, she wrote this letter to Neilsen:
"Dear Carl. So, what should I actually write? I hate to repeat and immerse myself in the old, pain is only sad. I have only one prayer, let's get it over with as quickly as possible. I want my freedom back. It's a sad life performance, but it is necessary to get out of this mess. Unfortunately I can not change the name, though I dearly want it. I've been so proud of the name that I, in good faith, helped to build up. Now it hurts me even though there's hardly anything to do about it, since it is related to my artist activity. No one will know me under another name. You must be free of me. I am not the right one for you. Being next to you, it feels like I am numb, no concentration or willingness to work. It's like having had a deep wound which gradually heals, but touching it is like a habitual dull pain..."
The war was over, and Denmark was awarded half of the province Schleswig, which was taken by the Germans during the war 50 years before. Now again Europe was open, and one could travel according to individual wishes.
Neilsen, now a popular composer and conductor was a sought after personality all over northern Europe
The year 1920 was filled with traveling across Europe and Denmark, enjoying the feeling of being free. Anne Marie went to Italy, Carl Nielsen to Leipzig, but neither had the desire to meet again. Neilsen went through restless period; a "quiet before the storm".
At the time most of the small villages along the Øresund strait North of Copenhagen were fishing communities. Every morning the fisher's wives would bring their husband's fresh catches to the fish market in Copenhagen. Right around this time gentrification had begun on this stretch of land. Wealthy people in the capitol of Denmark built prestigious homes where they could enjoy fresh air, quiet atmosphere and inspiring sloshing waves.
The first steps of Carl Nielsen's new symphony were taken February 1921 in Villa Højbo, Tibberup, a house which belonged to one of his faithful followers in Copenhagen. His biggest joy while staying there was the simple conversations with a gardener, Marinus – they would chat every day, play a card game or simply sit down on the bench and drink a beer enjoying the vision and sounds of nature around them.
Finland had learned to love Nielsen as a Danish symbol parallel to Sibelius – all though, the difference between the two was significant. Nielsen, with his natural charm, would impress people from the street as well as people as prominent as Finland's First Lady.  Not only was his charm in social life mesmerizing, so was his dynamic appearance on the podium. For example, after presenting "Hymnus amoris," in May 1921, with great success in Helsinki, the audience did not want this little round composer and conductor to leave the concert hall – he recalls: "It was the greatest moment in my life; I could literally have healed the sick at that moment." Returning back home from such a success might have been a source of inspiration in the joyful and childish "Springtime on Fyn", which was finished in August 1921.
In order to paint a picture of the situation between the first half of the 5th Symphony and the second half, it is important to understand Nielsen had some emotionally tense months during this project. After Christmas time at home – if he had a home at all – in Copenhagen, he finished the new symphony January 15, 1922, a gap of six years since his 4th symphony, and 9 days later it premiered in the Music Society in Copenhagen.
After the premiere he was interviewed by Politiken newspaper, and he gave an explanation about his new – and controversial – symphony:
"My first symphony was without title, then came the "Four Tempers," "Espansiva" and "The Inextinguishable" – actually just different names of one and the same thing, the only expression music eventually provides: the dormant powers in opposition to the active. If I should give my new symphony a title, it would be something that includes a living thing. I have not been able to catch this word, covering something with character, but not too pretentious – I gave up trying to find that word. …

How can I describe it? I roll a rock high up the hillside, using the dormant powers within me until I reach the top. The rock is now in place, the powers are now tied until I kick the rock, and those same forces are triggered, and the rock rolls down. With this symphony I have done it this way by making only two movements instead of four. I have been told that this symphony is totally otherwise compared to the previous. I can not hear that myself. Some have even compared me [this work] with Schönberg – that he in comparison is nothing, and that this music is worse. I don't believe it. …"
Musically and artistically, in the coming years, Sweden became a safe and relaxing haven for the composer, contrary to the situation in his homeland where endless intrigues and slander eventually slowly forced him to seek shelter in his neighboring country – there he felt appreciation and respect for his creations.
His own daughter wondered many times herself about her father:
"One evening as father was working on the music to "Aladdin" [see comment farther below], we walked along the pier and watched the ferry with the lights as it entered the harbor. The periodic irregular flashing was somehow fascinating. Suddenly father turned to me and said 'Do you hear the melody of the flashings?' That was surprising to me, because I could not hear any music in that, but for him it was music."
The true nature of Carl Nielsen was not to live a sorrowful, withdrawn life – he was blessed with the sense of extreme humor and understood how to communicate in a sparkling and dynamic way.
Tags