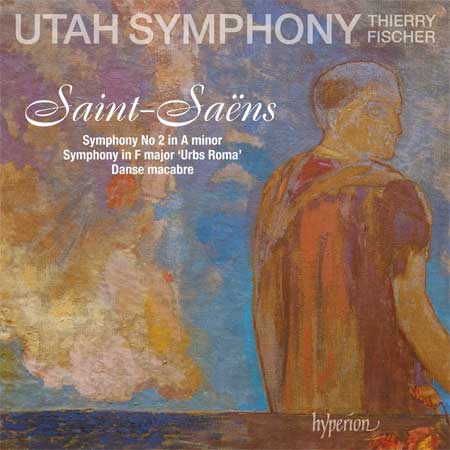 GRAMOPHONE (JUNE 2019): Review of Saint-Saëns Vol. 2
by Andrew Farach-Colton
As in their superb account of the Organ Symphony (1/19), Thierry Fischer and the Utah Symphony's performances here are polished and graciously articulate. Fischer doesn't drive nearly as hard as Jean-Jacques Kantorow (BIS) in either symphony, favouring poise and charm over heat and bite. There's exhilaration, too, mind you – in the quicksilver finale of the A minor Symphony, for example, Fischer and the orchestra show they can turn on a dime.
The Danse macabre moves with an elegant yet persistent impetus; listening, one feels impelled to keep moving. Madeline Adkins plays the solo violin part alluringly yet with a slightly devilish edge to her tone. The entire programme is recorded with crystalline clarity in a natural, airy concert-hall perspective. I'm already craving the next installment.
kansaspublicradio.orgclassicalsource.comconcertonet.com
---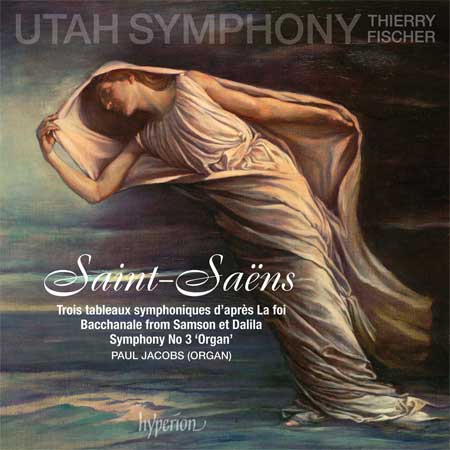 FANFARE (MAY/JUNE 2019): Saint-Saëns Vol. 1 Review
by Jerry Dubins
…If you're a skeptic, I hate to tell you this, but the Utah Symphony's performance [of the 'Organ' Symphony], led by Thierry, is as good as it gets. It easily stands comparison with the best I've heard. The rhythmic articulation of the tricky 16ths throughout the first half of the first movement is clean and crisp. The strings are full-bodied and creamy smooth in the Adagio second half of the first movement, and when the organ steals in, almost unnoticed, for the very first time on a low pedal Ab, you feel the vibrations in the floorboards. […] This is an all-around winning release, and one that I hope will encourage Thierry Fischer to commit more of his performances with the Utah Symphony to disc.  
FANFARE (APRIL 2019): REVIEW – Saint-Saëns Trois tableaux symphoniques d'apres La foi. Samson et Dalila: Bacchanale. Symphony No. 3 
by Jim Svejda
…this is one [recording] you really do need to hear… as in all the great recorded performances nothing seems forced or overdone, nor is there a hint of the trite or bombastic. The fact that it was also captured live only proves what a stunningly fine group the Utah Symphony under Fischer has become… one of the most desirable Saint-Saëns collections in years. 
"Terrific performance. Can't wait for the next installments to come along."
"A lushly warm, resonant performance of this mighty symphony, whose organ part explodes into a triumphant, Bach-influenced C Major at the finale." – Gary Lemco,
"Utah Symphony – Under Thierry Fischer, the Utah Symphony continues to roar back onto the recording scene… The rarely-heard Trois tableaux symphoniques d'apres La Foi that leads off the first volume of the cycle is a find – beautifully and often sparingly scored, setting scenes in a gracious, melodic Romantic manner with passages of mystery and atmosphere and a suitably grandiose conclusion.
The "Bacchanale" from Samson et Dalila, once a popular fixture at pops concerts and on records, serves as a suavely played intermezzo between the La Foi music and the actual opening of the Utah Saint-Saлns symphony cycle, the inevitable Organ Symphony. Overall, the latter is beautifully paced in a classically proportioned conception."
– Classical Voice North America
"Fischer and the orchestra have launched a Saint-Saëns cycle, which is all to the good, and it includes obscure orchestral works along with the numbered symphonies, which is even better. The main attraction here, the Symphony No. 3 in C minor, Op 78 ("Organ"), gets a clean, shiny performance with an electric organ at Salt Lake City's Abravanel Hall, in the hands of Paul Jacobs, actually providing the atmospheric wash Saint-Saëns had in mind more effectively than a bigger instrument might have. This is a major release from an exciting American orchestra. Hyperion producer Tim Handley does fine work in a live performance at Abravanel Hall, surely unfamiliar for the label's engineers."
"Playing under the baton of Thierry Fischer, the Utah Symphony has become one of the most impressive American orchestras on the scene in recent years, especially for one located in a second-tier city. The group's interpretations of these three works…are consistently impressive, its tone both rich and balanced and its phrasing suitably Romantic without being overweeningly dramatic. Highly recommended."
"Paul Jacobs' pipes shine with unshakable dynamite. The Organ teases in the 'Poco adagio' while grandeur and stately form pervade within the 'Maestoso': he's the catalyst for a passionate apex. Step by step M. Fischer builds strength and leads the Utah Symphony to a crowning finish. The final measures possess some of the most visceral approaches, and, thus, Thierry Fischer wins with masterful diction at this particular moment in time."
Tags