21 Jul 2019
Beethoven – Overture to The Consecration of the House, Op. 124
Instrumentation: 2 flutes, 2 oboes, 2 clarinets, 2 bassoons; 4 horns, 2 trumpets, 3 trombones; strings; percussion.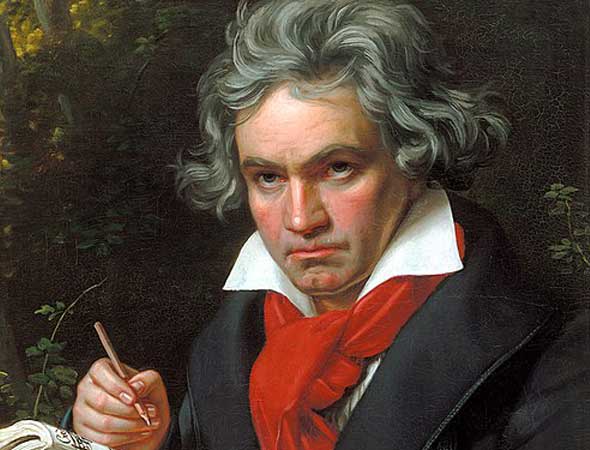 It's helpful for us to reexamine our preconceptions about Beethoven every so often. His Overture to The Consecration of the House contradicts a number of them: that he had little interest in composing for the stage, aside from his opera Fidelio; that he had no feeling for enacted drama; that he was sullen and undiplomatic in dealing with patrons and commissions. Beethoven's first commission for the stage was the 1801 ballet Creatures of Prometheus, and he returned to this story and its themes of classical mythology and enlightened republicanism more than two decades later in this overture. He had already composed incidental music for playwright Carl Meisl's The Ruins of Athens, a revamped version of August Kotzebue's setting of the ballet's original story.
The overture was drenched in politics from the start. It was commissioned for the opening of a new theater in Vienna by its director, Carl Friedrich Hensler, and we can safely infer that Beethoven aimed to flatter both Hensler and his Habsburg employers. That was certainly what Meisl did in his rewrite of Kotzebue, creating an allegory about the restoration of classical ideals in the Austro-Hungarian Empire in the wake of Ottoman rule. Amid these politically fraught circumstances, The Consecration of the House was about consecrating a new theater and a new age of political enlightenment — politically flattering messages for all concerned.
There could hardly have been a better occasion for Beethoven to apply the principles of Baroque composition that he'd been studying at that time: The music, like the story, reminds us of the beauty of past virtues. Its two intertwined sections, an introductory Maestoso that opens onto an Allegro con brio, have a vigorous, elegant beauty that is often described as Handelian. The overture was an immediate success with critics and the public, and Beethoven featured it in the series of concerts when his epochal Symphony No. 9 premiered two years later.
Tags