22 Jul 2019
Mozart – Sinfonia Concertante for Violin and Viola
Instrumentation: 2 oboes; 2 horns; strings; percussion; solo violin; solo viola.
We can be excused for overlooking the fact that Mozart was, along with all his other unlikely accomplishments, an outstanding violinist. His own father made the same mistake: Among the many confirmed anecdotes about Mozart as a child prodigy, there's one that describes Leopold's astonishment when his eleven-year-old son pushed his way into a string quartet performance with his father's friends and played the second violin part perfectly, never having seen the score. It seems that Leopold — himself a major violinist and pedagogue, and one who kept very close tabs on Wolfgang's accomplishments — was unaware that the boy had even held a bow until that day.
In later years, the elder Mozart couldn't persuade his son to pursue the violin as a solo performer, but the composer's facility on the instrument can be heard in the effortless beauty and expressiveness of his five violin concertos and the Sinfonia Concertante, which are cornerstones of the string repertory. The Sinfonia can accurately be described as a double concerto, foregrounding solo violin and viola parts against the background of a small orchestra in a manner reminiscent of the Baroque concerto grosso. Not only does it rank with the five violin concertos; some soloists frankly love it most of all.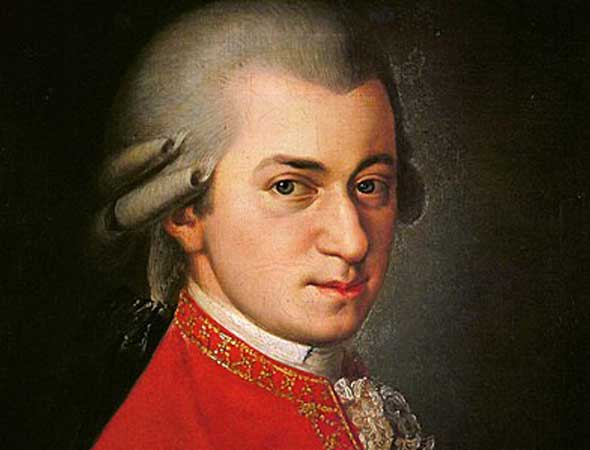 Musicologists consider the Sinfonia a breakthrough work, and some speculate that Mozart was spurred to create something special for violin and viola by his general dissatisfaction with the music scene in Salzburg. These analyses seem to echo a disturbing principle of modern-day personnel psychology, which holds that underpaying workers often makes them more productive because they have something to prove to their bosses and themselves. Know the feeling? Imagine how the impatient Mozart felt as concertmaster for an employer he despised — Colloredo, Archbishop of Salzburg — whose condescension and lack of appreciation infuriated him. In the years from 1773 to 1776, as Colloredo's principal violinist, he produced the five concertos for violin; in the summer of 1779, ever nearer the end of his rope, he produced the bolder Sinfonia; and about a year later he was acting on plans for his fateful break from Salzburg and move to Vienna.
Composed in three movements, the Sinfonia can be enjoyed as a work that is symphonic in scope and concerto-like in its solo demands. To many listeners, its music seems freer and bolder than the concertos. In pairing the violin and viola, Mozart did not make the lower voice a "second" part; if anything, it is more deeply emotional, adding richness to the work's harmonic textures. From a technical standpoint, it is equally virtuosic.
Analysts never fail to point out Mozart's use of the "Mannheim crescendo" in the Sinfonia's opening movement. This spectacular effect, which takes its name from the Mannheim orchestra where it originated, goes from very soft to very loud in a single phrase.  Unknown in the Baroque era, it was introduced by the composer and conductor Johann Stamitz (b. 1757) and was used only rarely by Mozart, though his Symphony No. 40 provides another prominent example. The American New Age group Mannheim Steamroller is named for the "steamroller" version of the Mannheim crescendo (executed on an upward arpeggio).
Tags