10 Sep 2019
Song Cycle: Hispanic Heritage Month Playlist
by Claudia Benítez of the Mexican Consulate in Salt Lake City and Kathleen Sykes
September is Hispanic Heritage month, and we plan on celebrating it in style with our special concert ¡Celebración Sinfónica! We've compiled a list of works by some incredible Latin American composers for you to explore—you're sure to find your new favorite song!
The first seven songs were contributed by the Mexican Consulate in Salt Lake City. It highlights several Mexican composers, and their diverse styles of music from baroque to Romantic and beyond. These are perfect for celebrating Mexico's Independence Day on September 16th.
The history of music in Mexico traces back to the first pre-hispanic cultures, who considered music as much as a highly appreciated form of art, as a connection to earth and religion. Their music was later imprinted into a new chapter of western orchestral music whit the arrival of Spain to America.
Some of the most prominent orchestral music of that time was written by the New Spain Chapel Masters and, ever since, it evolved through evangelization, independence wars, revolutions and nationalist eras, into the modern times that reflect Latin America's deep history and rich diversity.
You'll hear compositions from the first woman to ever graduate from the National Music Conservatory in Mexico, Guadalupe Olmedo, and from Ricardo Castro, a driven composer that took his piano mastery everywhere around the world and who composed the first piano concerto ever written in Latin America.
You will also find examples of prominent composers from the nationalist era, like Silvestre Revueltas, whose compositions reflect the spirit of Mexico intuitively, rather than by the actual use of folkloric themes; and we've prepared a very special work with María Granillo, a contemporary Mexican composer.
Next we've included some of the music that we'll be performing on ¡Celebración Sinfónica! as well as some deep cuts from this concert's featured composers. World renowned Mexican conductor, Carlos Miguel Prieto, will lead this energetic show—you won't want to miss it!
And finally, we have a sampling of works from great composers you just have to listen to! From works like Heitor Villa-Lobos Bachianas brasileiras No. 2 which sweeps you up into the imagery of a busy train station to Manuel Ponce's sweet and sentimental Estrellita, you'll be in love with all the new music you'll discover.
Hear some of these incredible songs in real life at ¡Celebración Sinfónica! Tickets start at $8—get them here.
---
Ciclo de Canciones: Playlist del Mes de la Herencia Hispana
Por Claudia Benítez, Agregada Cultural del Consulado de México y Kathleen Sykes
Septiembre es el mes de la Herencia Hispana y planeamos celebrarlo con estilo, con nuestro concierto especial ¡Celebración Sinfónica! Hemos compilado una lista de obras de extraordinarios compositores Latinoamericanos, para que exploren y encuentren su canción favorita.
Las primeras siete canciones son contribución del Consulado de México en Salt Lake City, y destacan varios compositores mexicanos y diversos estilos de música, desde Barroca hasta Romántica y contemporánea. Son piezas perfectas para celebrar la Independencia de México el 16 de septiembre.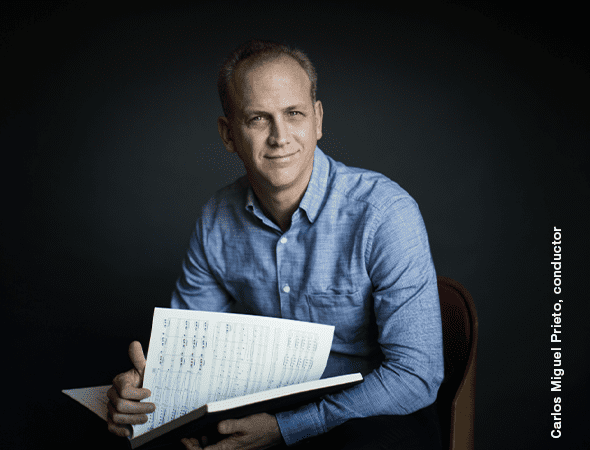 La historia de la música en México data de las primeras culturas prehispánicas para quienes la música era tanto una apreciada forma de arte, como una conexión con la tierra y la religión. Su música impregnó posteriormente un nuevo capítulo de la música de orquesta occidental con la llegada de los españoles a América.
Algunas de las composiciones orquestales más prominentes se escribieron por los Maestros de Capilla de la Nueva España y, desde entonces, la música evolucionó a través de la evangelización, guerras de independencia, revoluciones y era nacionalista, hasta tiempos modernos que reflejan la profunda historia y riqueza cultural de Latinoamérica.
Escucharán piezas de la primera mujer que se graduó del Conservatorio Nacional de Música en México, Guadalupe Olmedo, y de Ricardo Castro, un ávido compositor que llevó su maestría en el piano a todo el mundo y quien compuso el primer concierto para piano escrito en América Latina.
También encontrarán ejemplos de destacados compositores de la era nacionalista, como Silvestre Revueltas, cuyas piezas reflejan el espíritu de México de manera intuitiva, más que por el uso de temas folklóricos; y hemos preparado una obra especial con María Granillo, compositora Mexicana contemporánea.
Después, hemos incluido parte del repertorio que escucharemos en ¡Celebración Sinfónica! Así como muestras de las obras de los compositores cuya música escucharemos en el concierto. ¡El afamado director mexicano, Carlos Miguel Prieto, dirigirá este vigoroso concierto que no querrán perderse!
¡Finalmente, tenemos algunas muestras de grandes compositores que tienen que escuchar! Desde obras de Heitor Villa-Lobos Bachianas brasileiras No. 2 que los llevarán a imágenes de una tumultuosa estación de trenes, a la sentimental Estrellita de Manuel Ponce, se van a enamorar con toda la nueva música que hay por descubrir.Escuchen algunas de estas increíbles canciones en vivo en ¡Celebración Sinfónica! Boletos desde $8—pueden conseguirlos aquí.
Tags