21 Oct 2020
5 Things Thierry Fischer has done for our community as Music Director
by Collette Cook
The Utah Symphony announced a welcome surprise on Monday afternoon that Music Director Thierry Fischer is extending his contract for another year, through August 2023. During his tenure (which will be a total of 14 years) he has revitalized the orchestra and raised its national and international profile through creative programming, renewed excellence in performance, commissioning contemporary composers' works, and ambitious tours and recording projects. The list of ways that Thierry's leadership has benefitted the Utah Symphony and the community as a whole is extensive, but we want to share five of our favorite ways he has helped connect our community with great music.
Tours highlighting Utah's Natural Beauty
Utah Symphony | Utah Opera has made a point that we provide great music for more than the Salt Lake valley, but for Utah as a whole. Our education department does a phenomenal job of bringing symphony and opera performances to schools throughout the state and offers students opportunities to see the symphony at Abravanel Hall and the opera at the Janet Quinney Lawson Capitol Theatre. However, we've also visited locations throughout Utah on a much grander scale under the baton of Maestro Fischer.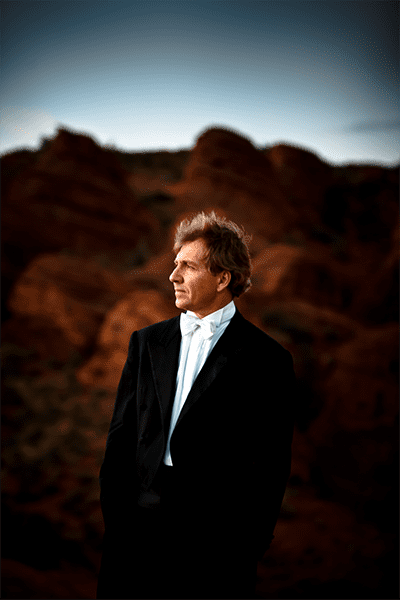 To kick off our 75th Anniversary celebration in 2014, we went on our Mighty 5 Tour, which encompassed community concerts in and around the five wonderful national parks in Utah, connecting Utah communities through great live music with some of the most gorgeous backdrops of nature in the world. These concerts brought the arts to people who live in rural areas, such as Teasdale and Bryce Canyon, who don't get to experience live symphonic music often. As Thierry himself described it, "The Mighty 5 Tour is a great opportunity to combine two kinds of beauty: nature and sound. Here in Utah, we have the unique and wonderful fortune of being surrounded by five amazing national parks. With this tour, we [celebrated] Utah by mixing all the elements of nature with beautiful sounds."
In 2017 we set out on the road again with Maestro Fischer's leadership to complete our Great American Road Trip. This tour focused on locations with proximity to state parks, national monuments, and other cultural and historical icons to fulfill our desire to connect with all Utahans, including our Native American communities. The free community concerts were filled with many nature-inspiring works, as a way of honoring the state and its beautiful, natural offerings as well as the people living in the communities that surround them.
"Adopt-a-School"
In 2019, Utah Symphony | Utah Opera started a new initiative: Adopt a School, which was designed to highlight the value and significance of classical music in the classroom. Maestro Fischer met with Cottonwood High School's orchestra three times–twice to rehearse and once to perform Stravinsky's "Berceuse and Finale" from his Firebird Suite. Music students from around the state were invited to learn the piece with their own orchestras and join together for the performance in a "Super Orchestra" conducted simultaneously via live stream by Maestro Fischer.

Maurice Abravanel spearheaded a strong music education initiative to reach schools statewide in the 1970s, and Thierry Fischer has continued to carry on that legacy by motivating music students through this hands-on initiative. Of the Adopt a School initiative Thierry said, "Making music at this age is a possibility to help them make choices. Having the experience of having tried hard to do something in a collective, a bigger orchestra, can help students to hopefully put a light in the way of their thinking and perceiving themselves." The students, as well as the teacher of Cottonwood's orchestra, gushed in appreciation for the opportunity to learn under Fischer's baton.
The Haitian Orchestra Institute
Thierry's impact through music education has reached far beyond the borders of Utah. Thierry has traveled to Haiti on multiple occasions as part of a project spearheaded by Musicians of the Utah Symphony to participate in a partnership with Building Leaders Using Music Education (BLUME) Haiti to conduct music students in a five-day intensive music camp. The camp includes daily sectionals, private lessons from numerous volunteer musicians (many of which are from the Utah Symphony), instrumental pedagogy, and full orchestra rehearsals. The camp culminates in a free public performance and has made a huge impact on the participants of the camp, as well as the community who enjoys the fruits of the camp through the performance as well as music lessons from the participants.
Regarding the Haiti project, Thierry said, "it is one thing to make yourself feel collaborative by making a donation, but it's a completely different thing to give your time. To take the initiative and be prepared to be confronted by a different world and to give of yourself. The minimum we can do as artists is to share what drives us every day. A week a year to share and to translate what the notion of art can bring to life in general, it's not too much… music has as much place in a struggling rural village as in a thriving city. I felt it was so important to participate in sharing the transformative gift of classical music and am humbled for the chance to make a lasting impact on the music students of Haiti. It is an honor for me to pledge my continued support to this important mission."
Commissions
Since he was appointed Music Director, Maestro Fischer has expressed an ongoing commitment to commissioning new music for orchestra from today's generation of leading composers, both established and new voices. These commissions have been played in numerous Utah Symphony concerts and have expanded the repertoire of contemporary classical music to include pieces like Switch by Andrew Norman, Control (Five Landscapes for Orchestra) by Nico Muhly, and Bird Symphony by Arlene Sierra.
Under Thierry's watch, the Utah Symphony began their Composer-in-Association program in 2018, with world-renowned composer Andrew Norman to start it off. As part of Andrew's contract with the Utah Symphony, the orchestra performed several of his works and welcomed him into their rehearsals to prepare the pieces. Andrew additionally engaged with the community by meeting with high school and university composition students to serve as a mentor, working with youth orchestras to coach instrumental techniques and rehearsing an orchestral piece he had composed, and encouraging and coaching the music-making and music-creating of local community members.
The relationships that Thierry has forged with composers have continued to bear fruit for Utah. This spring, Augusta Read Thomas (commissioned to write "Goddess of the Dawn" in the past) wrote a special piece for the Utah Symphony as a tribute to the community of essential workers working through the Covid-19 pandemic– "Fanfare for Hope and Solidarity". This piece was a collaboration that occurred with incredible speed and momentum, spurred by a call Maestro Fischer made to Ms. Thomas in mid-April inviting her to create a piece that could be performed by the Utah Symphony, with the stipulation that each musician would be performing alone from their homes due to the Covid-19 pandemic. Fischer said, "the world has momentarily stopped. Our desire for creativity is multiplied. New music is a call to look, listen, and guess what is rarely said. New music reveals the gods and demons hiding in the depths of our souls, and then transforms them into a 'transfiguring beauty."
Recordings
"Under Thierry Fischer, the Utah Symphony continues to roar back onto the recording scene," wrote Classical Voice North America. Under Thierry Fischer, the Utah Symphony has recorded more than under any other music director save Maurice Abravanel (whose 88 recordings with the Utah Symphony between 1958 and 1979 put the orchestra in the international spotlight), allowing a great deal of the symphony's music to once again be shared with audiences worldwide. Not only are these recordings plentiful, but they are of phenomenal caliber. Gramaphone praised the Utah Symphony to have "really blossomed under Thierry Fischer's direction" through numerous recordings over the years.
One particularly captivating recording was a true community effort sponsored by the Tanner Gift of Music. The Mormon Tabernacle Choir, Madeleine Choir School, various soloists, and the Utah Symphony joined together to record Mahler's Symphony No. 8, also known as "Symphony of a Thousand" in 2017. "I marvel at the depth of local talent and the willingness of musicians to come together in a unique collaboration to perform this musical tour de force," said Ron Jarrett, president of the Mormon Tabernacle Choir. "It is a testament of hope and optimism that does justice to Mahler's vision." This recording was a true depiction of the Utah Symphony's mission, and by extension Thierry Fischer's mission, to connect the community through great live music.
Tags