08 Dec 2020
5 things to listen for in Beethoven's Piano Trio Op. 1, No. 3
by Anne Lee, Utah Symphony cello
During this pandemic, the Utah Symphony has had to find creative ways to continue bringing music to audiences. When the musicians were asked to form small chamber groups, many of us jumped at the chance.
Over the years, I've admired my colleagues Kathryn Eberle and Jason Hardink for their artistry from afar in the symphony. I'm usually anywhere between 15-50 feet away from them on stage in my corner of the cello section. We've played chamber music together in the past and I was overjoyed at the opportunity to work with them again (even though we were still spaced 6 feet from each other, of course!) We hope you enjoy this video performance.
Beethoven decided to publish three piano trios as his Opus 1. It was sort of his coming-out party to signal to the world that he had arrived. Although Joseph Haydn didn't approve of the third trio, saying it was too hard to understand, Beethoven is his bullish way published it anyway, probably thinking that Haydn was just jealous. The trios were an instant hit with the public. The third trio was indeed challenging, but also a revelation. Piano trios are a wonderful combination of instruments. It's a small enough group where every instrument is prominently heard and featured but also benefits from the massive range and full sound the piano provides. In the hands of Beethoven, it can almost feel at times like a full symphony for just three instruments.
There are so many wonderful moments in this piece but I've tried to pick out my five favorite things to listen for.
The first seven notes
The three instruments play them in unison and introduce the theme in C Minor. In the next moment, the notes immediately move up a half step, and that destabilizes everything you thought this movement was going to be. This sets the tone for a first movement that is impassioned, turbulent, and angsty – a sound world which many of us associate in his later works. When starting a piece, I always try to come up with a word that helps me get instantly into the right mind set for the mood and color I am trying to convey. For this particular movement, the word I have scrawled at the top of the page is "dark."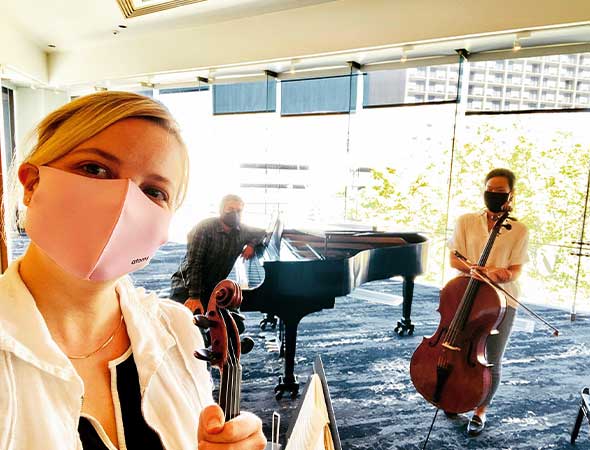 Variation 4 of the second movement (AKA the cello moment)
This is a simple theme and variation movement in a major key with a beautiful theme and some charming variations but the fourth variation takes a sudden turn with the melody in the cello in a minor key. It's played with the left hand in the area where the neck meets the body of the instrument and is one of the more awkward areas of the cello. It's as if Beethoven knew that it would be a struggle for cellists and this would somehow aid in getting the pained and dark lyric beauty out of the instrument.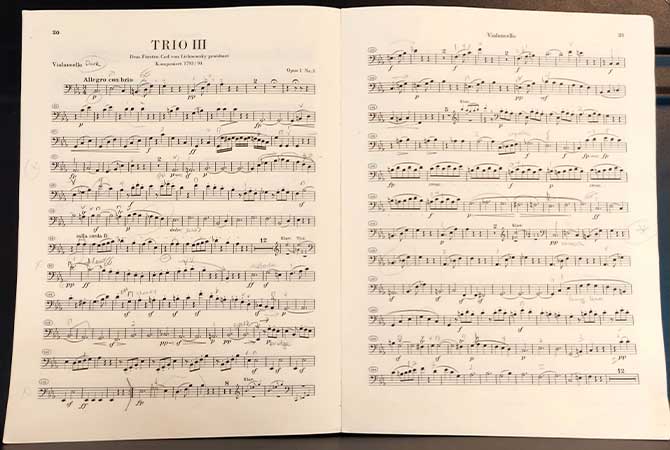 The off balance feeling in the rhythm of the Minuet
If you feel a bit unsettled in the third movement, don't worry, we have the same feeling as performers here. Beethoven cleverly lays out uneven phrase lengths, fermatas, and wild dynamic contrasts in this movement that's marked "Quasi Allegro." Our group jokingly surmised that if Beethoven had to use today's lingo, this tempo marking might be "kinda fast" or "fast-ish."
Fireworks from the piano part in the Finale
Prestissimo, basically a challenge from Beethoven to push yourself to play as fast as you can. There is so much in this last movement. We're back to furious and fiery emotions mixed in with some beautiful melodies and the piano is playing a dizzying amount of fast eighth notes almost throughout.
The Ending!
If you've never heard the piece, just know that it probably won't be what you might expect. Spoiler alert! Stop reading now if you want to hear it for yourself first. It's over a full minute of pianissimo dynamic. You move uneasily between a few minor keys before finally ending on C Major but somehow it doesn't leave you feeling like there's any real resolution. Personally, I am always left with a feeling I can only describe as hollow optimism and I often have the ending haunting my mind for hours after a performance.
Tags