22 Apr 2021
Back on the Podium: Q&A with Music Director Thierry Fischer
by Kathleen Sykes
After more than a year of moving targets and shape-shifting plans, we're finally back to performing live in Abravanel Hall. Below, Maestro Thierry Fischer shares what he's most excited about in the upcoming weeks, reminisces about his favorite memories from this season, and tells us how we're ending this season on a high note.
You have had to change course several times over the past year—what have you learned from all this?
I discovered that performing less made me work more in other aspects of my life. In this world pandemic, I don't think anybody had any other choice but to accept the situation. To go through it requires common sense, understanding, flexibility, working much more on programing for fewer concerts, making sure that orchestra members keep striving for excellence, and keep hope alive collectively… all this has been my daily life for more than a year now.
What's your philosophy to programming the remaining four concerts of the 2020-21 season?
If staying calm is a philosophy, we were all very philosophic. Making programs today is first of all about learning and knowing all the safety rules in place in the concert hall, then accepting the fact that programing ideas must be 100% in compliance with the rules established for safety. In the 2020-21 season, we have successfully been able to develop ideas integrating diversity, Black composers, and women composers. We have done all this while also exploring brand-new repertoire as we must tailor the repertoire to a smaller orchestra on stage. We have even done a concert without a conductor; the entire concert was planned by the musicians. In short, our approach was to learn as much as we could from the pandemic, thinking of all the people who have not been as privileged as we are, and to continue to perform—with or without an audience in the hall.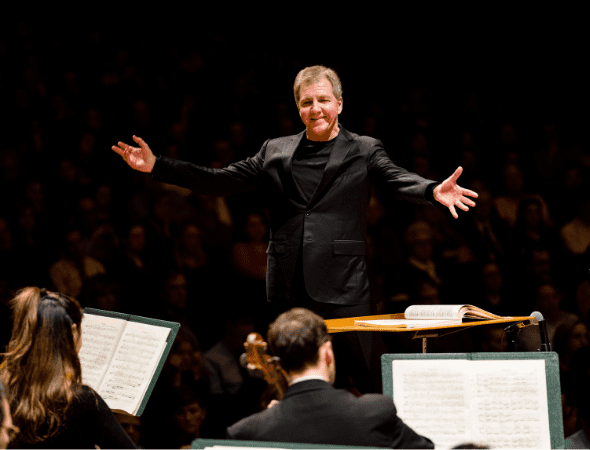 What are some of the works you are the most excited to perform in the last few weeks of the season?
Without hesitation, I would say, all of them! Haydn, Vaughan Williams with Concertmaster Madeline Adkins, Wynton Marsalis, Elliott Carter, Mozart's "Eine kleine Nachtmusik", Beethoven's Symphony No. 1, Appalachian Spring by Copland, etc., etc. I confess a soft spot in my heart for the two Chamber Symphonies by Arnold Schoenberg we are going to perform. They both symbolize the epitome of visionary beauty, with simplicity and clarity. Here, Schoenberg is at his best, allowing us to dream with his unique post-Romantic flair.
What have been some of your best memories of the 2020-21 season?
The first work which comes to my mind, because it is so symbolic, is the very first one we performed, in September 2020, after six months of absence on stage, without having performed music together for so many months: Tchaikovsky's Serenade for Strings. And of course since then, many beautiful things happened with many other works—also with wonderful guest conductors. Another non-musical highlight—on top of the efforts of all staff and all musicians—is the phenomenal support of the board and the community. Being able to perform this season is a miracle, thanks to all!
What do you hope for the future of the Utah Symphony?
I have no doubt that the Utah Symphony is ready to face up to the challenges of the future. My only priority is to solidify everything, at all levels of the organization in the two coming years, in order to give the new incoming leaders every possibility in the world to shine, in Utah, in the United States, and beyond.
Don't miss a single note from the rest of our 2020-21 season! See what upcoming concerts we have and get tickets here.
Tags