22 Sep 2021
BRAHMS: Symphony No. 4
by Jeff Counts
Duration: 39 minutes in four movements.
THE COMPOSER – JOHANNES BRAHMS (1833-1897). The mid-1880s saw Brahms at the absolute height of his career and reputation. The fruitful partnership with Hans von Bülow and his Meiningen Orchestra would begin and grow during these years. Many younger composing contemporaries agreed with von Bülow's placement of Brahms in the pantheon with Bach and Beethoven. Strauss, for example, was a recent but enthusiastic convert. Mahler never needed any convincing. With so much provocative experimentation going on at the time, only fans of Liszt and Wagner seemed unwilling to embrace Brahms' relative conservativism.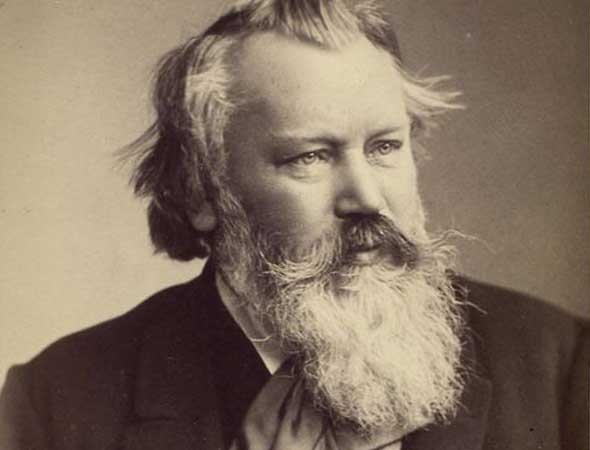 THE HISTORY – Brahms probably found it hard to avoid attention in those years, what with his celebrity so assured by sustained success. But his summer practice of composing in solitude somehow held, and over the warm months of 1884 and 1885 he put his 4th and final symphony to paper. It's a tragic work, one that stands out significantly from the two that precede it. It's also a perfect work, one that would have brooked no successor itself. It had to be the last. Brahms might not have set out on a summative path with Symphony No. 4, but there can be no doubt that he ended up on one. North of 50 and bent towards melancholy at the best of times, which these arguably were, his thoughts were on his own mortality and contemplations about what might come next. He was reading Sophocles. He was making beneficiary arrangements for his new score should "the most human thing happen" to him. In other words, he was being Brahms, just more now than ever. In this context, it is fascinating to ponder his choice of a bass line from Bach's Cantata No. 150 ("Lord, I Long to be Near You") to seed the finale of the 4th Symphony. Brahms was no church man, so the reference to Bach must have been about something more than peering over the edge into the next world. He was a life-long student of music history and often looked to Bach for solace and inspiration. The use of the old master's music might well have been a shout into that coming void, a bit of ancient magic thrown up against the expressionist excess he feared might soon overrun his beloved art form. As much a manifesto as a piece of music, this symphony represents the ultimate distillation of his thoughts on form, and on life. Not one single note is out of place.
THE WORLD – Elsewhere in 1885, Mark Twain's Adventures of Huckleberry Finn were published, The Mikado premiered in London and, also in Germany, Karl Benz received a patent for his Motorwagen, a three-wheeled automobile capable of 10 miles per hour speed.
THE CONNECTION – Utah Symphony has presented Symphony No. 4 many times on the Masterworks Series. The most recent performances were in February 2017 with Thierry Fischer.
Tags