21 Sep 2021
STRAVINSKY: The Fairy's Kiss (Le baiser de la fée)
by Jeff Counts
Duration: 44 minutes in four movements.
THE COMPOSER– IGOR STRAVINSKY (1882-1971) – Stravinsky spent the entire span of years between the world wars in France. His return there in 1920 after Swiss exile was a convenient choice and one he nearly didn't make. With St. Petersburg no longer an option, Stravinsky considered living in Rome but instead re-settled in the City of Light on the invitation of Coco Chanel. When not with his family in a small town near the Spanish border, he was in Paris, which was still brimming with artistic energy and eager to welcome back its beloved adopted son.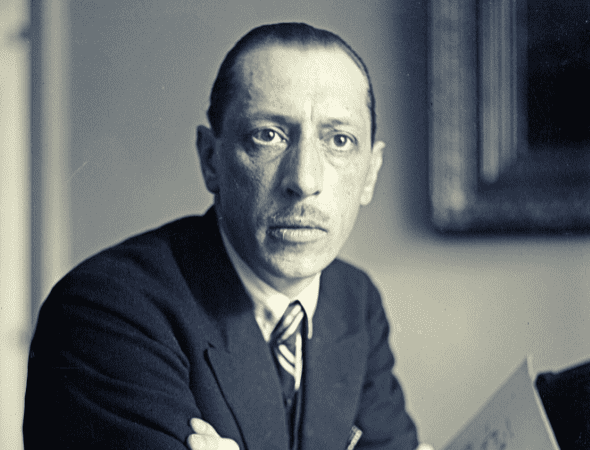 THE HISTORY– As always, ballet would be an important part of Stravinsky's productivity during this time. His own written words speak best to the genesis of The Fairy's Kiss. "In 1928 Ida Rubenstein commissioned me to compose a full-length ballet. The thirty-fifth anniversary of Tchaikovsky's death was 1928 – the actual day was observed in Paris' Russian churches – and I therefore conceived my compatriotic homage as an anniversary piece. I chose [Hans Christian] Anderson's The Snow Maiden because it suggested an allegory of Tchaikovsky himself." The highly agreeable music of Stravinsky's "homage" was a blend of themes from several of Tchaikovsky's songs and piano works and Stravinsky's own respectful melodic creations in the style of his departed countryman. The result was magical, if not immediately popular. Again, Stravinsky himself wrote best about the scenario of his ballet, "A fairy imprints her magic kiss on a child at birth and parts it from its mother. Twenty years later, when the youth has attained the very zenith of his good fortune, she repeats the fatal kiss and carries him off to live in supreme happiness with her ever afterward." As mentioned previously, Stravinsky found connections between the story and Tchaikovsky's own life, especially the part about being taken away at the peak of his creative powers. The project, though gratifying for Stravinsky, hastened the end of his long professional friendship with Serge Diaghilev. Diaghilev was incensed that Stravinsky would accept work from a competing ballet company (especially one run by his former star dancer) and never forgave the composer. Stravinsky re-worked the score numerous times over the next decades, a common practice for him, and the original version has sadly become something of a rarity on concert stages.
THE WORLD– Elsewhere in 1928, Mexican President Alvaro Obregon was assassinated, the Albanian Republic became a Kingdom, the German dirigible Graf Zeppelin made its first intercontinental flight and D.H. Lawrence published Lady Chatterley's Lover.
THE CONNECTION– The Fairy's Kiss has only been programmed one other time by the Utah Symphony on a Masterworks concert, most recently in November 1981 under Robert Henderson.
Tags