22 Sep 2021
VERDI: Overture to La forza del destino
by Jeff Counts
Duration: 8 minutes.
THE COMPOSER – GIUSEPPE VERDI (1813-1901) – Verdi's fame after 1855 was a truly international thing, universal enough that he was obliged to conform his writing style to match other, non-Italian, traditions in order to make good on big commission opportunities. He composed extravagant works for French opera houses in the late 1850s and even represented Italy at the London Exhibition in 1862. Though his voice was ever his own, Verdi's gift for storytelling was enriched in particular by his forays into the world of Parisian spectacle.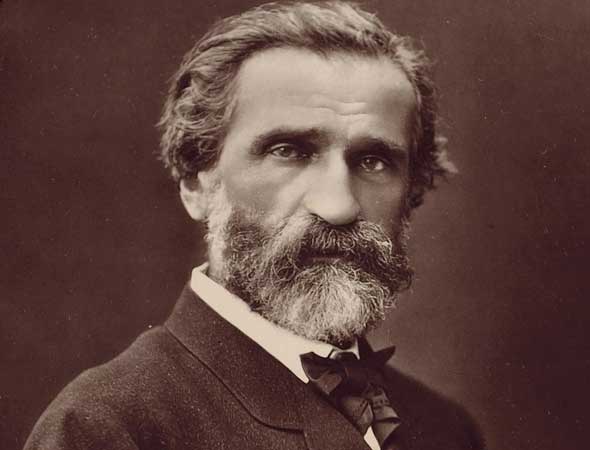 THE HISTORY – La forza del destino was the result of yet another commission from afar, this time Russia. His previous effort Un ballo in maschera had run afoul of censors in Naples, leading to production delays, broken contracts, lawsuits and much frustration for the composer. Exhausted and temporarily disillusioned, Verdi turned down the next several offers he received. The Imperial Theatre of Saint Petersburg promised him a whopping 60,000 francs plus expenses, which would have pulled any composer out of a bad mood, but Verdi likely also saw an opportunity, far away from the source of the Un ballo irritations, to create something more intricate and expansive than anything he had done before. The libretto was developed by Francesco Maria Piave, based on a Spanish drama Don Álvaro o la fuerza del sino from 1835. The story is highly mystifying, even by operatic standards, complete with assumed identities, a sibling murder plot, casual classism and other cultural intolerances of the day. There are really only three main characters to contend with, but they are surrounded by a chorus of monks, soldiers and gypsies, and with so much story stuffed into this opera, it requires good attention to keep everything in order. After a delay of its own, the premiere of La forza del destino went well enough to interest other European capitals in subsequent productions. But Verdi wasn't happy with it. He worked hard to revise the score over the next several years and had a new version ready in time for an important Teatro alla Scala re-launch in 1869. Among the most significant changes was the replacement of the original prelude with a fully-fledged overture. Like so many of the best opera curtain raisers, it is a complex world in miniature, with rich thematic allusions and dramatic premonitions throughout.
THE WORLD – Elsewhere in 1862, The Franco-Mexican War began, Otto von Bismarck became Prime Minister of Prussia, on his way to the Chancellorship of the German Empire and Julia Ward Howe published The Battle Hymn of the Republic .
THE CONNECTION – The most recent Utah Symphony performance of the La forza del destino Overture was in September 2017.
Tags