19 Nov 2021
PROKOFIEV: Violin Concerto No. 2
by Jeff Counts
Duration: 26 minutes in three movements.
THE COMPOSER – SERGEI PROKOFIEV (1891-1953) – Prokofiev spent much of 1934 and 1935 trying to find a stable home for his prospective ballet based on Shakespeare's Romeo and Juliet. Resignations and assassinations were dramatically altering the administrative landscape of Soviet theaters, but the composer managed to move the endeavor from the Kirov to the Bolshoi. He spent the summer of 1935 at Polenovo, a staff retreat for the company, and the happy, productive mood engendered by the surroundings benefitted other projects as well. Prokofiev's life abroad was coming to an end, but many of the connections he made outside of Russia continued to influence him.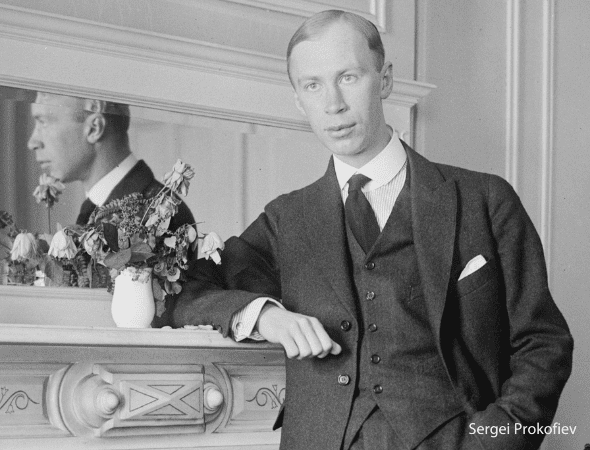 THE HISTORY – French violinist Robert Soetens took part in the Paris premiere of Prokofiev's Sonata for Two Violins in 1932 and performed successfully with the composer on a concert tour afterward. The two men must have shared a great deal of artistic affection, as well as some wealthy French admirers, because Prokofiev wrote his Second Violin Concerto on a generous local commission for Soetens. With repatriation so close at hand (Prokofiev officially ended his long, self-imposed exile a year later in 1936), many have called it Prokofiev's last Western European piece. He himself later acknowledged that the work marked the end of his nomadic expat life, and his wistful observation that the music had been written in Paris and Voronezh, orchestrated in Baku and premiered in Madrid confirmed the Second Concerto as a transitional monument. That Madrid premiere happened in December of 1935 during the aforementioned concert tour through Spain, Portugal, and North Africa. There is much about the concerto that sets it apart from Prokofiev's early music, and much that connects it to its moment in music history. There is a rich, sonorous simplicity on offer that highlights the neo-Romantic impulse then making its way across the compositional world in the middle to late 1930s. There is also a decidedly "non-modern" aspect to the form and tonality that suggests Prokofiev was auditioning for his new life in the USSR. After so long away, and with so much at stake professionally and personally, he must have been reluctant to indulge the acerbic extravagances of his youth and keen to make his peace with the restrictive tenants of Stalin's "Soviet Realism." While the Second Concerto might well represent a departure for its composer, he is truly the only one who could have written it. It is genial and inviting and a little mannered, sure, but it is also sarcastic, somber, and subtly anxious. In other words, vintage Prokofiev.
THE WORLD – Elsewhere in 1935, Alcoholics Anonymous was founded, the Nuremburg Laws went into effect in Germany, T. E. Lawrence (Lawrence of Arabia) died in England, and the Vuelta a España bike race was held for the first time.
THE CONNECTION – The most recent Masterworks performance of the Second Violin Concerto was in 2016. Thierry Fischer conducted and USUO concertmaster Madeline Adkins was soloist.
Tags