30 Nov 2021
STRAVINSKY: Song of the Nightingale (Le chant du rossignol)
By Jeff Counts
Duration: 19 minutes in four movements (with pauses).
THE COMPOSER – IGOR STRAVINSKY (1882-1971) – The years between 1908 and 1914 were momentous for Stravinsky in nearly every imaginable way. It was a stretch of time defined by the end of one thing at the start, and the beginning of another at the end. The loss of his beloved teacher Rimsky-Korsakov in 1908 was the close of a beneficial but dependent chapter for Stravinsky, while 1914 opened the door on a world that would never be the same for him, a world that knew about The Rite of Spring and a world that would see him in exile.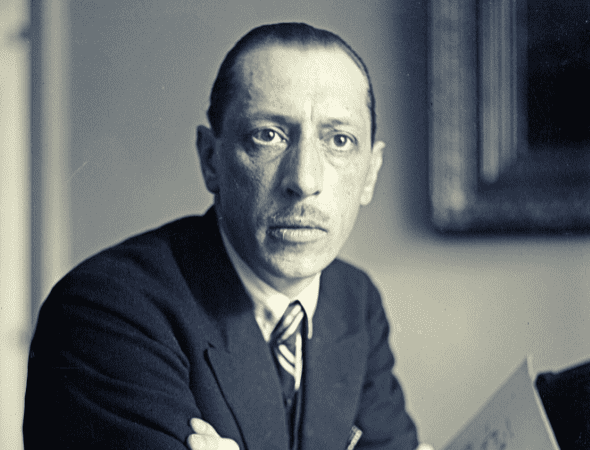 THE HISTORY – Stravinsky wrote the music for his opera The Nightingale in two different phases. Act I was composed in 1908–09 with Acts II and III not completed until 1913–14. The gap is stylistically significant, and the result in the opera feels like two different Stravinsky's in collaboration. When Ballets Russes impresario Serge Diaghilev suggested that the composer revive the opera as a ballet, it was the last two acts that the initially reluctant Stravinsky reworked, condensed and wove into a new symphonic poem he eventually allowed to be choreographed. Song of the Nightingale premiered as a ballet in 1920. It's worth noting again that the final two acts of The Nightingale were completed just after The Rite of Spring, which made the distance between them and the earlier first act seem like decades, not years. Much had changed for Stravinsky since he began the project under the watchful eye of Rimsky-Korsakov, and the music of that earlier time was something he was loathe to re-visit with the impact of The Rite still reverberating so loudly. Still, even with the duly modern later acts in place, the opera and resultant symphonic poem were puzzling successors to The Rite. Stravinsky had momentarily halted the spin of the earth in 1913 with his shocking and controversial pagan fête, and The Nightingale, though infused with its own charming magic and inventiveness, baffled some with its subtlety while continuing to offend others (already offended from before) with its dissonances. Frustrated with the lukewarm responses, Stravinsky finally agreed to let Diaghilev produce the Song of the Nightingale with dance. The very popular Henri Matisse designed the sets, a boon for the production, but it was the introduction to Diaghilev's new choreographer George Balanchine that would have the most lasting effect on the piece and its author.
THE WORLD – Elsewhere in 1920, the League of Nations was established, the 19th Amendment was ratified in the United States, the Cenotaph was unveiled in London, and the Nazi Party was founded in Germany.
THE CONNECTION – Utah Symphony regularly performs the works of Igor Stravinsky, some of them repeating every few seasons. Song of the Nightingale, however, has only appeared twice in recent memory, most recently in 2011.
Tags