04 Apr 2022
GINASTERA: Violin Concerto
by Jeff Counts
Duration: 28 minutes in three movements.
THE COMPOSER – ALBERTO GINASTERA (1916–1983) – Argentinian composer Alberto Ginastera was a musically talented child whose gifts were carefully nurtured with private lessons and formal studies at the Williams Conservatory in his hometown of Buenos Aires. Shortly after he entered the National Conservatory of Argentina as an undergraduate, the world began to take notice of him. His music at first reflected a highly nationalistic style that made creative use of Argentinian folk melodies and traditions but, after spending time in the United States and Europe through the 1940s and early 1950s, he began to shift his voice into a more international register. Growing in tandem with his eclectic musical tastes was an unwelcome set of political ideals, so Ginastera was forced to leave Buenos Aires for good in 1969.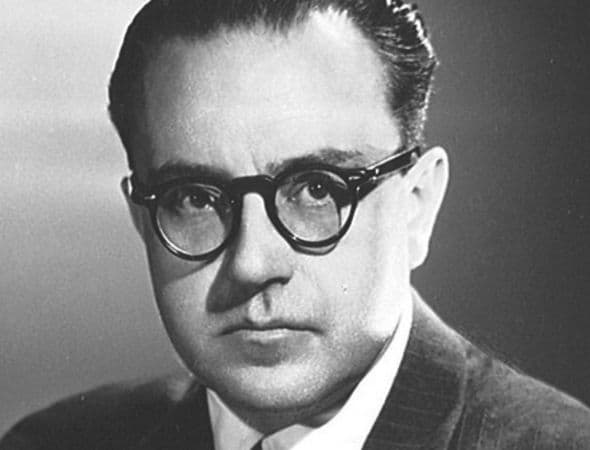 THE HISTORY – Ginastera's late period (from 1958) was a full departure from the cultural ruminations of his youth. He referred to this time as his "neo-expressionist" phase and, in it, he experimented with every modernist technique he could get his hands on. Surrealism, serialism, microtonality, polytonality, aleatory. You name it, he tried it. The Violin Concerto is a product of this intense compositional intrepidity. It was commissioned by Leonard Bernstein and the New York Philharmonic for their opening season in Lincoln Center. It was an incredible honor, but Ginastera was not able to meet the deadline. When the work eventually got its premiere the next year in October of 1963 the soloist was Ruggiero Ricci and, according to one reviewer of the concert, his handling of the extremely difficult passagework elicited a hearty (and rare) ovation from the orchestra itself. Apparently, a full rehearsal had been impossible before the morning of the premiere, so Ricci's onstage colleagues were likely as impressed with his nerve as his facility. The staggering challenges for the violinist are matched by intellectual demands for the listener that have probably made orchestras reluctant to embrace this concerto as standard repertoire. But it is a mistake to overlook this very fine example of the form. If nothing else, Ginastera has crafted a fascinating study of individual and ensemble sonority and distilled mid-20th-century compositional thought into one concise and vivid mission statement. The first movement opens with a long cadenza that is followed by a set of six accompanied "studies" that successively vary the central tone-row. The lyrical second movement shrinks the orchestra down to 22 "soloists" while the finale asks the violinist to play at a nearly inaudible whisper before tackling fragments of Paganini's 24th Caprice, which are meant to move through the music like the watchful ghost of the great master himself.
THE WORLD – Elsewhere in 1963, John F. Kennedy was assassinated, the USSR sent the first woman (Valentina Tereshkova) into space, The Beatles recorded I Want to Hold Your Hand, and Kenya gained independance.
THE CONNECTION – These concerts represent the Utah Symphony premiere of the Ginastera Violin Concerto.
Tags