04 Apr 2022
SARASATE: Fantasy on Bizet's Carmen
by Jeff Counts
Duration: 13 minutes.
THE COMPOSER – PABLO de SARASATE (1844–1908) – Spanish violin virtuoso and composer Pablo de Sarasate began his studies at the age of 5. At 15, he embarked on the series of concert tours that would make him famous. The international tours continued without significant pause for nearly three decades, a time during which Sarasate sat for a portrait by James McNeill Whistler and lent his name (and golden sound) to several important masterpieces for his instrument. As a dedicatee, he was the beneficiary of works by Saint-Saëns, Bruch, Lalo, and others. He also composed a large volume of pieces for the violin himself. Of the 55 or so known to exist, most are neglected today, and Sarasate is best known for his Zigeunerweisen of 1878 and the Carmen Fantasy from 1883.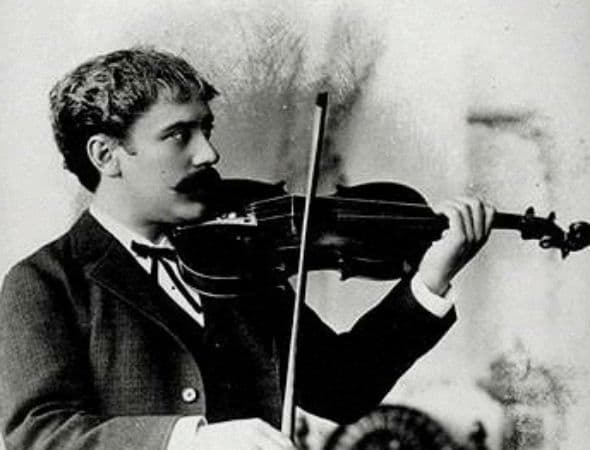 THE HISTORY – Though many composers were inspired by his virtuosity, no one got more out of Sarasate's dazzling technique than himself. It must have seemed like every traveling instrumental superstar of the 19th century composed their own showpieces, but not all of them were as skilled with the pen as the sword. Sarasate, for his part, was a very capable creator whose talents were never more apparent than in the Carmen Fantasy, based on music from Bizet's increasingly popular 1875 opera. Sarasate was certainly no fire-breather as a performing artist. His sweet, clear tone and effortless facility were more suited for recitals and salons than the Brahms Concerto, so most of what he wrote for himself is considered lighter fare by our standards. The Carmen Fantasy both confirms and stretches this notion, providing an opportunity for the soloist (himself and all the many ambitious technicians since) to interact with the orchestra like a dramatic character, not merely an icy embodiment of physical genius. Five sections divide the Fantasy. After a short introduction, the curtain opens with material from the Act IV Entr'acte Aragonaise. From there, we move to a highly stylized distillation of music from the Habanera of Act I, followed by a brief interlude. The much-loved Seguidilla is next, with the "Gypsy Dance" section of Act II bringing the work to a rousing, pyrotechnic close. As previously mentioned, violinists of every stripe from Sarasate's time forward have used his music to measure themselves against history. In truth, none of them could escape his tests if they wanted to. The Carmen Fantasy serves equally as a necessary rite of passage for teenage phenoms, a late stage calling card for adventurous veterans and everything in between. By design, the lack of emotional density in Sarasate's writing leaves space for the personality of each type of player to shine very brightly indeed.
THE WORLD – Elsewhere in 1883, Life Magazine was founded in the US, Krakatoa erupted, the character of Pinocchio made his first appearance in Italy, Franz Kafka was born in Prague, and the last Quagga died in Amsterdam.
THE CONNECTION – This is the first time that Sarasate's Carmen Fantasy has been performed on a Utah Symphony Masterworks concert.
Tags