28 Nov 2022
RAMINTA ŠERKŠNYTE: Fires
by Jeff Counts
THE COMPOSER – RAMINTA ŠERKŠNYTĖ (b. 1975) – Lithuanian composer Raminta Šerkšnytė currently finds herself in the vanguard of Baltic art music and enjoys a reputation as the most important voice of her home country. Her biography speaks of a wide-ranging catalogue that refuses to be bound by style or school. Equally comfortable with the traditional and the experimental, the grand and the intimate, Šerkšnytė's music searches for the "coexistence of archetypes from both Western and Eastern cultures. She has developed her own unique tonal language ("a fusion of major and minor") and uses it to imbue her work with a sense of meditative mystery that defines the special region of Europe she hails from.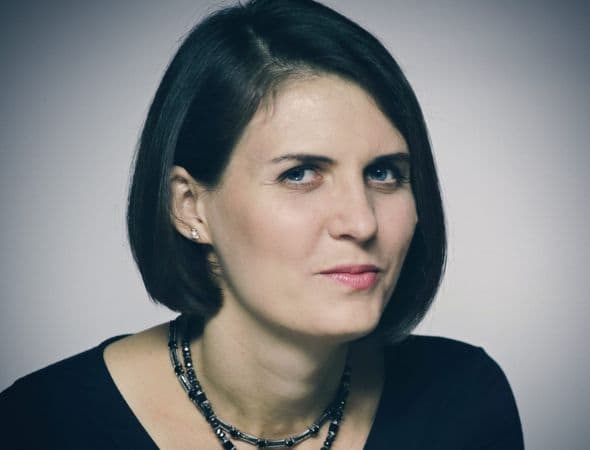 THE HISTORY – Fires was commissioned by the Bavarian Radio Symphony in 2010 for a multi-season project that premiered six works by contemporary composers, each reflecting on the life and music of Beethoven and designed to share programs with his symphony cycle. "In this piece," Šerkšnytė wrote in her program note, "I have drawn inspiration from several sources. First of all, I knew long beforehand that it will be premiered in the program before Beethoven's Fifth Symphony, and thus picked some of its motifs, which became basis for the harmonic development in my composition. I also kept thinking about the fateful circumstances, including progressing deafness, which surrounded Beethoven at the time he was writing his Fifth. This provoked me to compose music of heightened dramaticism and ever-growing inner tension." "On the other hand," she continued, "Fires is a sequel in the series of orchestral works, whose titles directly refer to the natural phenomena and elemental forces (also including Iceberg Symphony, Mountains in the Mist, and Glow); even though any other indirect association that those titles imply might prove equally important. In this particular work, I tried to reflect diverse 'faces' of fire: from distant perception of the approaching calamity to thunderous explosions of the accumulated energy—the whole variety of shades and shapes, in which fire appears during the processes of heating, burning, and melting. Consequently, the composition is wrought as a continuous process of harmonic, rhythmic, textural, and timbral variation of several initial motifs."
THE WORLD – Elsewhere in 2010, Apple released the first iPad, a massive earthquake devastated the nation of Haiti, the world's tallest building opened in Dubai, and the Deepwater Horizon drilling platform exploded in the Gulf of Mexico.
THE CONNECTION – These concerts represent the Utah Symphony premiere of Fires and the first performance of a work by Raminta Šerkšnytė.
Tags