28 Nov 2022
SHOSTAKOVICH: Cello Concerto No. 1
by Jeff Counts
THE COMPOSER – DMITRI SHOSTAKOVICH (1906-1975) – Stalin's death in 1953 closed dark chapters in the stories of many Soviet artists. The system he built was still putatively in place, but without his iron fist to enforce it, people like Shostakovich could finally release a decades-long held breath. Shostakovich's life in the late 1950s was so surprisingly "normal", in fact, that his opera Lady Macbeth of the Mtsensk District (yes, that same harshly forbidden work Stalin called "muddle instead of music" back in 1936) was again in production at the Kirov Theater. Humbled and still well aware of how fragile his existence once was, Shostakovich used this moment of national calm to reward the loyalty of a close friend and colleague.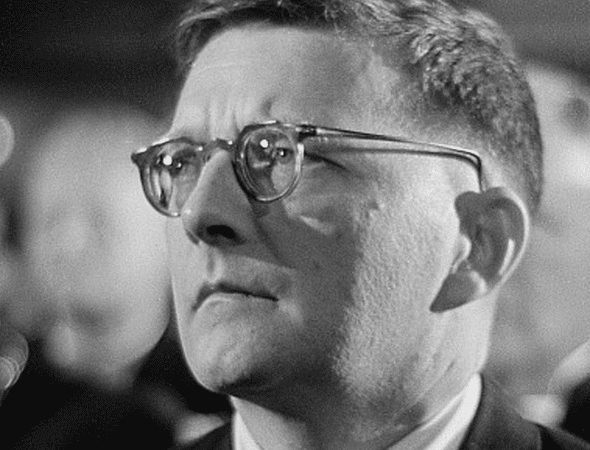 THE HISTORY – When Shostakovich was dismissed from the Moscow Conservatory in 1948 during one of the Party's many capricious cultural purges, his star pupil Mstislav Rostropovich abandoned his studies immediately in solidarity. From that early comradeship grew a deep and respectful friendship. The two performed Shostakovich's Op. 40 Cello Sonata quite often and for years Rostropovich nursed a secret hope that Shostakovich would write a concerto for him. The hope was secret because of some good advice the cellist received from the composer's first wife Nina. Shostakovich kept his own counsel with regards to future projects and could be quite moody about suggestions from others. No doubt he had earned the right to be wary after years under Stalin's deadly gaze and Nina told Rostropovich that if he ever wanted a concerto from her temperamental husband, he better make sure to never actually ask for it. Rostropovich took the hint but continued to drop his own over the years and, in 1959, Shostakovich surprised him (and everyone else) by announcing a concerto as his next project. By the time he was ready to talk about it, Shostakovich had completed the march-like first movement but stayed quiet about how the rest of the work would unfold. The completed score comprised four movements (the last three linked without pause) and Shostakovich sent the piano reduction to Rostropovich on August 2. Four days later, the cellist was in Leningrad with his accompanist to perform a private run-through (from memory!) and the official premiere was given in October to great effect. The concerto was unique in Shostakovich's catalogue, in that it featured a rather small ensemble (no brass, save for a heroically prominent single horn), but typical in its use of quotations. The clear influence of Prokofiev's Symphonie-Concertante is heard throughout, as is Shostakovich's ubiquitous DSCH (D, E-flat, C, B) calling card.
THE WORLD – Elsewhere in 1959, Castro ousted Batista as the leader of the Cuban government, the 14th Dalai Lama fled Tibet for exile in India, and William S. Burroughs published his infamous book The Naked Lunch.
THE CONNECTION – Shostakovich's First Cello Concerto was last performed in Abravanel Hall in 2017 under Thierry Fischer. Narek Hakhnazaryan was soloist.
Tags