17 Nov 2023
COPLAND: Appalachian Spring
by Jeff Counts
THE COMPOSER – AARON COPLAND (1900-1990) – Copland's most productive period, both in terms of compositional output and reputational enhancement, was during the late-1930s and early-1940s. El salón México (1938), Fanfare for the Common Man (1942) and Lincoln Portrait (also 1942) would have been enough to assure the fame of any living American composer but for Copland (like Stravinsky and Tchaikovsky in Russia), the ballet scores he produced at this time did a lot to establish him as the preeminent contributor to the national musical identity. Copland completed Billy the Kid in 1938 and, with Rodeo in 1942 and Appalachian Spring in 1944, his place as the foremost "serious" music interpreter of American folk memory was secure.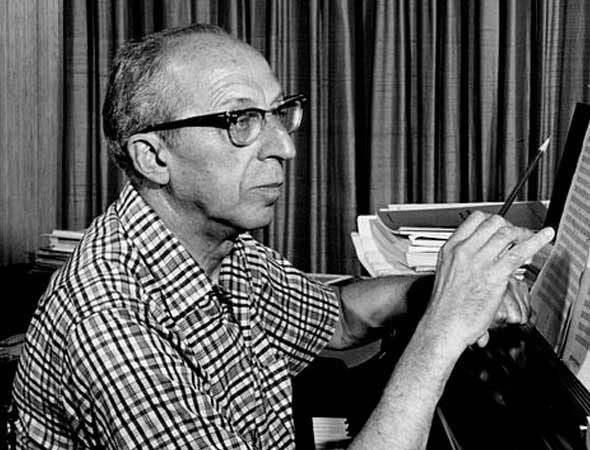 THE MUSIC – Though his signature sound comes easily to mind now, Copland's career and ambitions are difficult to capture in a single work or deed. He was a man of wide-ranging artistic tastes and eclectic influences, one whose personal compositional range included everything from film scoring to explorations of the twelve-tone technique. Still, if you ask random music lovers about Aaron Copland today, they will almost always invoke one of the ballets, and from that list they will usually light upon just one – the seminal Appalachian Spring. Not merely the most recognizable example of Copland's populist "vernacular" style, Appalachian Spring ranks high among the great ballets of the 20th century and is certainly the most important American submission to the repertory. Martha Graham had already collaborated successfully with Copland back in 1931, so when Elizabeth Sprague Coolidge offered funding in 1942 for a trio of commissions, Graham knew just where to turn for one of them. The script, supplied initially by Graham, tells of a young pioneer couple in 19th century Pennsylvania. They raise a house, hear a sermon, attend a party and spend a few quiet moments alone in hopeful anticipation of a long life together. It is heartwarming, essential Americana and Copland's authentically affectionate music could not be more perfectly suited to the imagery. Interestingly, Copland composed the music for his "Ballet for Martha" without first knowing what the title would be. That would be chosen by Graham as well and taken from the poem "The Dance" by Hart Crane. "O Appalachian Spring!", the verse invokes, "Steep, inaccessible smile that eastward bends/And northward reaches in that violet wedge/Of Adirondacks!" The original score called for just thirteen instruments and two concert suites, one for full orchestra, were created by the composer a year later in 1945.
THE WORLD – Elsewhere in 1944, Mount Vesuvius erupted, "Great Escape" from Stalag Luft III occurred, the United Negro College Fund was founded and Iceland made its final declaration of independence from Denmark.
THE CONNECTION – Copland's Appalachian Spring Suite was featured during Utah Symphony's European Tour in 2005. The last Abravanel Hall performance was in May 2021 under Thierry Fischer.
Tags