UTAH SYMPHONY Youth Guild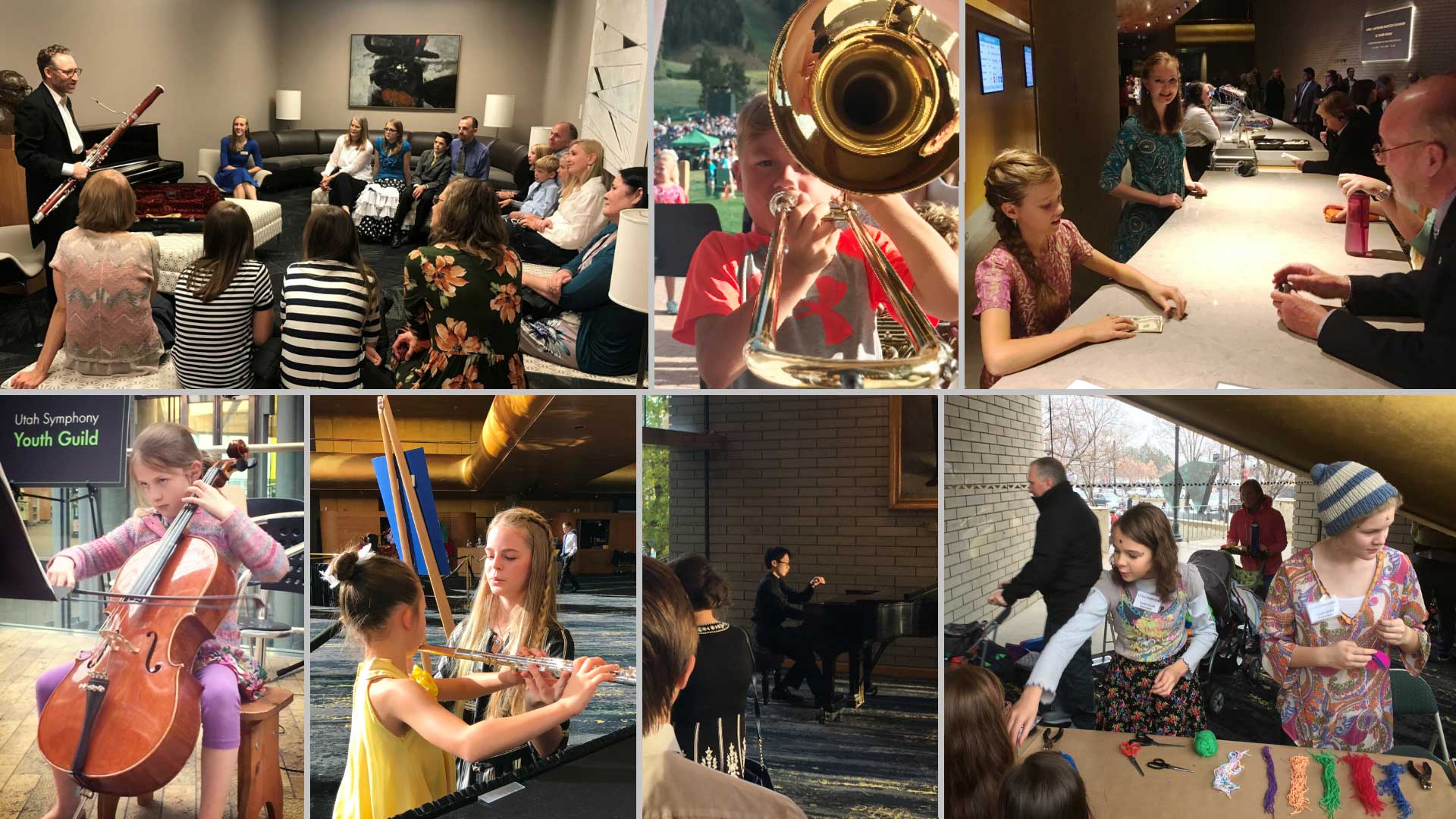 Meet our Utah Symphony musicians, learn from our world-renowned guest artists, perform in the lobby of Abravanel Hall, and do so much more by joining the Utah Symphony Youth Guild!
The Utah Symphony Youth Guild is dedicated to providing students with opportunities for greater involvement with the arts through volunteer service and educational activities. Membership is open to families with children ages 8-18. While the Youth Guild encourages everyone to reap the many benefits of learning to play an instrument, membership is open to musicians and non-musicians alike.
Your Youth Guild Membership provides you and your family Education and Service opportunities (listed below) as well as access to our fantastic ticket voucher program where children can attend 4 concerts for just $24, and parents can attend 4 concerts for just $48. After joining the Youth Guild, you will receive monthly newsletters announcing upcoming Education and Service opportunities.
Education Opportunities
Backstage seminars (a tour + meet & greet with Utah Symphony Musicians)
Masterclasses provided by world-renowned guest artists
Pre-concert lectures given by feature conductors, artists, and distinguished members of our community
Open rehearsals (sitting in on a rehearsal prior to opening night)
Annual Youth Guild Recital (competitive audition process)
Writing an article for our monthly newsletter, blog, or your school newspaper
Service Opportunities
Family Night Volunteers (monitoring Kids Club table in the lobby prior to some performances)
Random Acts of Music (informal performances in public spaces)
Coat Check (in the lobby of Abravanel Hall before, during, and after Symphony concerts)
Ushering (for Symphony Concerts)
Assisting with Family Music Fair (pre-family-concert activities in the Lobby of Abravanel Hall)
Lobbyfest Performances (30 minute pre-concert performances in the Lobby of Abravanel Hall)
---
YOUTH GUILD VOUCHER PROGRAM
Vouchers are an additional cost to the Youth Guild Membership
Vouchers are distributed in a set of four, and are clearly marked "Voucher 1 Voucher 2, Voucher 3, and Voucher 4."
Each voucher corresponds to four different Symphony and Opera concerts. You may pick one of these concerts in redeeming your voucher.
Each set of vouchers is valid for one person (adult or child).
Each set of vouchers per child (age 8-18) is $25. Each set of vouchers per adult (age 19+) is $50.
Only Youth Guild children, their parents, or their grandparents have the option of buying ticket vouchers.
Vouchers must be redeemed at least 24 hours in advance in person at the ticket office in Abravanel Hall or via phone.
---
ANNUAL YOUTH GUILD RECITAL
We are pleased to announce that the 2022-23 Youth Guild Recital Auditions will be held March 10-11, 2023 at the Production Studios.
The annual Youth Guild Recital is a fantastic way to showcase our members' incredible talents, and as an added bonus there are cash prizes for the performers selected! Please remember that in order to be eligible for the auditions, you must have completed or have scheduled your two service and two education credits by the application deadline.
Be sure to thoroughly read all of the application rules and guidelines before completing the application.
Registration for the Youth Guild Recital Auditions is now open. Applications may be submitted until Feb 24th, 2023 at 5 PM.
Apply Here Pay Audition Fee Recital Application Rules
*Single individuals who do not have children are not eligible for Youth Guild Membership. Any applications received that do not indicate valid information for both the parent and child will be rejected.*
---
LOBBYFEST
A real-world performance opportunity—and a lovely start to your musical evening—Youth Guild members play in the lobby of Abravanel Hall from 6:40-7:10 pm (or from 4:40-5:10 on early concert dates) before Symphony Masterworks concerts.