19 Nov 2018
Sound and Vision: Concertmaster Madeline Adkins' transformation into a symphonic rock star
by Kathleen Sykes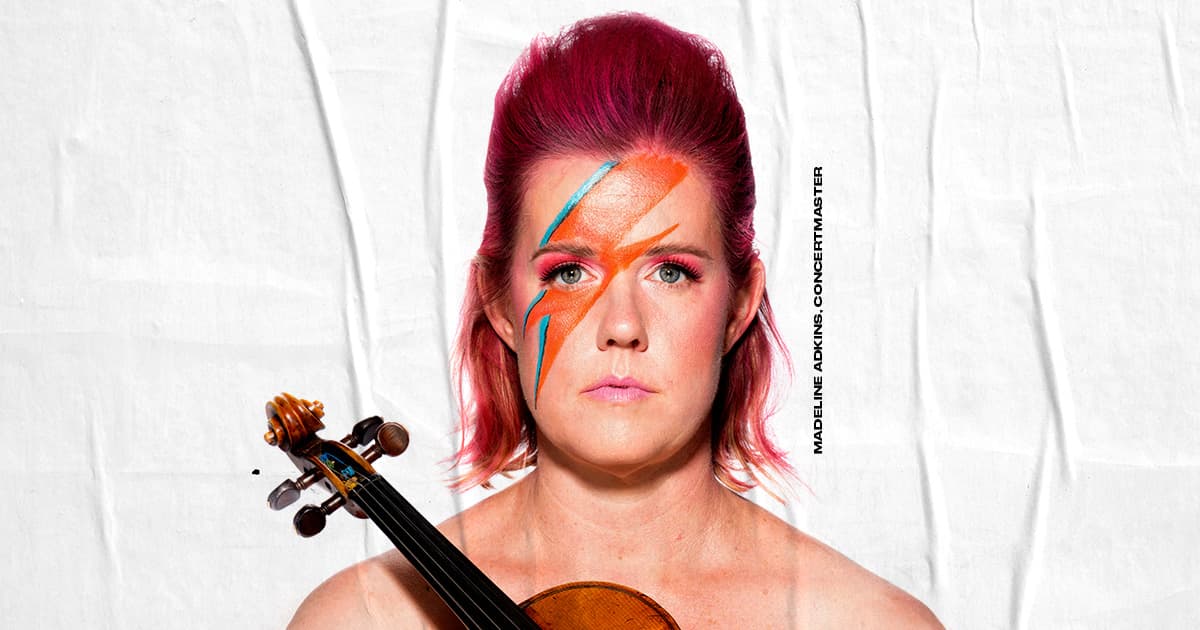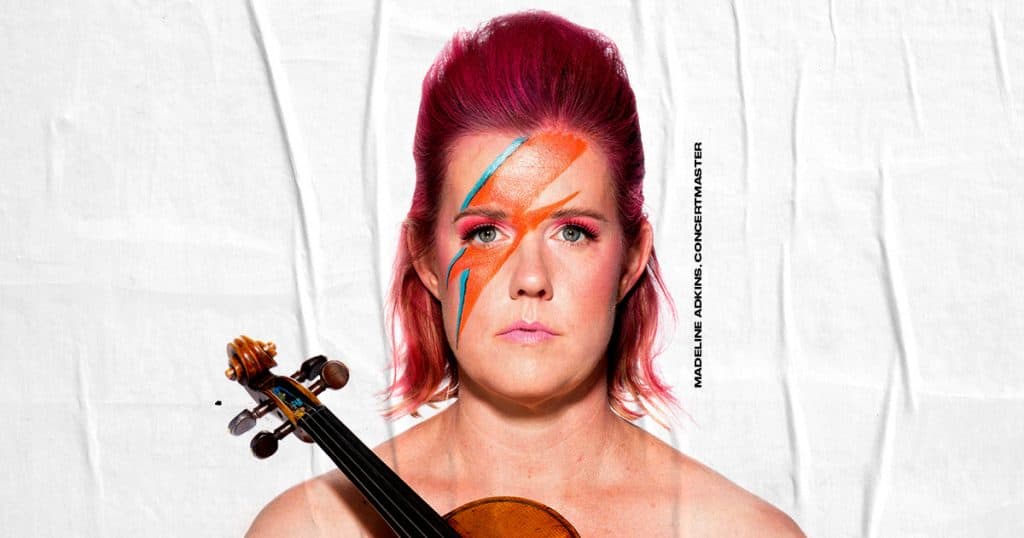 "I decided I wanted to be a concertmaster at age 15," Madeline Adkins said resolutely.
After encouragement from her teacher, Adkins floated the idea of becoming a violin soloist for about three weeks but quickly decided that being a concertmaster was the perfect fit for her. "You get the best of both worlds," her teenage-self reasoned.
Now in her third year as concertmaster, she explained that being in an orchestra offers a lot of stability (a luxury for many solo violinists), but she would still get to collaborate with people as well as perform virtuosic violin concertos—such as the Korngold Violin Concerto, which she performed during the Utah Symphony's 2017-18 season.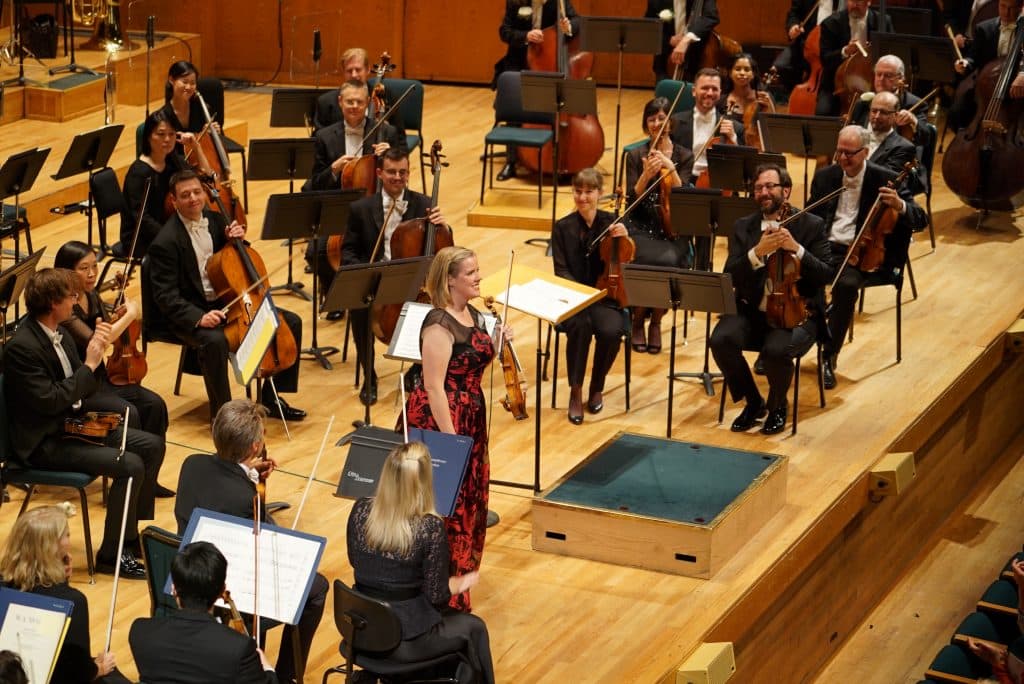 "People love to go see their favorite bands, and it's amazing that they have four or five people on stage creating music. But imagine what it's like to have 100 people (or more) totally in sync… and creating something in such a variety of styles," she said. An orchestra is much like a living organism—there's a sense of excitement being part of such a large musical group.
A full-time, 52-week orchestra like the Utah Symphony also offers a lot of variety. "I don't think I'd enjoy playing the same concerto 12 weeks in a row," she mentioned. "[In an orchestra,] we're expected to play in every style and every genre—that's part of being a musician," Adkins recalls, adding that she's had to play everything from African music to film scores to Texas fiddle.
Sound and Vision
Adkins was a natural fit to portray the legendary David Bowie in the symphony's rock star campaign. Much like Bowie, Adkins showed an aptitude for music at a young age.
"My parents told us we had to keep playing until we were 18—it was a family rule! … It takes a long time to become proficient at a string instrument." Adkins is the youngest of eight children and child of two music history professors who encouraged all of their children to learn a string instrument.
At age 16, she began her studies at the University of North Texas—about the same age Bowie was when he started his first band. "I did everything I could do to improve the areas I needed to work on from solo playing to bowings, from leadership style to public speaking," she said recalling the work she put into achieving her dream.
By age 22—the age Bowie released Space Oddity—she was an assistant concertmaster at the Baltimore Symphony Orchestra.
"It can be a challenge to come into a leadership position at that age." Adkins continued, "There are people in the orchestra with three times the experience, and it's a steep learning curve joining a professional orchestra." But Adkins is not one to shy away from a challenge. She spent the next 16 years of her career there.
A violin with a legacy
During Adkins' career in Baltimore, she had the opportunity to play on a Guadagnini violin owned and generously loaned by Marin Alsop, the music director of the Baltimore Symphony. After she decided to come to the Utah Symphony, she had to return the violin and begin the search for a new one.
"I know of a Guadagnini that's looking for a new player…"
These words could not have been more welcome. When Adkins took Alsop's violin in to be cleaned up before returning it, her luthier, John Young, had a connection with someone who was looking to loan a violin to a worthy musician.
Gabrielle Israelievitch, wife of the late Jaques Israelievitch (who was the Toronto Symphony Concertmaster for 20 years) didn't want to part with the violin, but she knew that it should be played. The only question was who would be the right person to carry on its musical legacy. Adkins flew up to Toronto to play the violin for her, "It was a good fit."
Adkins was in love with the sound on this new violin. "The very next weekend, I was going to be playing Scheherazade… I went ahead and switched, which was perhaps kind of reckless since I only had three days before the concert!" she joked.
Getting to know her new instrument has been an unfolding process. "It's like a relationship. After a while, you and the violin learn each other—each violin is like a person, and it has qualities that take time to find," she mused about this violin. "Every week, I discover new things it can do."
The long journey to Salt Lake City
The evening she left Baltimore for her audition with the Utah Symphony in 2015 she found herself by her door with her suitcase and violin case thinking, "It'll be heavy, but I should put my music in with my violin."
She got on a plane with her violin and music to Salt Lake City, and her suitcase got on a plane to Chicago.
"That could have been a disaster!" Luckily, Adkins had her violin and her music, and that was everything she needed to win her seat as Concertmaster for the Utah Symphony.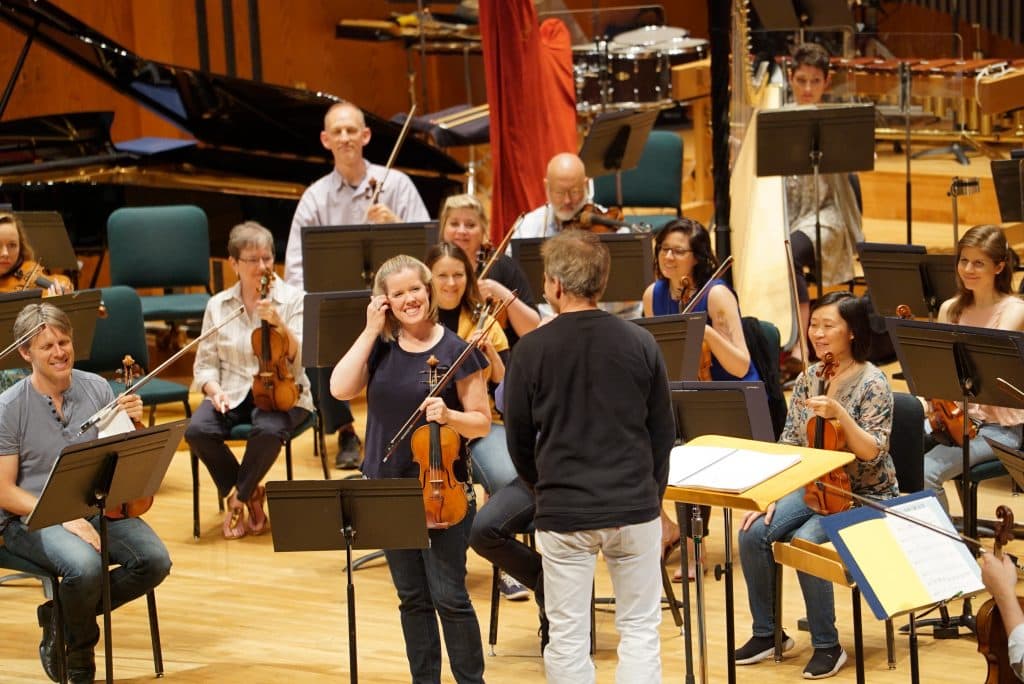 Most orchestral auditions are blind, and musicians play their instruments behind a partition. Because of this, Adkins was able to get through the auditions in her sweats. Once she found out she won the position, she rushed to ask the personnel manager to explain her situation to the audition committee before they came back to meet her. "I did not look like the next Concertmaster of the Utah Symphony!" Adkins laughed.
An orchestra in the mountains
"It's necessary for us to look outside of ourselves, so we have something to give." Professional musicians must dedicate a lot of time and energy to their jobs, and it's sometimes hard to stay inspired as a professional musician.
"It's so easy to get wrapped up in your own life and the minutiae of the job… it's possible to lose the overall point of music, which I believe is to make other people feel things." Adkins likes to stay inspired by reading, listening to other kinds of music, getting out into nature, and traveling (her Instagram account is filled with incredible photos from her adventures).
"I was really excited to move to Utah," Adkins reflected. Her husband had told her a number of times that he wanted to live in the mountains. "Unfortunately, there weren't that many great, full-time orchestras in the mountains… In fact, there is one—the Utah Symphony." She knew that landing a position as a concertmaster in Utah would be a long shot, but nevertheless, she kept it in her sights and won that spot.
"It's a beautiful place to live and there is a lot of stuff to do outdoors—we love it here." Adkins and her husband love hiking and taking trips around the state. They love exploring and trying to find ghost towns around Utah. "I can't tell you where the coolest one is—you're not supposed to tell people where it is," she said slyly.
Where Are We Now?
In 2017, Adkins took on an exciting new role in addition to her role as Concertmaster. The NOVA Chamber Music Series named her as Music Director—an exciting opportunity that she jumped at.
"When I decided to take on the role of Music Director for the series, I was excited to program and perform some of my absolute favorite works, but I was also intrigued to delve into new-to-me works."  "You can go down a YouTube rabbit hole, spending hours investigating fascinating compositions from around the world."
Adkins likes to challenge herself to program diverse and interesting works into a cohesive theme in order to make an appealing season. This includes the works of underrepresented composers.
"I've included works by 10 female composers from six countries. There are over 3.5 billion women in the world, and it seems incredible to me that we as artists could possibly be content not representing the life experiences and emotions of half the Earth's people," she pointed out. "I think that the mix of well-loved and unknown works, and the way that they are combined, is what creates a stimulating concert experience for our audience."
Whether it be through compelling programming on the NOVA Chamber Music Series or electrifying performances on the Abravanel Hall stage there is no doubt that Adkins is a rock star in our orchestra.
Tags