04 Apr 2022
22-23 Season Preview: Travis Peterson
by Kathleen Sykes 
Concert goers are always excited when we announce a new season. It's a great time to round up your family, significant other, or your favorite concert-going friend and decide on which concerts to subscribe to next year. It's exciting for our orchestra too because they finally get to see what they are performing (and maybe what they don't have to perform, so they can just enjoy the show)!
Principal Trumpet Player Travis Peterson is a dynamic artist who not only loves the classics, but his background in drum corps and his admiration for John Williams film scores whilst growing up on a midwestern dairy farm give him an eclectic taste in music! Here are the pieces he's most excited for next season: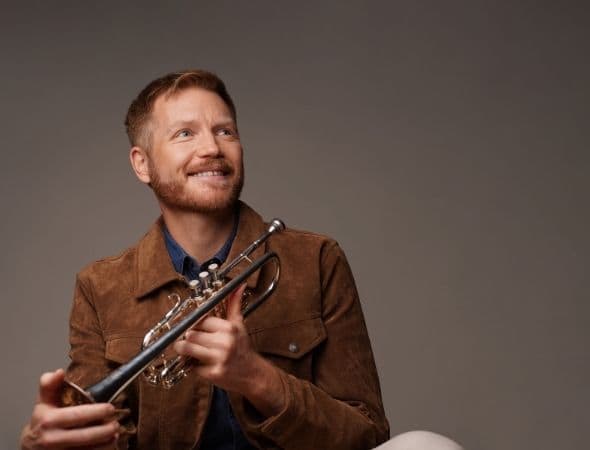 Masterworks Series:
Strauss' Ein Heldenleben on Opening Night: Mozart's Horn Concerto No. 3
"I am particularly excited to open our season with Richard Strauss' Ein Heldenleben. As a brass player, this piece delivers across the board; soft beautiful moments, fantastic fanfares, a battle scene that will keep you at the edge of your seat, and it's generally "higher, faster, and louder." But what Strauss brilliantly does is contrast that with some of the most sublime moments in classical music featuring our concertmaster and our principal horn. This concert is not to be missed (which also includes a piece by one of my favorite modern composers, John Adams' Short Ride in a Fast Machine)!"
Films in Concert Series:
The Goonies
"While this isn't a John Williams score or a movie that one particularly associates with its score, this movie is a part of my childhood and it makes me as excited to play this as any John Williams score! If you like adventure and treasure hunt type movies, then you'll love this movie along with the adventure/scherzo-like score written by Dave Grusin."
Entertainment Series:
Bernadette Peters
"I am VERY excited to have this singing/Broadway royalty come to perform with us! She has done so much in her career like "Into the Woods." "Sunday in the Park with George," and "Annie Get Your Gun," and that's just naming a few! It will be a true honor to be on stage with her providing a small part of her "back-up" band. I can't wait!"
Masterworks Series:
Messiaen's Turangalîla
"This is one of the best pieces that Messiaen composed and it utilizes a massive orchestra. It's engaging and creates different sounds and rhythms throughout that will connect with any listener. The interesting thing about this piece, aside from featuring Jason Hardink on piano, is that it calls for solo "ondes martenot," which is a keyboard instrument in which the player moves a ring along a wire that changes the pitch; it has a very similar sound to a theremin and creates almost a "sci-fi" sound at certain points. In my opinion, Messiaen was ahead of his time with this piece!"
Don't miss Thierry's final season and Travis' favorite concerts! Puchase your season-ticket package today.
Tags